New name, new term for Adult Faith Formation Centre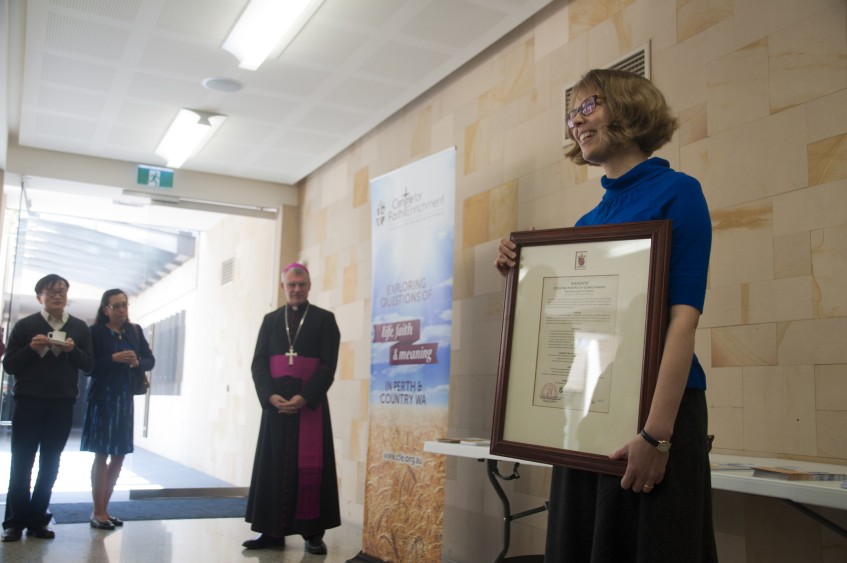 Centre for Faith Enrichment Director Dr Michelle Jones receives the new Mandate from Archbishop Timothy Costelloe on 18 September. Photo: Mat De Sousa
By Jamie O'Brien
Adult faith formation in the Archdiocese of Perth has a new name, just in time for the new term.
Formerly known as the Maranatha Centre, the Archdiocesan agency for adult faith development will now be known as the Centre for Faith Enrichment (CFE), continuing under the leadership of Director Dr Michelle Jones.
Archbishop Timothy Costelloe made the formal announcement following the 2015 Annual Commissioning Mass at the Cathedral Parish Centre on September 18.
The Archbishop also presented Dr Jones with the new Mandate of the CFE.
The gift of developing our adult faith in connection with our life, said Dr Jones, is a journey that can lead us to a knowledge of Christ and His Church from a perspective we might never have otherwise known.
"Growing in faith can take place in many different ways and, here at the Centre for Faith Enrichment, we try to provide well researched and stimulating mind food which is ultimately oriented to enlivening participants' faith."
Dr Jones went on to explain that the new name change has come about in order that people can understand more readily the nature and mission of the agency.
"We are the Archdiocesan agency for adult faith formation," she said. "We were looking for a name that expressed clearly that we are at the heart of the Archdiocese and for all people of the Archdiocese – and beyond."
Some Term Four courses commence this week, with others commencing in the weeks to come. Topics include the Old Testament, Pope Francis' latest encyclical, Laudato Si, the Trinity, the sacraments and much more.
Courses are held at various locations across Perth, including Ocean Reef, Doubleview, Salter Point and Yangebup.
Dr Jones went on to mention that a number of online courses are also available in Term Four.
"For those who prefer a home learning environment, or for those in rural parts of the Archdiocese, you now have even more reason to embrace the chance to learn more about faith and what it means for your life," Dr Jones said.
For more information, contact 08 9241 5221 or email cfe@perthcatholic.org.auor visit www.cfe.org.au.