New school opens in Maddington, aims to re-engage with teenagers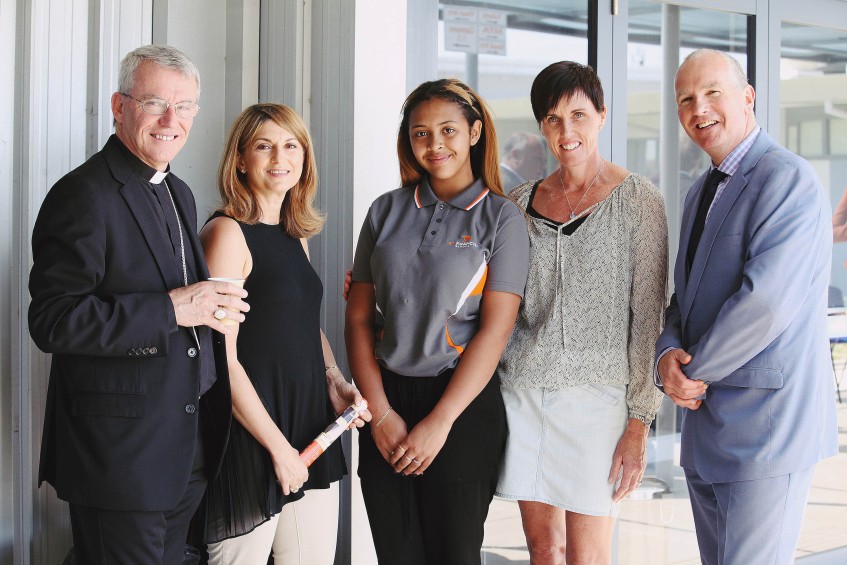 Archbishop Timothy Costelloe last month performed the blessing and dedication for the opening of St Francis' School Maddington, together with the school community which celebrated its success since classes began in March. PHOTO: Supplied
Students, family, staff and special guests of the newly opened St Francis' School Maddington have been celebrating its success since classes began in March this year.
The school is the latest Catholic Education Western Australia CARE (Curriculum and Re-engagement) educational facility and combines a variety of practical learning areas.
Its focus on fundamental literacy and numeracy skills aims to re-engage with teenagers who have not found mainstream schooling effective.
The opening event, which took place last month, commenced with a Welcome to Country by Noongar elders Marie Taylor and Robyn Collard, who performed a traditional smoking ceremony, encouraging all those present to participate.
Archbishop Timothy Costelloe then gave the official blessing and dedication, with Catholic Education WA Executive Director Dr Tim McDonald then addressing students, staff and guests, before unveiling the foundation plaque and declaring the school officially open.
Foundation Principal Rory McNally said participation and attendance were high among the small group of Year 10 and 11 students already enrolled, and the school had a waiting list of local teenagers ready to join as the school expanded.
Courses, including Visual Arts, Light Automotive, Barista skills, Senior First Aid, Food Technology, Sport and Fitness, and Religion, have all been on offer for 2015, with newly fitted-out classrooms, workshops and kitchen facilitating St Francis' School's diverse learning options.