Bishop Bianchini installs three seminarians as lectors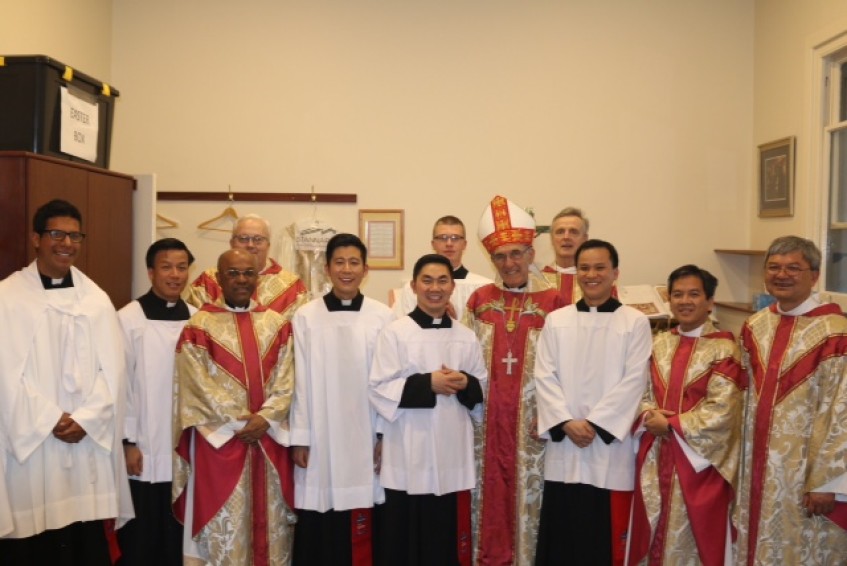 Geraldton Bishop Justin Bianchini visited St Charles' Seminary in Guildford to install Peter Duong (second left from Bishop) Savio Nguyen (left of Bishop Bianchini) and Dominic Hoang (right of Bishop Bianchini) as lectors. PHOTO: Supplied
Three seminarians took a step closer to ordination recently following the visit of Geraldton Bishop Justin Bianchini to St Charles' Seminary to install them as lectors.
The newly blessed lectors – Savio Nguyen, Dominic Hoang and Peter Duong – arrived at St Charles' Seminary from Vietnam in 2012 for the Diocese of Geraldton.
The three men were chosen by then Greenwood parish priest, Father Vinh Dong, from numerous applications following an invitation for those interested in entering the priesthood to come to Australia.
Fr Vinh Dong travelled to Vietnam to recruit suitable candidates on behalf of Bishop Bianchini.
Fr Dong, who also attended the recent instalment, said that, at the time, he had been overwhelmed with the response he had received when he had visited seminaries and formation houses across Vietnam.
Fr Dong went on to say that he had been amazed that there had been so many men with a missionary spirit willing to minister in the Geraldton Diocese, an area of land some 40 times the size of their own country.