MercyCare launches First Time Ever Fund ahead of Children's Week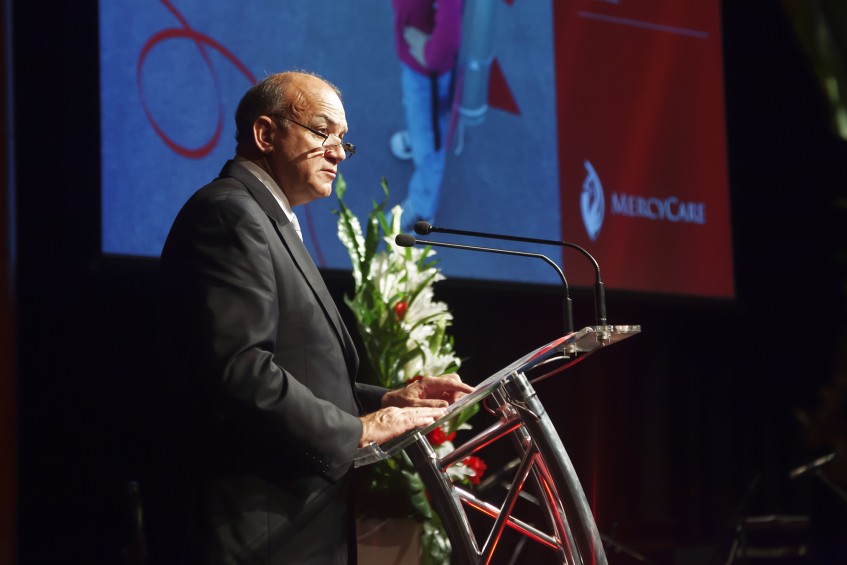 MercyCare CEO, Chris Hall, launches the Frist Time Ever Fund in support of Children in Care at the 2015 MercyCare Oration on 24 September. PHOTO: Supplied
MercyCare is celebrating Children's Week for a special reason later this month, having recently launched a new fund to support children in care.
The new First Time Ever Fund is a special fund which will enable children in MercyCare's Fostering Services and Family Group Homes to thrive.
MercyCare Chief Executive Officer Chris Hall explained the appeal will help children in care access to 'memory-making' experiences they might not otherwise have the opportunity to experience.
Mr Hall says Children's Week, from 24 October to 1 November, provides a platform for MercyCare to reflect on the fact that not all WA children have access to the same opportunities and experiences.
"Children's Week celebrates the rights of children to enjoy childhood. It is also a time for children to demonstrate their talents, skills and abilities. However, sadly, not all children in WA have the opportunity or access to enjoy their childhood to the fullest extent possible, as other children and young people do," he said.
"The theme of Children's Week is A Caring World Shares. That really sums up how we feel about the First Time Ever Fund, and we're encouraging the community to generously share their support with children who are in care.
"Particularly as we approach the Christmas holidays, donations to the First Time Ever Fundwill help to set up some fantastic experiences for children in care."
Mr Hall said the First Time Ever Fund is based on the idea that MercyCare wants to help expand children's 'first time ever' experiences with ones most of us take for granted during our childhood – family holidays, camps with peers, trips to the zoo, theatre or live sporting events.
"MercyCare's Foster Care program and Family Group Homes provide children with the opportunity to experience a lot of 'firsts'. For some children, this might be the first time they feel protected, the first time that they can safely explore who they are, and who they want to be; the first time they have choices, and are free to play like any other child and see real hope for their future," Mr Hall said.
"These kinds of positive experiences, in the company of safe adults, will help to shape their sense of identity as 'people who matter', make precious memories and contribute to their bank of joy. Generally, these activities are outside our program budgets, but the First Time Ever Fund will help make this powerful idea a reality."
MercyCare Fostering Services provides short, medium and long-term care, as well as respite care, and support for children and young people who are unable to live with their families due to a variety of circumstances.
In addition, MercyCare works in partnership with the Department for Child Protection and Family Support through its Family Group Homes to care for children aged from three to 18 years old who cannot live at home.
To donate to the First Time Ever Fund, visit www.mercycare.com.au. Gifts over $2 are tax-deductible.
MercyCare is a leading Catholic provider of aged care, family, health and community services. MercyCare employs over 700 staff and 150 volunteers, delivering services from more than 30 locations throughout Western Australia.