Inspiring educator and leader goes to the Father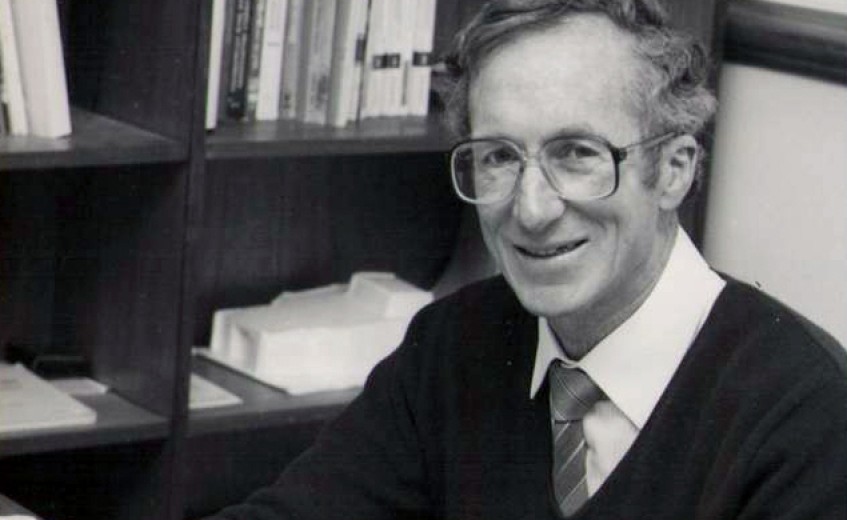 Des O'Sullivan during his teaching days at St Norbets College, Queens Park. Photo: Supplied
By Marco Ceccarelli
Friends and family recently mourned the passing of Kevin Desmond (Des) O'Sullivan, a man whose endless qualities as mentor, teacher and leader were praised by those fortunate enough to have known him.
Mr O'Sullivan passed away peacefully on 5 October 2015, having lived an eventful life beside his wife of 56 years, Barbara O'Sullivan; his five children, Mark, Julie, Peter, Rebecca and Margaret; as well as eleven grandchildren and three great-grandchildren.
The eldest of nine, Mr O'Sullivan was born in Sydney on 26 August 1931 and attended boarding school aged 13 at De La Salle College in Oak Hill.
He was followed into the De La Salle Order by his brothers Barry and Roger, while his sister Deidre entered the Ursuline Order of Nuns where she continues to be a strong and vibrant member.
Pursuing an ingrained passion for teaching and education, Mr O'Sullivan obtained his Teachers' Certificate from the De La Salle Training College, Castle Hill, in 1951, and taught at the De La Salle's Sydney schools in Marrickville (primary level) and Cootamundra (lower secondary level).
From 1956 to 1960, he taught Upper Primary at the Christian Brothers College, Rose Bay before moving West in 1961 and continuing his teaching career at Aquinas College in Perth.
Mr O'Sullivan took on the role of mathematics, physics and religion teacher at Aquinas College, rising to the ranks of Senior Maths Master, and Senior Leaving Master.
In 1975, he was appointed as the first lay Principal of St Norbert College, Queens Park, where he earned a reputation as man of integrity and remarkable leadership skills.
He helped the school transition into a co-educational facility, commenced an ambitious building program which saw the rise of five buildings in nine years and established a strong pastoral care ethos.
His dedication to St Norbert's eventually led to his appointment as Deputy Director of Catholic Education in WA, a role he held until 1989 when he moved to the University of Notre Dame Australia, Fremantle, as Assistant to the Planning Vice Chancellor, Professor Geoff Kiel, and Secretary to the Planning Board.
For the next seven years, Mr O'Sullivan's work was integral to the establishment and development of the University of Notre Dame.
He worked with the Board and canon lawyers on the development of the Canonical Statutes and the West Australian Parliamentary legislation that established the University.
He was also appointed Assistant to the Foundation Vice Chancellor, Professor David Link, and held the positions of Registrar and then Director of Development. He maintained his role as Secretary to the Board of Governors throughout his time at the university, before retiring at the end of 1996.
Mr O'Sullivan's faith, strength of character and wisdom have been described as vital to the foundation culture of Notre Dame University – these qualities eventually earned him the University's Distinguished Service Medal.
Mr O'Sullivan was also strongly active at a pastoral level, participating in various aspects of Catholic life and serving on a number of councils.
Among the numerous roles he undertook were treasurer at Santa Clara Parish, Bentley and Parish Council President at Our Lady of Mt Carmel Parish, Hilton.
As a longstanding acolyte, he was instituted into the Acolyte Ministry by Archbishop Launcelot Goody in 1974 and remained active in the role until 2009.
Mr O'Sullivan was appointed as a Foundation Member of the Catholic Education Commission from 1971 to 1980 and, in retirement, was Director of Professional Standards for the Catholic Church in Western Australia. He also served as Chairman of the Board for Catholic Homes.
Mr O'Sullivan's influence in education was not restricted to Catholic educational circles. He was appointed to the Council of Western Australian Institute of Technology (now Curtin University) – a role for which he was awarded a Fellowship of Curtin University – and he chaired the Association of Independent Schools as well as serving on numerous state government education committees.
A dedicated family man, Mr O'Sullivan greatly enjoyed spending time with his wife, children, grandchildren and great-grandchildren.
Family life was achieved with his beloved wife Barbara, and together they created a home that was always open to assist those in need. From turning the house into a lamington drive production line, to collecting books for bookstalls, Mr O'Sullivan and his wife did much in order to fundraise for worthy causes.
They also opened their home to exchange students from across the world, including secondary and tertiary students from Kenya, Germany, America, Malaysia and an exchange teacher from China.
Mr O'Sullivan enjoyed his sport and learnt to love football after being raised on rugby league in his early years. He was passionate about cricket, rugby union (he coached rugby at Aquinas College with great success) and enjoyed a late career in hockey which brought him to be part of a champion team in veterans hockey.
Mr O'Sullivan leaves a remarkable legacy in Perth and very big shoes to fill. He was described by his son Mark as a man who "always had a very strong calling to service for his community. He gave himself, quietly, compassionately, and with an unwavering dedication to his faith in God and his belief in the goodness of all people".
"Dad saw God in everyone, regardless of who they were. Because of this, he felt that it was important to treat people with grace, and to help others who needed his help whether they were poor or wealthy, whether they had high public standing or had little power. He was a good and faithful servant."
Mr O'Sullivan's Funeral Mass was celebrated on 12 October by Auxiliary Bishop Don Sproxton and concelebrated by Frs Patrick Lim, Peter Joseph Stiglich and Michael Leake at Our Lady of Mt Carmel, Hilton for a congregation of more than 200.
The burial took place at Karrakatta Cemetery.