ACRATH Concert entertains strong crowd, supports cause at hand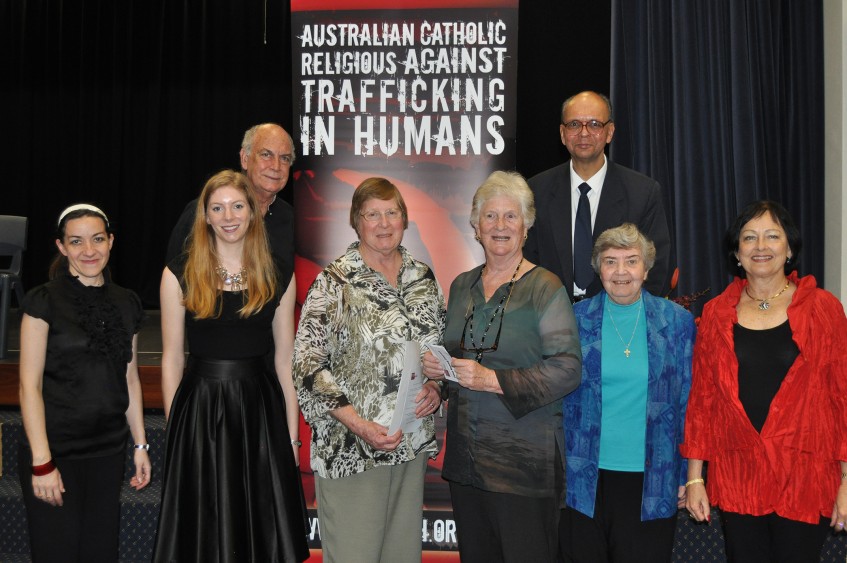 From left, St Mary's Cathedral Director of Music Jacinta Jakovcevic with cantor Carly Power, local performer Christopher Waddell (back), ACRATH Co-ordinator Sr Lucy Van Kessell PBVM, together with raffle winners Sr Gillian and Sr Carmel (Mercy Sisters), conductor Chris deSilva (back) and pianist Margaret De San Miguel. PHOTO: Supplied
By Chris Jaques
A fundraising concert organised by Australian Catholic Religious Against Trafficking in Humans (ACRATH) has last weekend raised more than $4,000.
The funds raised will go towards supporting victims of traffickingand raising further awareness of the causes, in addition to the continuation of current advocacy work.
The concert, which was held at the Loreto Nedlands Performing Arts Centre on Sunday, 30 August, was a resounding success and attended by more than 200 people.
Performances included the Archdiocesan Occasional Choir and Julian Singers, accompanied by pianist Margaret De San Miguel and conducted by Chris deSilva, which sang a range of songs, including Dvorak's O Sing unto the Lord, Verdi's Coro Di Schiavi Ebrei and Arcadelt's Ave Maria.
Local performer Christopher Waddell sang two spiritual pieces, as well as Abide with me (Lyte), and then a duet with Terry Burridge from Mozart's Don Giovanni. Ms Burridge also sang Agnus Dei from Bizet and Gounod's O Divine Redeemer.
St Mary's Cathedral principal cantor, Carly Power, excelled in her renditions of Laudate Dominum, Bester Jungling (Mozart) and Faure's Pie Jesu, in addition to a lovely Irish traditional Oh Danny Boy. All soloists were beautifully accompanied by St Mary's Cathedral Director of Music, Jacinta Jakovcevic.
Conductor Chris deSilva also kept the crowd entertained, contributing three numbers, of which When the Sergeant Major's on Parade by Ernest Longstaffe was a stand-out, performed in honour of a recently deceased member of the Julian Singers.
ACRATH Co-ordinator, Sr Lucy van Kessel PBVM, who spoke at the commencement and conclusion of the concert, said that, in the time of the concert that day, some 240 children would be trafficked internationally.
Sr Lucy went on to pay special thanks to ACRATH volunteers as well as the concert performers who all donated their time and efforts to produce an interesting and eclectic program.
The strong crowd present also showed its support for the event by participating in the raffle, of which the first two prizes were awarded to Sisters Gillian and Carmel from the Sisters of Mercy.
For more information about ACRATH, go to www.acrath.org.au or visit the Facebook site at www.facebook.com/ACRATH.