Notre Dame Parish celebrates 55th anniversary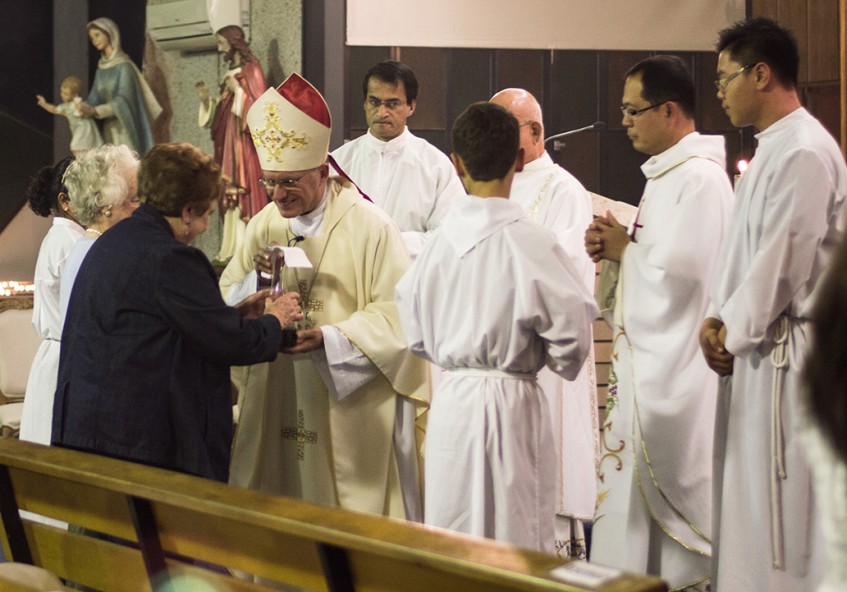 Notre Dame Parish Cloverdale could not have celebrated its 55th anniversary and the Nativity of Our Lady in a better way than with a visit from Archbishop Timothy Costelloe on 8 September 2015. PHOTO: Jae Cabagyo
By Marco Ceccarelli
Notre Dame Parish Cloverdale could not have celebrated its 55th anniversary and the Nativity of Our Lady in a better way than with a visit from Archbishop Timothy Costelloe on 8 September 2015.
Within the walls of a parish named after the Virgin Mary, the Archbishop celebrated Mass for more than 400 parishioners, taking time to greet many of them in the celebrations that followed.
In his homily for the occasion, Archbishop Costelloe recalled a number of statements made by the bishops summoned for the Second Vatican Council – an event which began two years after the 1960 inauguration of the parish in Cloverdale.

"The Church, the bishops said, is a sign and instrument of two things: communion with God and unity among all God's people. And so, tonight, above all else, we should thank God for all the ways in which, over the 55 years of the life of this parish, people have been helped to find their way to God and have found themselves drawn into a community of faith."
The Archbishop went on to quote Pope St John Paul II, who saw the Church as "the community of the disciples of Christ" and laid emphasis on the importance of unity among parishioners.
"Firstly, we are a community. This means that, rather than being a group of isolated and independent individuals, we are called to really be brothers and sisters to each other. In this sense, perhaps another word for 'community' might be family. But we are a particular community – a community of disciples.
"Disciples are people who follow and learn from another, people who know that their gaze must not be fixed on themselves but on their leader. As Christians, our leader is Christ. Tonight, then, as a parish community, you are invited to consider if Christ really is, not just in theory but also in practice, the source of your inspiration, of your strength and of your hope," the Archbishop said.
Parish priest of Notre Dame, Father Nelson Po, stated that the Archbishop's visit had an extremely positive impact on the congregation and breathed new life into that principle of community on which the parish stands.
"We were impressed by how the Archbishop encouraged us to reflect on the way we live as a parish community and how merciful we are to those who are on the outskirts of the parish.
"Particularly in this moment where the international refugee crisis is having an impact on all of us, his comments on helping others and being charitable are very timely and relevant," Fr Nelson said.
Following the Mass, Archbishop Costelloe remained at Notre Dame for a light supper, taking time to meet parishioners and discover more about this vibrant parish in Cloverdale.
Celebrations for the 55-year anniversary of Notre Dame will continue with a Dinner Dance scheduled to take place in the Belmont Sports Recreation Centre on 19 September 2015 at 7pm.