Church agencies, where Catholic ethos is the foundation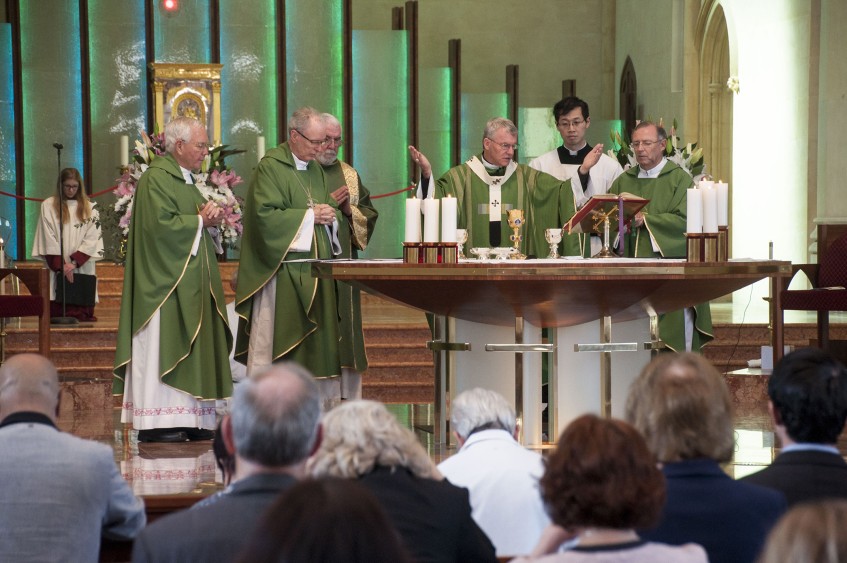 From left, Mgr Michael Keating, Perth Auxiliary Bishop Don Sproxton, Permanent Deacon, Rev Patrick Moore, Archbishop Timothy Costelloe, MC Fr Brennan Sia and Vicar General Fr Peter Whitely during the celebration of Mass at St Mary's Cathedral for the 2015 Annual Commissioning Mass for Agencies and Organisations for the Archdiocese of Perth. PHOTO: Mat De Sousa
By Jamie O'Brien

Catholic identity is really born of a particular vision of what makes a life truly, deeply and fully human, said Archbishop Timothy Costelloe last week, as he addressed some 150 staff from across the agencies and organisations of the Archdiocese of Perth.
The Archbishop was addressing the staff as part of the 2015 Annual Commissioning Mass for agencies and organisations from across the Archdiocese of Perth, which took place last week on Friday, 18 September at St Mary's Cathedral.
In celebrating the occasion, the Archbishop was joined by co-celebrants Auxiliary Bishop Don Sproxton, Vicar General Fr Peter Whitely, Dean of St Mary's Cathedral Mgr Michael Keating and Permanent Deacon, Patrick Moore.
The Archbishop took the occasion to thank staff and volunteers for their dedication and commitment in carrying out their roles and tasks.
In his homily for the occasion, the Archbishop spoke about the idea of Catholic identity, drawing inspiration from the First Reading of St Paul's Letter to Timothy.
"When we ask what makes an institution 'Catholic', we often focus on what is unique to us, on what it is that makes our agency or organisation distinctive and different from other agencies who perhaps do the same kind of work," the Archbishop said.
"Catholic identity is really born of a particular vision of what makes a life truly, deeply and fully human. All our moral teachings, for example – which then can become pointers to the things without which a place cannot be truly Catholic – flow from this," he said.
The Archbishop went on to say that a truly Catholic agency will – each one in its own unique way – be a place where the Catholic ethos, the Catholic world view, the Catholic way of putting life together and making sense of life, is the foundation not just of its mission statement or its formal mandate or its constitution but, even more importantly, of its day-to-day operations.
"Commitment to the moral teachings of the Church is essential for fidelity to our vocation to be a part of the Church. But so is our commitment to the kinds of values which are alluded to, albeit in a negative way, in today's first reading."
A Catholic institution or agency, the Archbishop said, will be a place where everyone knows that, at least as an ideal, and hopefully more and more as a reality, jealousy is foreign, contention is unacceptable, abuse and mistrust are rejected, and foolish and dangerous ambition are banished.
"So, too, will be a holding of grudges and a refusal to forgive.
"Positively, a Catholic institution will be a place where we rejoice in the success of our colleagues, where we seek to resolve differences in a spirit of mutual respect and a firm belief in the good will of each other, where people are never abused, and where selfish ambition always gives way to the best interests of the whole community."
In concluding his homily, the Archbishop also spoke about the upcoming Year of Mercy, drawing on the words of Pope Francis to summarise the role of a Catholic agency.
"Jesus Christ is the face of the Father's mercy.
"As people who work in one of our archdiocesan agencies, we all have our part to play in ensuring that those who work with us and those who engage with us, in whatever role we play in the Archdiocese, are immersed in a culture which is a living experience of Jesus, the face of the mercy and love of God."