MercyCare's unique story documented in new book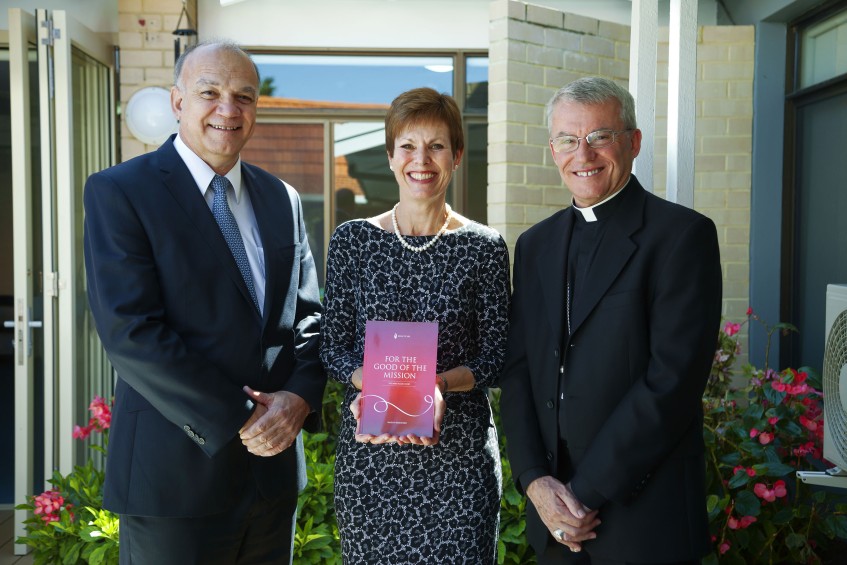 MercyCare CEO Chris Hall, author of For the Good of the Mission, Marilyn Beresford and Archbishop of Perth Timothy Costelloe. PHOTO: Supplied
The unique and captivating story of the establishment of local not-for-profit organisation MercyCare has been told through a new biographical book launched last week.
Archbishop Timothy Costelloe SDB launched the book, For the Good of the Mission, at MercyCare's Residential Aged Care facility in Wembley on Thursday, 17 September.
For the Good of the Mission tells the story of MercyCare's modest beginnings when the Sisters of Mercy first arrived in the Swan River Colony in 1846, and how the organisation has developed to its modern form as a large and multi-faceted community services organisation, supporting Western Australians who are disadvantaged or marginalised.
The book charts these changes through a complex range of changing technology, social trends, human needs and government policy.
MercyCare Chief Executive Officer Chris Hall said For the Good of the Mission draws on extensive archival material and interviews to illuminate the role played by the laity in the Perth congregation's institutions.
"For the Good of the Mission is the story of the courageous people of MercyCare and of their commitment to improving the lives of the people in our community experiencing disadvantage in its many forms," he said.
"During the 19th and 20th centuries, the Sisters of Mercy were increasingly assisted by lay people to respond to the needs of the times, while establishing an ever-expanding range of services in aged, health, and family and community care.
"In 1984, the Sisters began the bold and visionary journey towards the creation of a completely lay-led organisation, which was to become MercyCare.
"Since the transfer of the Sisters of Mercy's health and community services to MercyCare, we have further developed into an organisation for the 21st century."
Mr Hall said the book acknowledges the vital role played by Sister Anne Tormey, Sr Sheila Sawle (now deceased), Sr Leonie O'Brien and Sr Maura Kelleher, as well as Michael Reutens, the inaugural CEO of MercyCare and inaugural board chairperson, Dr Maria Harries AM, in this process.
For the Good of the Mission, by Marilyn Beresford, is available for purchase upon request; please contact the MercyCare Marketing team on 08 9442 3444 to place your order.
MercyCare is a leading Catholic provider of aged care, family, health and community services. MercyCare employs over 700 staff and 150 volunteers, delivering services from more than 30 locations throughout Western Australia.