After 40 years, Father Kaz still enjoys a varied and exciting career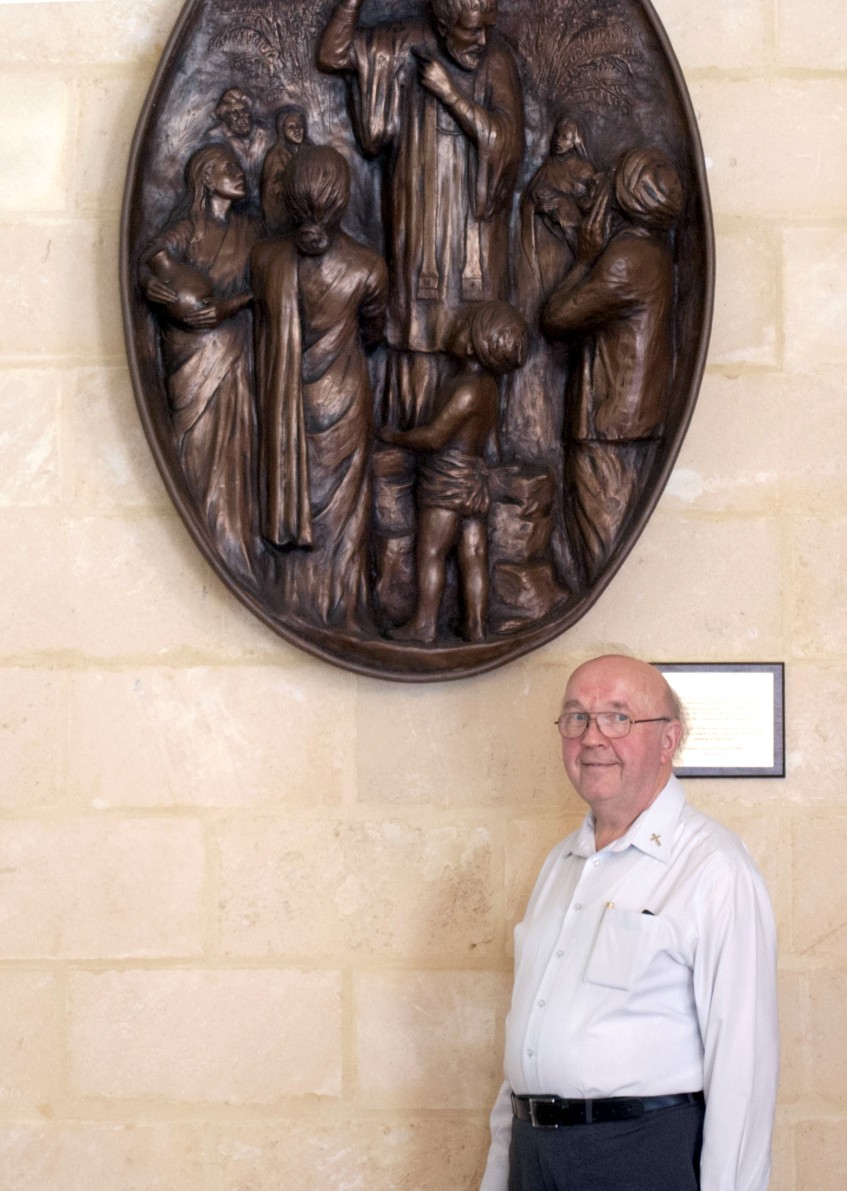 Fr Kaz Stuglick at his current parish of St Francis Xavier in Armadale. Photo: Supplied
By Caroline Smith
Forty years can be a very long a time for recalling specific experiences but Father Kazimierz Stuglik remembers well the night he arrived at Perth airport to begin his career as a parish priest in Western Australia.
Fr Kaz – as he is better known – recently celebrated his 40th anniversary to the priesthood, and said he had been surprised to see who had come to greet him when he arrived from Poland in March 1979.
"I came to Australia in the middle of the night, and it was really hot," he said.
"I noticed a chap in uniform and he came up and asked me for a name, which I gave him, and he said the bishop was waiting for me.
"I thought it was a mistake because, in Poland, I was only a three-years ordained priest, and no bishop would come to the airport in the middle of the night for me there."
Born in the village of Inwald in southern Poland – close to Pope John Paul II's home town of Katowice – Fr Kaz entered the Society of the Divine Saviour, also known as Salvatorians, to train as a priest in 1976.
His decision to relocate overseas came about through a visit to Poland by British Salvatorians, who were the most prominent among that Order in Western Australia.
"Salvatorians were here in Perth already - they were under British province but there were both Irish and English priests," Fr Kaz said.
"Some of their representatives came to Poland and they announced that they were looking for volunteers, and two of us volunteered to go."
During his early days at the Order's former headquarters in the suburb of Bellevue, Fr Kaz said he had received much support from the surrounding community, which helped him settle in.
"There were two families that really helped me when I arrived – the Italian-Scottish Poli family and the Polish family, Basil and Maria Glowacki," he said.
After this, he went to Bunbury and then to Esperance, where he became assistant parish priest with Fr Pat Rooney, and became involved in building work for the parish, which helped him settle in further.
"There was a big project to rebuild the Church in Esperance, and it was the first time I felt really part of the team," he said.
"It was a very lively country parish."
Since then, Fr Kaz has been priest at a number of parishes, including Greenmount, Midland, Northam and Armadale.
As one of several priests who have worked at St Mary's Cathedral, Fr Kaz recalled an interesting encounter there involving a young Austrian couple preparing for their wedding named Judith and Andreas Friedl.
He helped them with their paperwork and officiated at their ceremony.
"The wedding was on the second day of Christmas, and there were only them, a couple of witnesses and myself," he said.
"Following the wedding, they went to the Chapel of Our Lady to pray, and then I invited them to come and have a coffee with me, and they met (then) Bishop Healey as well.
"After that, we used to exchange cards sometimes after they went back to Austria.
"Two years ago, I had a phone call from Perth, and this voice says, 'do you remember me?' and I said 'yes, it's Andreas'. It was Judith and Andreas Friedl, and they called me from the Cathedral, and we met up in town and had a coffee."
But perhaps the most important moment for Fr Kaz was on Pentecost Sunday 1994, when he underwent incardination, shifting from the authority of the Salvatorians to the Archbishop of Perth.
Since then, he has continued to live out his vocation at parishes across WA, including St Brigid in Midland and St Francis Xavier Armadale, where he now resides.
"I was seven years in Midland from 1997: initially, there were some people who were unhappy with the change and the fact that the Franciscans (Franciscan Brothers) had left," he said.
"But the funny thing is that some of the people who were causing trouble later became great supporters."
He added that his current parish of St Francis Xavier in Armadale was also one that was constantly changing.
"When I came to Armadale nearly 11 years ago, it was fairly Anglo-Saxon, some Dutch, a few Filipinos, a sprinkling of Burmese," he said.
"Then the numbers exploded – we have many Indians, Filipinos, some from African countries. There used to be 160 kids at the local school, now it's 400."