Big decision to become Catholic made easy at Ballajura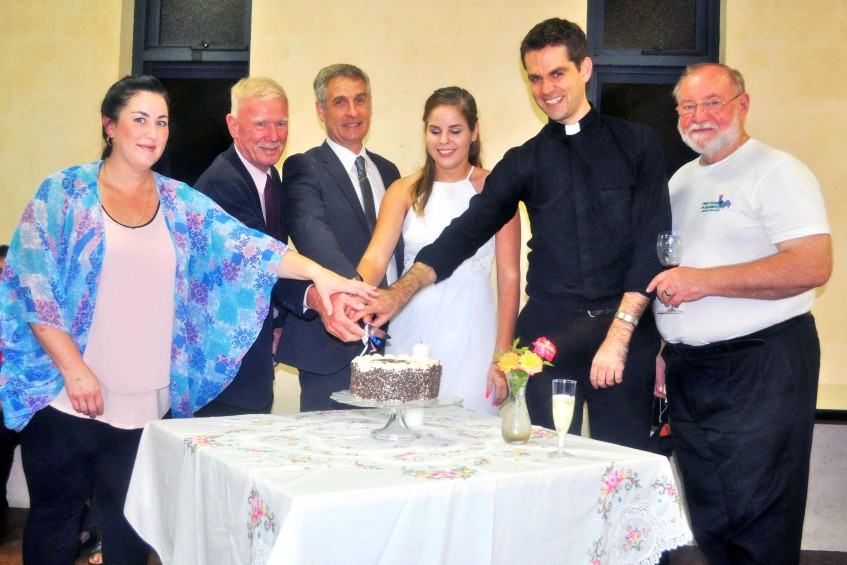 Amanda Dillon, Bruce Ramsay and their fellow neophytes celebrate with Ballajura Assistant Priest Fr Stephen Gorddard and Parish Priest Fr John Jegorow. Photo: Supplied
By Rachel Curry
A friendly yet thorough Christian initiation process helped Ballajura parishioners Bruce Ramsay and Amanda Dillon make the life-altering decision to become Catholic.
The pair sung the praises of the Rite of Christian Initiation for Adults (RCIA) after receiving the Sacraments of Eucharist and Confirmation at Mary MacKillop Catholic Church, Ballajura parish, during the Easter Vigil.
The RCIA guides participants through a period of learning and discussion about the Catholic faith, before they make a final decision.
Participants include Catechumens, who have not been baptised, and Candidates, who have been baptised in another Christian denomination.
Mr Ramsay, who was raised as Anglican, recalled that he was very religious when he was young.
"I was what we used to call 'servers' in Church, assisting the priest with Communion, so I was quite invested in it, in my young life and teens," he said.
"Then, in my 20s, I lost faith in everything and turned away from the whole thing."
The turning point for Mr Ramsay came when he met his partner, Esme Barker, who is Catholic, about 15 years ago.
He used to walk her to and from Mass every Sunday, but never attended until a health scare shook his world view.
"After I retired from work, I got quite ill six months later and had to have a large operation," he said.
"You start to think about things and I thought, 'There's got to be more to life than just drifting through and dying'."
Mr Ramsay began to attend Mass with Ms Barker and said he found a new "spiritual purpose".
His interest in the RCIA came some years later, after he felt a desire to take Communion, as he had done in the Anglican Church.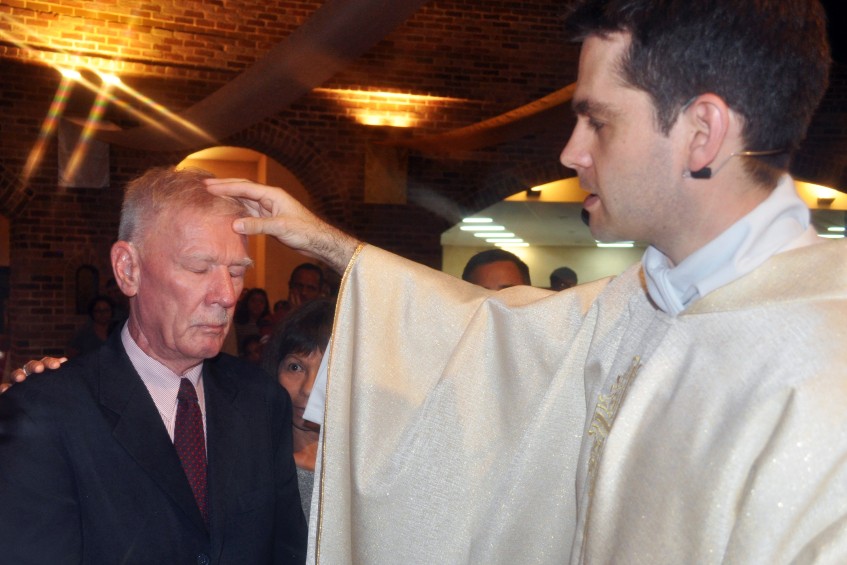 Bruce Ramsay receives the Sacrament of Confirmation from Ballajura Assistant Priest Fr Stephen Gorddard at the Easter Vigil at Mary MacKillop Catholic Church. Photo: Supplied
He said he wasn't sure about becoming Catholic at first, but came to a decision gradually, with the help of Ballajura Assistant Priest, Father Stephen Gorddard.
"Fr Stephen made a very great impact on me… I felt he was someone I could relate to, even though he's a lot younger than I am," he added, with a laugh.
Now a full member of the Catholic Church, Mr Ramsay said he finally felt fulfilled.
"I've come back with an even stronger faith, coming from a different perspective," he said.
"I feel it's far more personal than it ever was and I'm very appreciative of the Church accepting someone like me."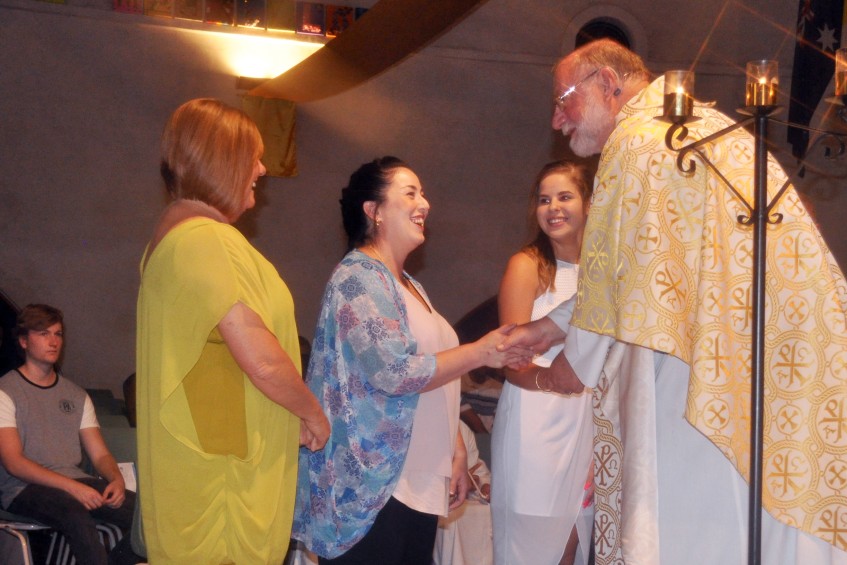 Amanda Dillon is congratulated by Ballajura Parish Priest Fr John Jegorow during the Easter Vigil at Mary MacKillop Catholic Church. Photo: Supplied
Unlike Mr Ramsay, Mrs Dillon did not have a religious upbringing, despite being baptised as a child.
Instead, she came to the Church through her husband who is Catholic, and through professional influences.
"In the last few years, I worked at a Catholic school and that opened my eyes and made me want to learn a bit more," she explained.
Her children attending a Catholic school was another factor which piqued her interest in the faith, leading her to join the RICA.
She said she enjoyed the process, which helped her resolve difficult questions such as, 'Why does God let bad things happen?'
"I didn't know what to expect, but Fr Stephen was really lovely and it was really informal," she said.
"The information he gave us was very thorough. We all went around asking questions, which he was happy to answer and he made it really easy to understand."
After going through the RCIA, Mrs Dillon described receiving the Sacraments at the Easter Vigil as a beautiful experience.
"I don't think I realised how big of a deal it is and how special it is to be welcomed into the Church," she said.
For more information about the RCIA, visit www.liturgy.perthcatholic.org.au.