Students help out to make going back to school brighter for kids in care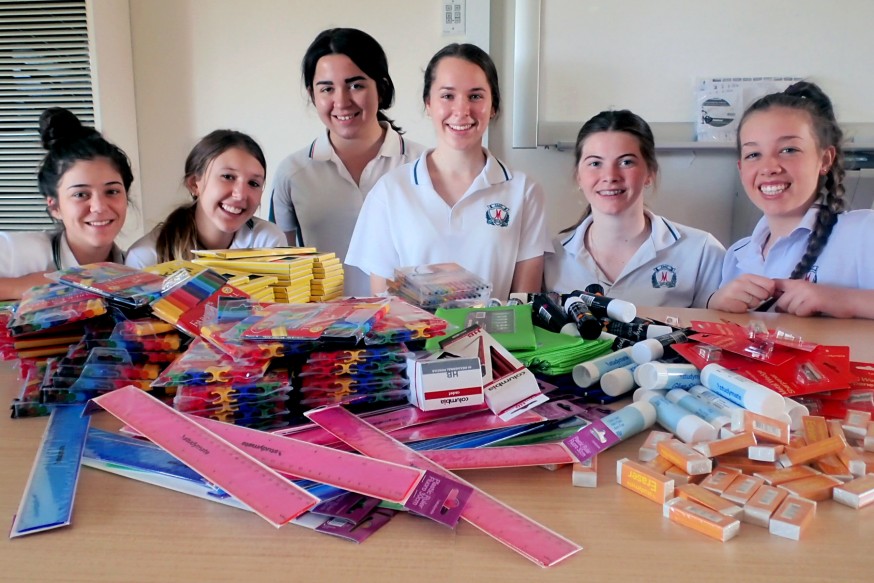 Going back to school will be a little bit brighter for children in the care of not for profit organisation MercyCare, after students from two Perth girls schools donated their time and money to create back to school packs. Photo: Supplied
Going back to school will be a little bit brighter for children in the care of not for profit organisation MercyCare, after students from two Perth girls' schools donated their time and money to create back to school packs.
The students from Mercedes College and Santa Maria College collected donations, which were used to buy essential school items like drink bottles, lunch boxes and school bags.
Retailer Officeworks also leant a helping hand by donating almost $300 worth of stationary and pencil cases for the packs.
Six of the students spent half a day on Tuesday at MercyCare's Wembley site putting the packs together so they can be distributed to kids in care before they start school.
"When I was student, I remember the excitement of getting my new stationery supplies before the beginning of each school year," said Schools Liaison Officer, Louise Mason.
"We just really want kids in care to feel that same excitement about going back to school."
The students put together 40 back-to-school packs, seven pre-school packs and 10 childcare packs for all the children in care who need them.
"I see the back-to-school packs as a long-lasting gift because they will enhance the kids' learning and education," said Mercedes student Marcella Morton.
"I hope they feel valued and special knowing that the packs have been made just for them."
MercyCare Chief Executive Officer Chris Hall said the organisation currently has 60 children in its foster care program and family group homes.
"We try very hard to ensure that children in our care have everything they need to succeed at school," he said.
"Giving them the tools to do this is just a small way of helping them to feel positive about going back to school and the year ahead."
Mr Hall also thanked Officeworks for its kind donation.
MercyCare is a leading Catholic provider of aged care, family, health and community services. We employ over 700 staff and 150 volunteers, delivering more than 40 programs and services, from over 30 locations throughout Western Australia.