Lent 2016: Remember that you are dust, and to dust you shall return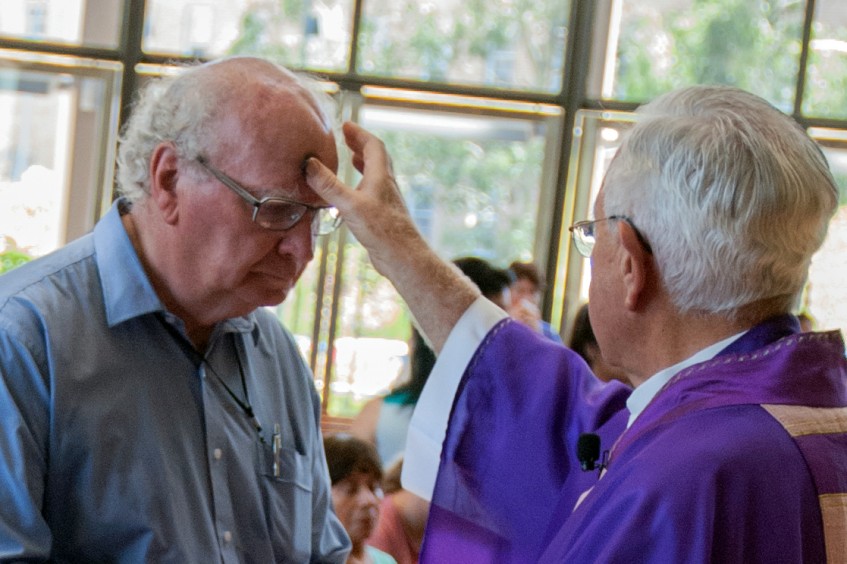 More than 500 people making their way to St Mary's Cathedral on Wednesday, 10 February, for an Ash Wednesday Mass that focused on the importance of Lent during this special Jubilee Year of Mercy. Photo: Jamie O'Brien.
By Marco Ceccarelli
A scorching forty degree heat did not stop more than 500 people this week making their way to St Mary's Cathedral for the Ash Wednesday Mass marking the commencement of Lent.
Celebrated by Cathedral Dean Monsignor Michael Keating on Wednesday 10 February, the 12:10pm Mass laid emphasis on ashes as symbols of penance and reconciliation, as well as signs of our ephemeral nature here on earth.
In his homily, Monsignor Keating reminded the congregation that the occasion also presented an opportunity to remember former Perth Archbishop William Foley, who died on 10 February 1991.
Archbishop Foley, Monsignor Keating explained, was exhumed six years ago from Karrakatta cemetery along with Archbishops Redmond Prendiville and Launcelot Goody and reinterred in the Cathedral Crypt.
"When the remains of these great men were exhumed it was a confronting sight. Yet it is a stark reminder to us, as is the day of Ash Wednesday when we say 'you are dust and to dust you shall return', that these great men, these great Archbishops, were reduced to practically nothing," Monsignor Keating said.
"It is thus good for us to think, without being morbid, that we have a limited life. This is a marvellous time to think about the life that God has given us and make sure that this Lent is an opportunity for us to do good.
"Particularly in this Year of Mercy, where we may have experienced God's mercy in the sacrament of reconciliation and confession, we have an opportunity to fast and to make sacrifices for others. That is what Project Compassion is about. That is also why we have this time of prayer and penance," he added.
Following the homily, the ashes were sprinkled with holy water by Monsignor Keating, who also invited the faithful who may have an ill person at home to take a very small amount of the ashes and place on their forehead.
The congregation subsequently formed long ques to receive the ashes in the form of a cross on their forehead. The phrase "Repent and believe in the Gospel," or, "Remember, man, that you are dust and unto dust you shall return," was uttered by those distributing the ashes.
The ashes used come from the burning of palms blessed during last year's Palm Sunday celebrations.
The Christian use of ashes is rooted in the Jewish custom of sprinkling ashes on the head as a sign of repentance.
The liturgy continued with the Eucharist and concluded with Monsignor Keating's blessing and with singing led by the Cathedral's Principal Cantor Carly Power.