Whitford Parish Holy Door a reminder to be more merciful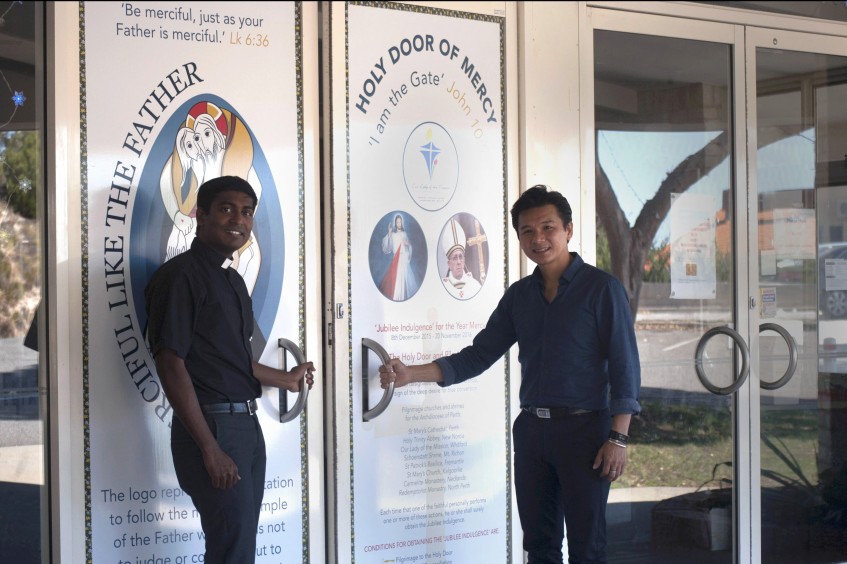 Parish Priest Fr Joseph Tran and Assistant Priest Fr Renald Anthony at the Whitford Holy Door. Photo: Caroline Smith.
By Caroline Smith
With incidents of intolerance and conflict making headlines around the world, having a year set aside to reflect on mercy and kindness could be beneficial to local and global communities alike, says Whitford Parish Priest, Fr Joseph Tran.
Fr Tran's parish - Our Lady of the Mission - is one of eight across the Archdiocese to have a Holy Door as part of the Jubilee Year of Mercy, and he believes it has provided an impetus for parishioners to be more open to those around them.
"For me and for the community I think it's a wonderful opportunity in all aspects of our lives to be more welcoming to others and not judging," he said.
He added that Pope Francis' decision to announce a Jubilee Year seemed a necessary response to much of the suffering in today's world.
"I think he can see that there's a great need for mercy in society, especially with what's going on with intolerance of religion, conflict and terrorism," Fr Joseph said.
The plight of refugees also reminded us to think about those in need, particularly those dislocated from their homes, he added.
The Holy Door at Whitford Parish was officially opened on the weekend of December 12 and 13 and since then it has provided a good talking point for those in the parish, according to Fr Tran.
"We had a little liturgy on December 8, and asked the people from the church to participate," he said.
"We tied it in with the feast of Mother Mary, because she is the mother of Jesus, and she's entrusted by Jesus with welcoming the children of God.
"After the mass and liturgy, there was the blessing of the door, and we told people what the logo meant, explaining that we all need to be more merciful, and the need to see the merciful Father in the face of Jesus."
The Holy Door logo shows Jesus carrying a person, or lost soul on his shoulders – and the eyes of both figures merge in the picture, suggesting that Christ has the same eyes as man.

Reflecting on mercy and kindness could also provide support for families living in the community, and help them feel more welcome at the church, Fr Joseph said.
"We have many young families in our parish area who might not have been to church for a long time, and it's a good opportunity for us to do something to welcome them, especially if their child is going to the Catholic school and they might start thinking about going to church," he concluded.