7th Principal of John XXIII College commissioned by Archbishop Costelloe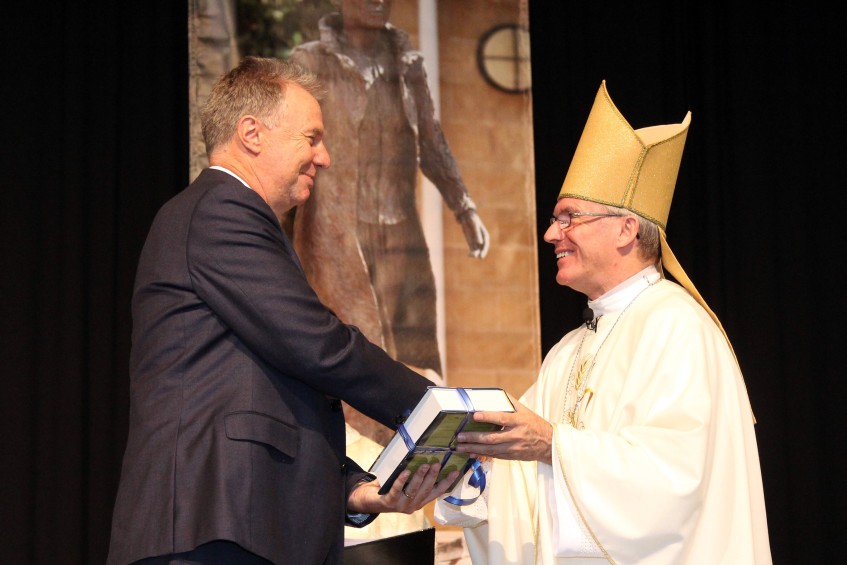 The new principal of John XXIII College in Claremont, Mr Robert Henderson, receives The New Jerusalem Bible as a gift from Archbishop Timothy Costelloe SDB at the opening college Mass on Thursday, 4 February 2016. Photo: Supplied
By Marco Ceccarelli
John XXIII College in Claremont has begun the new school year with the commissioning of its new Principal, Robert Henderson.

The seventh Principal to take the helm at John XXIII, Mr Henderson was commissioned by Archbishop Timothy Costelloe SDB on Thursday 4 February 2016 at the opening college Mass concelebrated with Fr Vincent Glynn and Fr Wilson Donizetti-Martins.

Educated at Aquinas College and UWA, Murdoch University and The University of Notre Dame, Mr Henderson has 27 years teaching experience in Catholic schools and joins the John XXIII College community from his latest role as Headmaster of Ipswich Grammar School, Queensland, where he spent the last five years.

Prior to that, Mr Henderson was Headmaster of Christian Brothers College (CBC) Fremantle.

In his homily for the Mass, Archbishop Costelloe laid emphasis on the importance of the Jubilee Year of Mercy in which we find ourselves, and encouraged the students of John XXIII to take inspiration from a statement written by Pope Francis as he announced the Holy Year of Mercy: "Jesus Christ is the face of the Father's Mercy."

Archbishop Costelloe reminded the congregation that the person of Jesus stands at the heart of our faith as Catholics. He then explained to the students that finding Jesus at the heart of their faith also meant fully appreciating what lay at the heart of their school.

Referring to the gospel of Zacchaeus read on the day, a gospel which he said "puts flesh on the bones of the idea that God is merciful," the Archbishop went on to say that mercy gives people an extraordinary power to do good.

"It [mercy] is generous, and gentle, and forgiving, and encouraging and courageous. It is ready to believe that people can change, that they can be better. It is ready to let go of angry judgments, and a desire for payback and a determination to make people suffer for their mistakes. If I had to sum it up in one word I would say that mercy is about being large-hearted."

To conclude, the Archbishop invited the students to be a living example of what a real Catholic school looks like.

"You are called to be a school where mercy reigns supreme: where generosity and gentleness and forgiveness and encouragement always win out over stinginess, and aggressiveness, and resentment and negativity.

"Can you be, in other words, a large-hearted school full of large-hearted people? If you can then, just like Jesus himself, you together will also be the face of the Father's mercy," he said.

Following the Eucharist, Mr Henderson was invited up to the altar by the Archbishop to receive a blessing. He was also gifted a new copy of The Jerusalem Bible.

In an interview for The eRecord, Mr Henderson stated that he is very much looking forward to leading the College through a new year and is keen to learn about the College's Jesuit and Loreto Charism and the spirit of John XXIII.

"I am also keen to assist students to make a meaningful contribution to society in the home and in the workplace. In an educational sense, I learned much in my time in Queensland particularly with respect to teaching and learning processes and assessment. I look forward to sharing some of these ideas."

Mr Henderson also spoke about having missed the faith dimension in Australian schools and is excited to be able to play a small part in the lives of young people.

"I believe it is essential to promote persistence and resilience amongst our young people. Having talent is great but being able to utilise that talent for the betterment of others is a real gift. A spirit of commitment and service will assist in developing outstanding young people for the future," Mr Henderson said.