Manning Parish Priest celebrates 50th anniversary of priestly ordination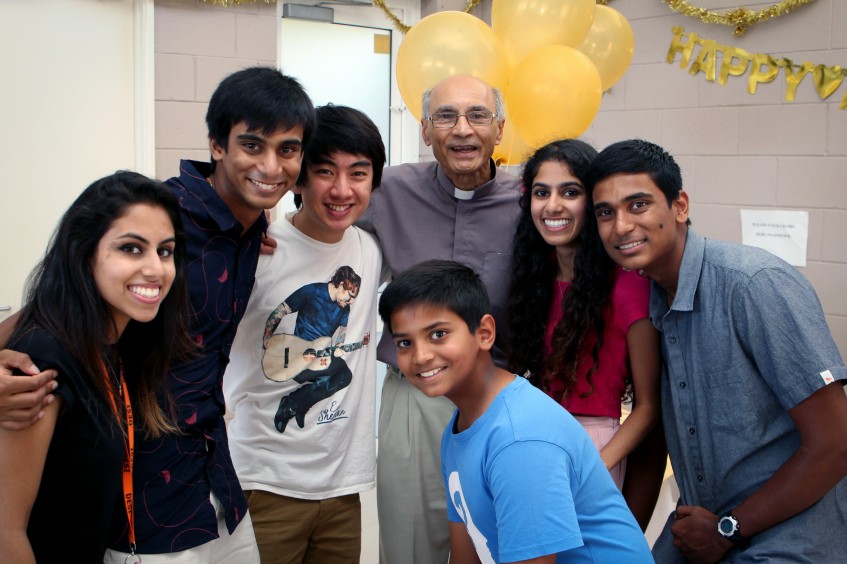 Fr Blasco Fonseca is surrounded by youth from St Pius X Parish in Manning at the celebrations of his 50th anniversary of ordination to the priesthood. From left to right: Emily Carvalho, Ryan Gonsalves, David Handojo, Fr, Brittany Carvalho, Jason Gonsalves and (in front) Nathan Gonsalves. Photo: Supplied.
By Marco Ceccarelli
50 years of tireless service to the Catholic Church within Australia, the UK and Kenya seem to have hardly worn down St Pius X Parish Priest, Fr Blasco Fonseca.
Judging by the energetic and enthusiastic way in which he runs the Manning Parish, Fr Blasco remains a committed and devoted shepherd of God's people, much to the delight of his parishioners.
The 50th anniversary of Fr Blasco's priestly ordination was celebrated at his parish on 7 February 2016, as more than 200 people, including Emeritus Archbishop Barry Hickey and members of Fr Blasco's current and former parishes, attended both Sunday Mass and the social gathering which followed.
While Fr Blasco had a few chances to speak about some of his life-experiences as a priest throughout the morning, the post-liturgical celebrations saw Emeritus Archbishop Hickey and Chairman of Parish Council, Philip Goes, say a few words about Fr Blasco's life.
In his speech, the Emeritus Archbishop recalled the time of his own priestly formation at the Pontificio Collegio Urbano de Propaganda Fide in Rome, and highlighted that Fr Blasco must have been entering the same Collegio just as the Emeritus Archbishop was graduating from it.
Fr Blasco was in fact formed at the same missionary Collegio in Rome and had the privilege of being ordained by Pope Paul VI in St Peter's Basilica on the Feast of the Epiphany in 1966.
His life as a priest, however, began far from Rome and took its first steps in rural Kenya, where he was sent to be of service to an area in the diocese of Machakos.
Fr Blasco spent two years serving many outstations in his first Mission and fondly remembers riding on the backseat of a religious Brother's scooter during in order to be initiated into visiting small church groups and schools.
Secondary education at the time in post-independence Kenya was being initiated by the churches on a self-help basis and the mission where Fr. Blasco was posted had started a high school. Fr Blasco, who had no knowledge of teaching, was swiftly put into a classroom by the priest in charge to teach English in the mornings before going out to the villages.

The first years of Fr Blasco's priesthood were spent preparing children in rural schools for baptisms, saying masses in small rural churches and interacting with the catechists of the area.
Four years into his ministry, Fr Blasco was offered the opportunity by his Bishop to attend a short international ecumenical training course in India where he was exposed to evangelization.
Fortune smiled on Fr. Blasco again a year later when he was offered a scholarship to study rural development in the UK in order to become a Diocesan Development Coordinator in the new diocese of Machakos.
After two academic years in the Swansea and in Reading (UK), Fr Blasco was called back to the diocese of Machakos in 1974 to take over the Cathedral mission (parish) and was asked to be the Diocesan Education Secretary. During this time, he developed the Cathedral mission, tending to the numerous outstations under his care, creating new outstation worshipping centres and building small "bush churches" with the assistance of the local people. He also oversaw the establishment of new self-help secondary schools, many of which were in need of teachers and volunteers from overseas.
After four years in this role, Fr Blasco undertook further short study in 1978, this time in the Philippine capital of Manila, at the International Institute of Rural Reconstruction, learning from what had been achieved in some provinces around Manila. On his return to Kenya, Fr. Blasco was posted to a remote part of the diocese and a very productive period of Fr Blasco's life ensued.
In the 1980s, he became involved in helping people with problems in agriculture, water, primary health care and leadership training before embarking on two more years of sabbatical study in London and in New York.
It was after his return from the US that Fr Blasco was encouraged by Monsignor Michael Keating of Perth (whom he knew from his period of study in Rome) to come and serve in Australia.
Having been granted permission, Fr Blasco arrived in Perth in 1989 and served for half a year in the Parish of Highgate, yet was called back to Kenya and appointed to open a new Mission in an area of very few Catholics.
He was invited back to Australia in 1995 to preach Mission Appeals. This time he met Archbishop Barry James Hickey, who extended the invitation to work permanently in Perth. Despite a desire to continue work in Australia, he temporarily returned to Kenya to work in a new Mission posting until he was struck with a virus in 1997 that put him out of action for three years.
Once he was back on his feet and felt the need to seek new pastures, Fr Blasco wrote to Archbishop Hickey in 1999 requesting to be accepted into Perth Archdiocese. He was put in charge of Embleton Parish in 2000, and after three and a half happy years he was sent to the country parish in Moora, WA. Caring for this parish, with all its travelling was a new and different God-given experience for him. After two and a half years with small communities in the country, Fr Blasco went on for a refresher sabbatical study in Chicago, USA.
On return Fr Blasco took charge of the parish in East Fremantle and was concurrently appointed as Vicar for Migrants by Archbishop Hickey - a role which he says gave him immense fulfilment. Following three and a half years in East Fremantle, Fr. Blasco moved on to take charge of Guildford parish where he served for four years. During this time he was reappointed by the new Archbishop Timothy Costelloe to serve as Vicar for Migrants.
Fr Blasco's final appointment, and the parish where serves to this day, was St Pius X in Manning.
Since taking over at Pius X, Fr Blasco has been able to engage with the parishioners in an extraordinary way, says Ainslie Berry, parishioner since 2008.
"He is also keen on the parish school, and always wants feedback from parishioners to see how he can improve their experience of the parish", she said.
Longstanding parishioner at St Pius X, Adolph De Sousa, also spoke well of Fr Blasco, emphasising the now 73 year old's ability to be so energetic and passionate about his work.
"He is active and gives a lot of thought to the way he organises his services, from beginning to end. He is able to connect the dots between the readings and the gospel and relates to people's lives in a way that you do not often see," Mr De Sousa said.
While the celebrations of his 50th anniversary of priestly ordination focused on his past, Fr Blasco looks to the future.
"I have felt that God has given me many blessings and privileges in my life. I therefore feel an immense gratitude to God for all the joys and experiences I have had as a priest", Fr Blasco said.
"In my life as a priest, I know that those with whom I related in the course of my ministry, as well as fellow priests, took me along on my priestly journey. Whether in parishes overseas in the UK, USA, or in Kenya, or here in Australia, there are many good people in every parish. In all the parishes I have served in I have had lots of contentment.
"In light of the "call and response" theme present in the gospel of the Sunday of my anniversary celebrations (Luke 5:1-11), I know there is an ongoing "call" and an ongoing response expected of me. I am conscious of my imperfections and I may be unable to do many things but I see the grace of the Holy Spirit certainly working as I look back on my life as a priest year by year."