SPECIAL FEATURE - Pilgrims welcomed as St Patrick's Basilica opens its Holy Door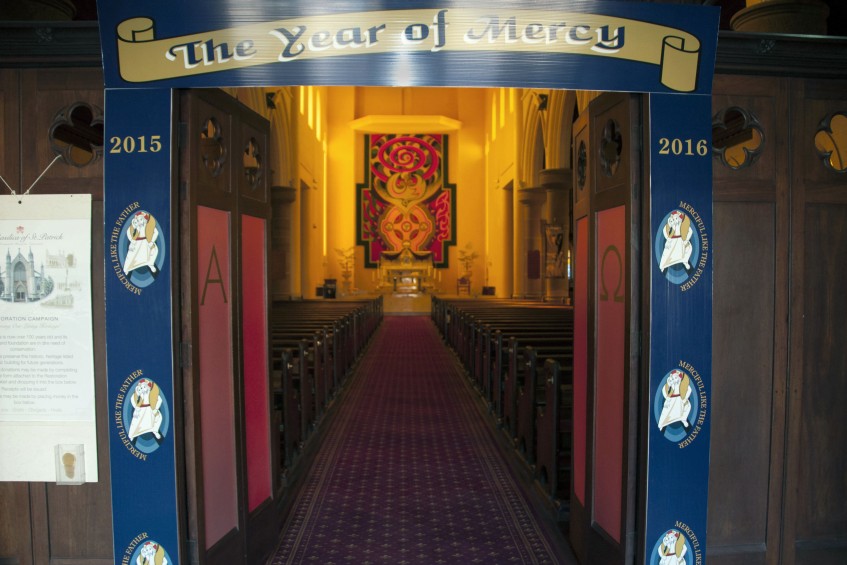 The Holy Door of St Patrick's Basilica, Fremantle, which is one of eight other Holy Doors opened throughout the Archdiocese of Perth, was opened at the 11am Mass on Sunday, 13 December last year. Photo: Marco Ceccarelli
By Marco Ceccarelli
If the awe-inspiring interior and exterior design of St Patrick's Basilica in Fremantle was not enough to offer visitors a profound spiritual experience, the majestic church has now opened its Holy Door for the Jubilee Year of Mercy.
The Door, which is one of eight other Holy Doors opened throughout the Archdiocese of Perth, was opened at the 11am Mass on Sunday, 13 December last year.
More than 300 people, including visitors and parishioners, attended the Mass of the Opening of the Holy Door, which was celebrated by Parish Priest Father Tony Maher OMI and the since-transferred Assistant Priest, Fr Andrew Chen.
Pilgrims and visitors are invited in this Jubilee Year of Mercy (8 December 2015 – 20 November 2016) to make a brief pilgrimage to a Holy Door designated by a diocesan bishop or archbishop as a sign of deep desire and true conversion.
"Because we are a significant church in the Archdiocese, a basilica, in fact, I thought it was only appropriate that we should promote the Year of Mercy by offering our church as a location for a Holy Door," Fr Maher said.
"I have had many people come to me and say that they come to this church because of the pilgrimage. They then stay for Mass, they come for Confession and they have the opportunity to obtain an Indulgence," he added.
For over 100 years, St Patrick's has been a place of meeting, a place of welcome and a shrine, Fr Maher explained.
Hospitality is key within the Basilica and spiritual hospitality is even more important. "That is why I said yes to have the door. In essence, the door enhances what St Patrick's is about: a place of prayerfulness and spirituality," Fr Maher said.
The Holy Door at St Patrick's was erected in 1899, a year before the completion of the Basilica.
In order to obtain the "Jubilee Indulgence" for the Year of Mercy, as stated in Pope Francis' Bull of Indiction of the Extraordinary Jubilee Year of Mercy Misericordia Vultus, the faithful are encouraged to observe the following conditions: pilgrimage to the Holy Door, Sacrament of Reconciliation, celebration of the Eucharist which includes the profession of Faith, prayers for the Holy Father, prayers for the intentions of the Holy Father and reflection on Mercy.
The designated Pilgrimage churches and shrines for the Archdiocese of Perth are:
St Mary's Cathedral, 17 Victoria Square, Perth
St Patrick's Basilica, 47 Adelaide Street, Fremantle
Holy Trinity Abbey, Great Eastern Highway, New Norcia
St Mary's Church, Brookman Street and Porter Street, Kalgoorlie
Our Lady of the Mission, 270 Camberwarra Drive, Craigie
Carmelite Monastery, Elizabeth Street and Thomas Street, Nedlands
Schoenstatt Shrine, 9 Talus Drive, Mt Richon
Redemptorist Monastery, 190 Vincent Street, North Perth.