Catholic agencies come together for memorable social gathering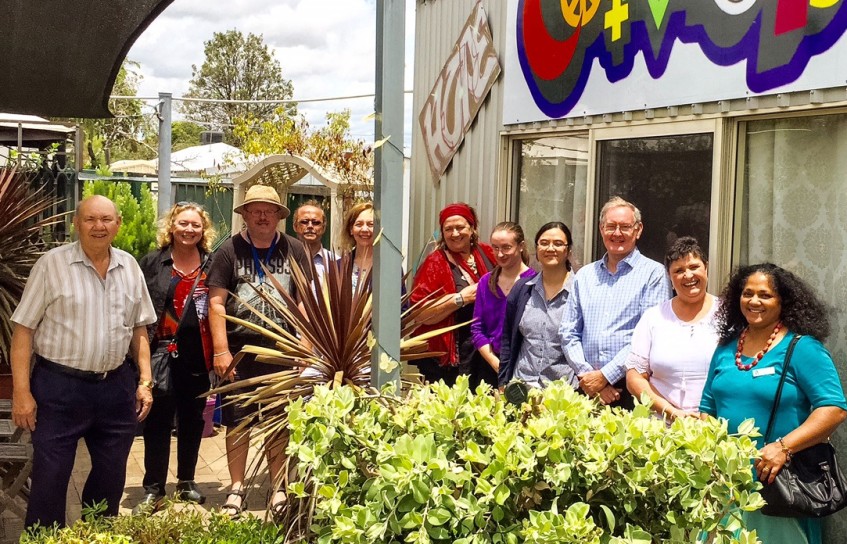 Representatives of Catholic agencies within the Archdiocese of Perth gathered at the Emmaus Community in Queens Park on 4 December 2015 for a memorable day of social interaction. Photo: Supplied
By Marco Ceccarelli
There could not have been a better setting for the social gathering of the Perth Archdiocese Catholic agencies on 4 December 2015 than the picturesque gardens of the Emmaus community in Queens Park.
Aside from a range of feature gardens adorned with charming flowers and beautiful Australian plants, the invitees were greeted by a large sign placed on one of the buildings which read "Coexist" – a very fitting feature for an event held in the name of cohesion and respect.
Managers, coordinators, directors and staff members were welcomed by the founder of the Emmaus Community, Brother Alan Archer, who was more than pleased to host fellow colleagues and show them the premises he and others have taken 20 years to establish.
Emmaus is a registered charitable organisation which provides long-term, independent, community-based living for adults with mental illness.
Present at the gathering were members of the Archdiocesan Finance Office, including Manager of Corporate Services, Julie Fuge; Manager of Catholic Services Development, Renay Grech; Projects Officer, Claire Chew and Admin Assistant, Sara Pavered.
Justice, Ecology and Development Office Director Carol Mitchell was also present, along with Personal Advocacy Services coordinators Jocelyn Versace and Robyn Hoffmann and staff member Andrea Carlos. RCIA Coordinator Karen Hart and Catholic Outreach Director Peter McMinn also joined the gathering.
The guests were treated to an abundant lunch and took advantage of the occasion to talk about the accomplishments of the year 2015 as well as the goals for the upcoming year.
Conscious of the approaching Emmaus Christmas party, both individual members and agencies showed their generosity and appreciation to Br Alan and the Emmaus community by bringing a significant number of gifts to be opened at the upcoming festive day.
"It was a very beautiful gathering of goodwill in which we were able to get to know others who work in Catholic agencies. I am conscious of the fact that we all work for the Archdiocese in some way, yet it was nice to gather together, it really made me feel part of a larger organisation," Br Alan said.
"In fact, the event has made me want to visit other agencies, see their work and perhaps learn from how others run their organisations. I was incredibly grateful to everyone for having attended and for having brought gifts for the members of Emmaus," he added.