Lotterywest grant to support move to new home for Identitywa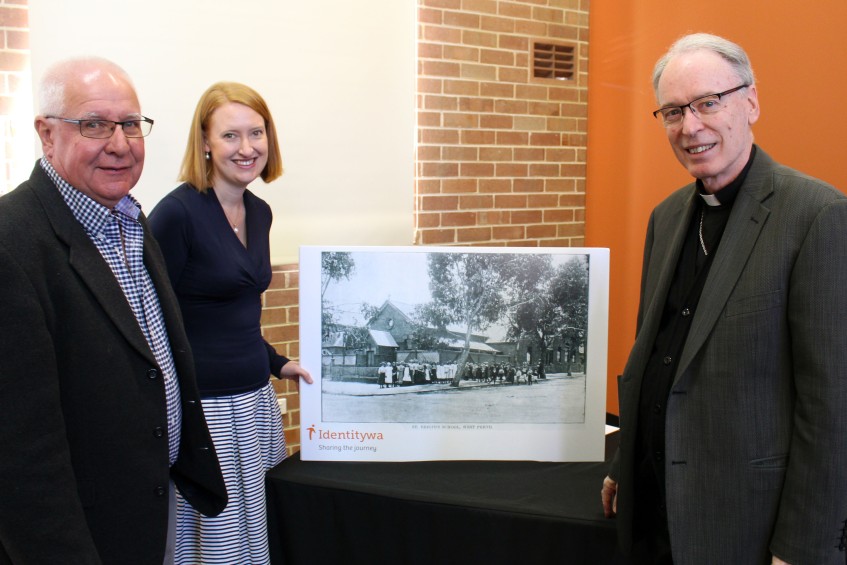 Minister for Planning, Disability Services, the Hon Donna Faragher MLC presents a Lotterywest grant of $1.6 million to refurbish Identitywa's new corporate base. Photo: Supplied
Identitywa has this week been presented with a certificate from Lotterywest as part of a successful grant application.
The grant will provide much needed assistance in development of a new corporate base for the Archdiocesan agency which has out-grown its current site at David St, Kensington, where it has been located for some 36 years.
WA State Minister for Planning and Disability Services, the Hon Donna Faragher, was joined by Lotterywest Board member, Garry Trinder, to present the certificate from Lotterywest to Bishop Donald Sproxton on Tuesday, 31 May.
Mrs Faragher explained that the Lotterywest grant would allow Identitywa to refurbish heritage-listed buildings in the Catholic Archdiocese-owned old St Brigid's School in Northbridge.
"The new corporate base in Northbridge is close to public transport and provides a central location with great access for the people Identitywa supports, as well as their families and carers," she said.
"The refurbishment of the heritage-listed property will create office space, meeting rooms and a fully accessible large area will be adapted to provide a state-of-the-art training facility."
People who Identitywa supports, their families and staff also attended the presentation hosted by Identitywa CEO, Marina Re, at Identitywa's Kensington office.
"Due to our growth over the last five years, which has also been positively impacted by the introduction of the National Disability Insurance Scheme, we have experienced a significant increase in demand for our support," Ms Re said.
"As a Catholic agency of the Archdiocese of Perth, it was proposed that we could move to a significantly larger site in Northbridge.

"We are very grateful to the Archbishop for his generosity in providing us with the use of the buildings and to Lotterywest for funding, which will enable the refurbishment of the heritage-listed buildings to meet Identitywa's specific needs."
Identitywa is one of Western Australia's leading agencies supporting people with disability and their families. As one of the largest providers, it employs over 450 staff and currently assists more than 500 families across a range of services.