MercyCare unveils its Aboriginal Pathway Strategy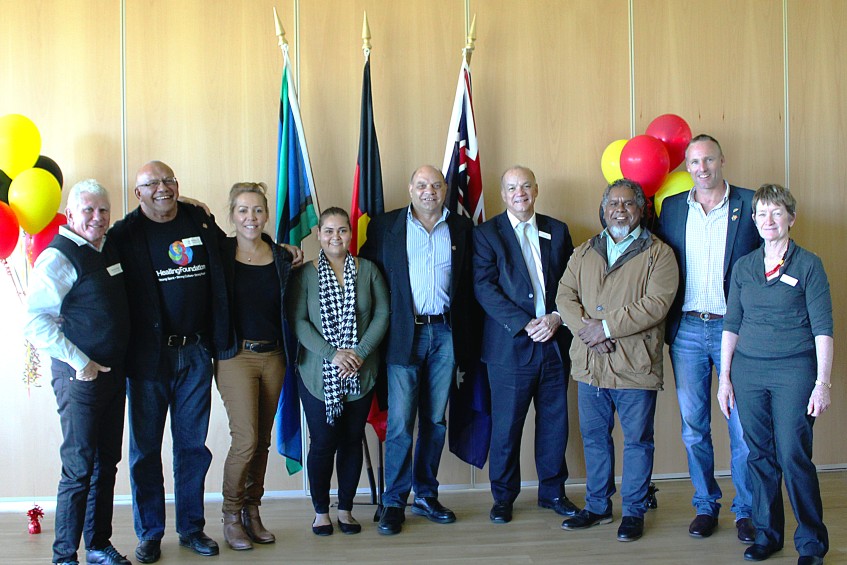 MercyCare has last week unveiled its Aboriginal Pathway Strategy at a special event during National Reconciliation Week. Michael Wright (Looking Forward Project), Jim Morrison (Healing Foundation), Dr Cheryl Kickett (Pindi Pindi), Kristina Radcliffe (MercyCare), Ken Hayward and Chris Hall (MercyCare), Walter McGuire and James Back (Reconciliation WA) and Sheryl Carmody (MercyCare). Photo: Supplied
Not-for-profit organisation, MercyCare, has last week unveiled its Aboriginal Pathway Strategy at a special event during National Reconciliation Week, outlining progressive new plans to engage with Aboriginal communities.
The strategy was launched during a special ceremony at the Grenville Community Centre, Tuart Hill, on Friday, 27 May.
Through the plan, MercyCare has committed to building relationships with Indigenous elders and leaders, increasing its Aboriginal workforce at all levels of the organisation and supporting reconciliation and healing initiatives.
It aims to engage the "head, heart, hands and spirit in a reconciliation journey" to recognise Aboriginal people and the contribution they make to Australian society.
Significant members from the Aboriginal community, including well-respected Nyoongar man, Walter McGuire; and Pindi Pindi: National Research Centre for Aboriginal Children, Families and Community Director, Dr Cheryl Kickett-Tucker, attended the event, along with entertainment by Aboriginal ensemble, Moombaki.
One of the key initiatives in the Strategy is a new MercyCare traineeship program for five Aboriginal school students to learn valuable work and life skills by working at MercyCare sites as part of their Certificate II studies.
MercyCare Chief Executive Officer, Chris Hall, said staff had worked closely with a range of stakeholders over the past 18 months.
"We are keenly aware of the aspirations for self-determination that Aboriginal people have been expressing for decades," Mr Hall said.
He said MercyCare had introduced several progressive strategies to improve its connectedness with Aboriginal communities, both in Perth and remote WA.
These included short-term accommodation in Derby for Indigenous people, traineeships for Aboriginal school students and the creation of an Aboriginal human resources graduate position to help attract and retain Aboriginal employees.
"As an organisation, we have worked with respected elders on real support for reconciliation – support that translates to tangible improvements and outcomes for the communities with which we are engaged," Mr Hall said.
"Among the many Aboriginal projects that MercyCare is involved in is the Looking Forward project, which works to improve the responsiveness and relevance of mental health, drug and alcohol assistance for Aboriginal people.
"We are hopeful the successes of this program to date will result in us embarking on another phase with several other organisations."
Mr Hall said MercyCare had also been educated on the vision of community healing centres for people of the Stolen Generation. The centres aim to improve well-being through visits to meaningful Indigenous sites, bush medicine and traditional customs to help with issues, including displacement, mental health, family violence and abuse.
"At MercyCare, we want to make meaningful contributions to social, health, well-being, economic and political empowerment outcomes for Aboriginal people," he said.
"This strategy is about continuing our reconciliation journey of respecting and acknowledging our country's First People, their land and their culture.
"We want to ensure we have the ongoing influence of Aboriginal people and their perspectives at all levels of our organisation.
"We all have a role to play in the different ways we each contribute to the critical journey of reconciliation in this country."
MercyCare is a leading Catholic provider of aged care, family, health and community services. We employ more 700 staff and 150 volunteers, delivering more than 40 programs and services, from over 30 locations throughout Western Australia.