EXCLUSIVE: Students, teachers join Archbishop Costelloe to create powerful visual display for LifeLink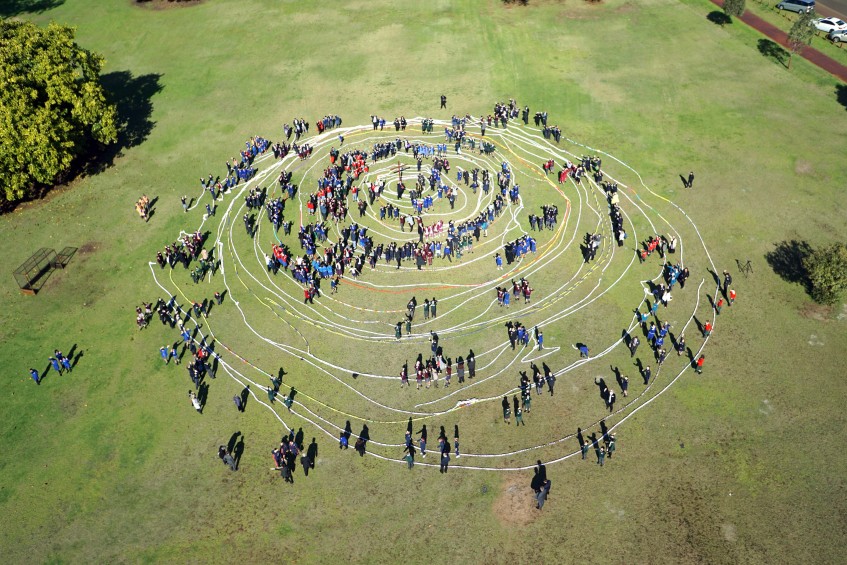 Six-hundred students from 74 Catholic Primary Schools have this week come together to create a powerful and visual display at Lake Monger Reserve to celebrate the official launch of the Archbishop's 2016 LifeLink Day. Photo: Supplied
By Jamie O'Brien
Six-hundred students from 74 Catholic Primary Schools came together this week Wednesday 8 June, to create a powerful visual display at Lake Monger Reserve to celebrate the official launch of the Archbishop's 2016 LifeLink Day.
The students and their teachers took part in creating the visual display by linking up some 44,000 paper links, which represented their generous support for people in need – and thus bringing together the support of more than 32,000 students who participated in 'Link Up on LifeLink Day' prior to the official launch, making a gold coin donation for each paper link.
With a large wooden cross at the centre of the visual display, students and their teachers worked together to join all the paper links together into one, long, continuous chain as a symbolic representation of what can be achieved by working together to make a real difference in the lives of those who reach out for help.
Archbishop Timothy Costelloe, Auxiliary Bishop Don Sproxton and Catholic Education WA (CEWA) Executive Director Dr Tim McDonald came together to launch the event, working with the students and their teachers during the linking of the paper chains.
In speaking to the students and their teachers at the launch, Archbishop Costelloe said that each school is different, and special, but that they all have one thing in common: each school has Jesus at its heart.
"The most important person of all is Jesus. And it is because Jesus is so important that Pope Francis decided to ask all Catholics, and others who are part of a Catholic school community, to join him in this special Year of Mercy.
"The Pope has called 2016 a Year of Mercy because he wants to help us realise that when we do look at Jesus and see God looking back at us, what we see is God's mercy," the Archbishop continued.
Jointly hosted by Archbishop Costelloe and CEWA, the special event was an opportunity for the students to demonstrate their collective care, compassion and support for people in need within our community.
Archbishop Costelloe said that though the annual LifeLink Day initiative, young people are made aware of the many hardships facing so many people in our community, and how the Church responds to this need through our LifeLink social service agencies.
"It was an exciting opportunity to join as 'one Catholic family' to demonstrate what can be achieved when we all join together, united by Faith and guided by love, to care for our brothers and sisters in need," he said.
"In this Year of Mercy, may this example of our Catholic young people inspire people of all faiths, all ages, to open their hearts and help everyone in need in the community," Archbishop Costelloe said.
LifeLink is the Archdiocese of Perth's umbrella organisation which supports the Church's many social service agencies. LifeLink agencies reach out to more than 34,000 Western Australian families and individuals in need each year, delivering $54 million dollars of professional programs and practical assistance throughout the State.