LIFELINK WINTER APPEAL: Breaking barriers at Catholic Ministry for People who are Deaf or Hearing Impaired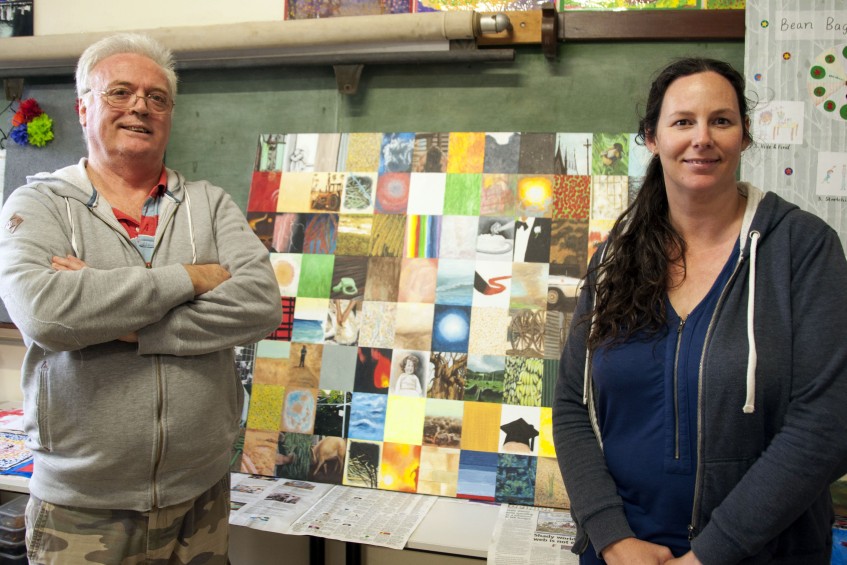 Goeff Scott and Emma Chevron stand in front of Geoff's painting, Memories, in the arts and crafts room of Catholic Ministry for People who are Deaf or Hearing Impaired. Photo: Marco Ceccarelli
By Marco Ceccarelli
As part of the Archbishop's 2016 Winter Appeal for LifeLink, The eRecord is this month taking a closer look at the work of organisations such as Identitywa, Centrecare, Catholic Ministry for People who are Deaf or Hearing Impaired, Daydawn, Emmaus Community, Emmanuel Centre, Centacare Employment & Training, The Shopfront and Catholic Outreach.
As one of Western Australia's agencies focused on expanding accessibility to deaf people and educating the community on the needs of people who are deaf and hard of hearing, the Catholic Ministry for People who are Deaf or Hard of Hearing focuses on a variety of activities, including telephone support, information sharing, counselling and interpreting services.
This month, The eRecord journalist Marco Ceccarelli spoke to two individuals whose lives have been improved by this ministry and who are using their skills to give something back to the agency that has supported them.
Memories are an important part of Geoff Scott's life.
His ability to remember numerous life events in detail says much about how dearly he holds on to them.
He has, in fact, channelled his skills as an accomplished artist to create an awe-inspiring painting composed of more than 100 panels representing different stages in his life. The painting, quite fittingly, is titled Memories.
Geoff was born deaf and today visits the Catholic Ministry for People who are Deaf or Hard of Hearing on a weekly basis. Within the centre, which is located on Windsor Street in Perth, he helps others with their artwork, engages in Bible study and contributes to the centre's efforts of helping deaf people gain access to sources by making texts more visual.
Using AUSLAN (Australian Sign Language) and an interpreter to communicate, Geoff recounted the difficulties of growing up not hearing and not speaking within a society that was still making advancements in the recognition and promotion of deaf people's rights. The first obstacles he faced were within his family and school.
"I grew up on a farm and, while I have wonderful memories of rural life, I also struggled with the lack of help in learning I received from my family because they were busy working on the farm," Geoff communicated.
"I also lost my brother at a young age and this changed my life because he was the only one who could sign in the family."
Despite having struggled in primary and secondary school with the education system's inconsistency in the methods used to help deaf people, Geoff's tertiary education experiences were different. There, he had educational interpreters who worked with the lecturers and other students to make learning as full as possible.
He received certificate in Fine Arts from TAFE before going to Curtin University where he undertook a Bachelor in Fine Arts and he did the better part of a Graduate Diploma in the same subject.
Today, aside from passing on his art talents to students at Emmanuel Centre as well as producing commercial art, he is committed to his Bible study group and emphasised that the assignments and discussion of the group help bring the message of the Bible into his life.
Another individual who has benefited from the Catholic Ministry for People who are Deaf or Hard of Hearing is Emma Chevron.
The mother of three, who received both the Sacrament of Holy Communion and of Marriage from the Ministry's Chaplain, Father Paul Pitzen, engages in numerous activities within the centre that help both her and the people whom she assists.
"I am a very visual person," Emma said. "I rely on the visual and wish to promote the use of visual means of communication for deaf people."
Among the initiatives that Emma is involved in is a project to introduce more religious signs in the AUSLAN dictionary, as well as the running of a regular class where she teaches AUSLAN to Perth seminarians and others.
"I believe we need more priests in the future who can use sign language. When they speak one on one with a deaf person, during a confession for instance, it is important for a priest to know at least some sign language."
Much like Geoff, Emma also struggled to communicate at school and was banned from using sign language at one point due to the enforcement of oral communication.
Her parents also focused heavily on oral communication. While it was difficult to grow up in this way, she said, this has also meant that today she can use both signing and a significant degree of speech.
Emma is also currently being trained as a deaf interpreter – an activity she is mastering by learning and reading scripts and interpreting them using sign language. She interprets Church hymns at Mass and is helping develop support groups for deaf people with mental health issues.
"It would be good to see more people who are deaf who have problems with mental health take advantage of the Mental Health First Aid volunteers in our parishes," Emma communicated.
"A lot of people who are deaf don't let anyone know about their mental health, which is why we want to develop some support groups which can be a first port of call. People can then go on to seek professional help."
Both Emma and Geoff continue to be dedicated members of the Catholic Ministry for People who are Deaf or Hearing Impaired. Judging from the projects they are involved in or planning to launch, they are forging new and exciting paths for future deaf and hearing impaired people.
Your generous support of the Archbishop's 2016 Winter Appeal for LifeLink ensures organisations like the Catholic Ministry for People who are Deaf or Hearing Impaired continue their 'mission of care' to people most in need in the community.
The goal this year is to raise more than $300,000 to help agencies and organisations that assist people in need in a variety of situations – whether it be in the form of practical emergency assistance or long-term support.
To donate to LifeLink, please visit www.lifelink.com.au.