New presbytery set to boost space and activity for Perth's Vietnamese community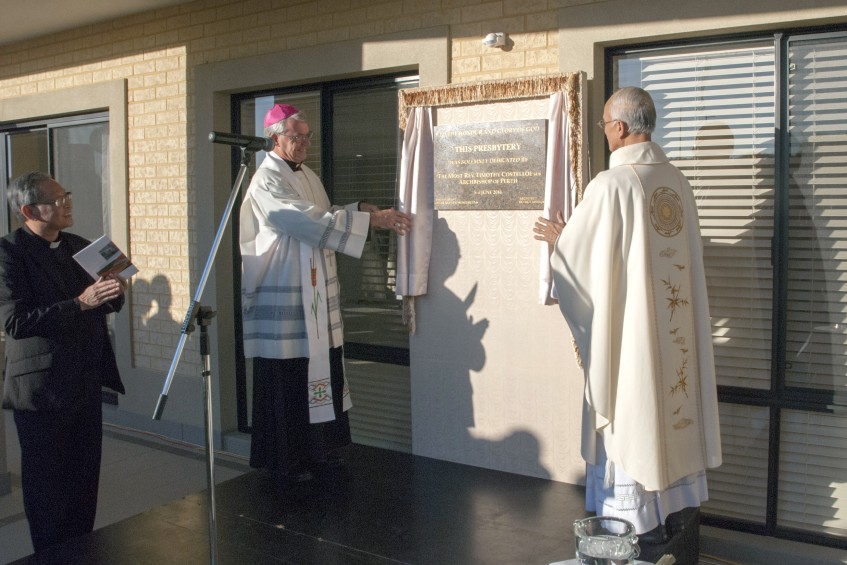 Archbishop Timothy Costelloe opened and blessed the new building. Photos: Supplied
By Caroline Smith and Jamie O'Brien
Perth's Vietnamese Catholic Community has this month welcomed the opening and blessing of a new Presbytery and Community Centre in Westminster, which it hopes will boost cultural and faith activities by providing more space for the Parish groups to meet.
Some 1000 people attended a Thanksgiving Mass for the blessing and opening of the new Presbytery on 5 June, which was principally celebrated by Archbishop Timothy Costelloe, who also cut the official ribbon, and blessed each room during a special service before the Mass.
Several priests who are part of the Vietnamese Catholic Community joined Archbishop Costelloe for the Mass, including Vietnamese Catholic Community Parish Priest, Fr Huynh Nguyen and Assistant Parish Priest , Fr Hong Pham, former Parish Priest (now Parish Priest at Bassendean) Fr Minh-Thuy Nguyen, plus Fr Vinh Dong, Fr Truc (Jerome) Nguyen, Fr Chien Nguyen, Fr Michael Quynh, Fr Peter Hung Tran, Fr Peter Toan OP, Fr Joseph Tran, Fr John Dang and Fr Anh Tuan Nguyen.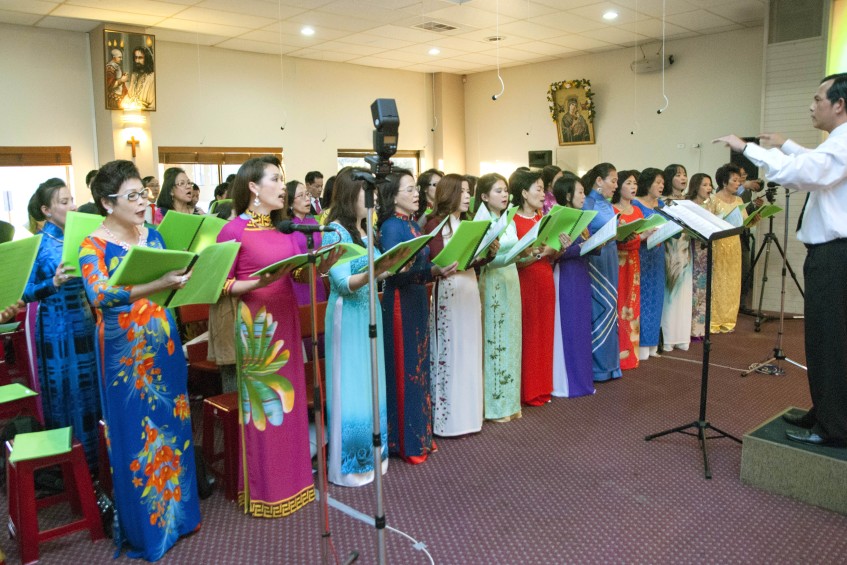 Community members singing at the Thanksgiving Mass on June 5. Photos: Supplied
Vietnamese Catholic Community Executive Committee Chairman Minh Le said the new presbytery would provide an important facility for all members of the community – from priests to young people wishing to attend language and faith classes.
The project was first proposed in 2010, when the Committee saw that land adjacent to the original community centre could be used for a new presbytery.
Mr Le said the top part of the new building will provide living space for resident clergy, while the bottom part will be used for meeting areas for groups, including members of Perth's Vietnamese Eucharistic Youth Movement (VEYM).
"This will provide increased room for the younger generation to learn the language and about our faith," he said.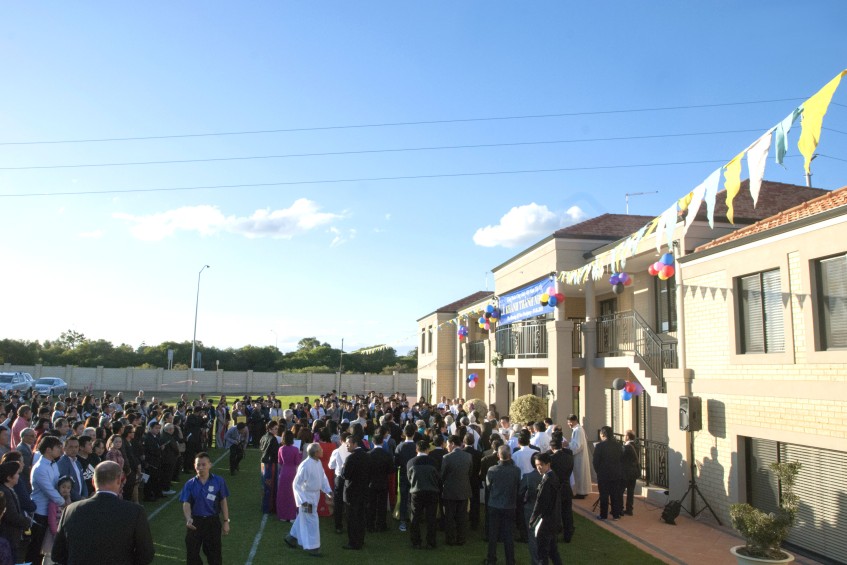 More than 600 people turned out to see the opening of a new presbytery for the Vietnamese Catholic Community in Westminster. Photos: Supplied
In his homily for the occasion Archbishop Costelloe reflected on the Gospel story of Jesus raising a young man to life, and how this – and other Gospel stories showed His love for ordinary people, and the promise of Eternal Life.
"Everything Jesus said and did was a revelation of God and especially of God's loving compassion and mercy for his people," he said.

"Many things have changed since the time of Jesus but this has not changed. God's love and compassion are as real, and as available, and as life-changing today as they were for the people who encountered Jesus two thousand years ago on the other side of the world.
"This after all is what the resurrection of Jesus from the dead, his return to his Father in heaven through the ascension, and his fulfilment of his promise to send the Holy Spirit at Pentecost, means."
After the Mass, those who attended gathered for light refreshments and a program of entertainment from members of the VEYM, who were celebrating their 30th anniversary of establishment.
The youth congregation – which includes 25 leaders and 200 children – had held a Mass the previous day to celebrate this anniversary.