Trayning Parish community celebrates 90th anniversary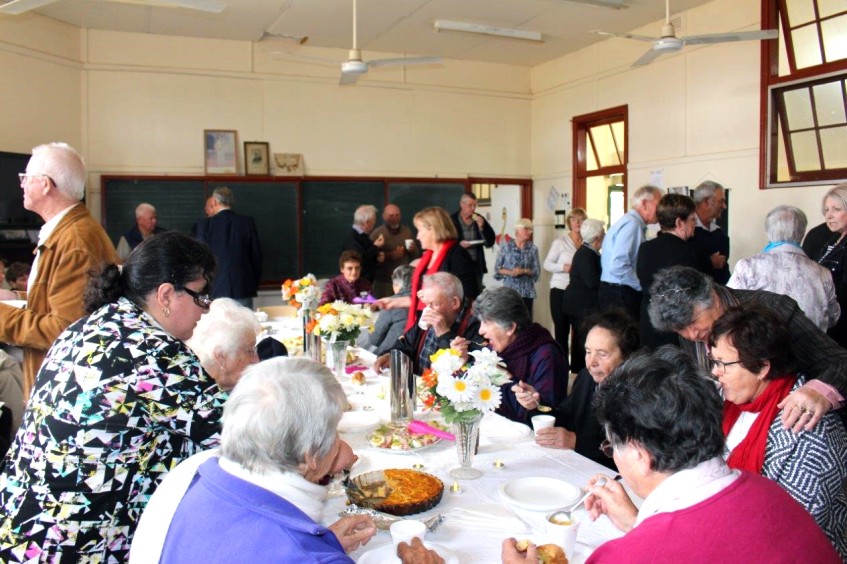 Parishioners of Trayning Parish, past and present celebrated its 90th anniversary with a Mass and lunch. Photo: Supplied.
By Caroline Smith
The Wheatbelt church of St Joseph in Trayning last month celebrated a significant milestone with a Mass that jointly recalled 90 years of history and commemorated the life of local girl, Sister Irene McCormack, who died in Peru in 1991.
The Mass on 22 May was celebrated by Parish Priest Father Richard Ye Myint and took place at St Joseph Church, Trayning, attended by some 70 people, including former and current parishioners and relatives of Sr McCormack.
St Joseph Church, along with Our Lady of the Assumption, Koorda and Our Lady Help of Christians, Mukinbudin, - is one of four churches grouped as part of the Lord of the Harvest, Bencubbin parish.
Parishioner Sandra Waters gave a speech during the Mass, outlining the history of the region, saying much had changed since the Trayning church was first established in 1926.
"Our church has seen priests and buildings come and go, including two schools, a convent and a presbytery," she said.

"We have always been renowned for our hospitality and, when our presbytery was demolished, we set up a great area at the back of our church to facilitate our ministry, where we shared our week and lots of good food and great stories."
She added that the parishioners' welcoming approach had been aided by having clergy from around the world working in the community.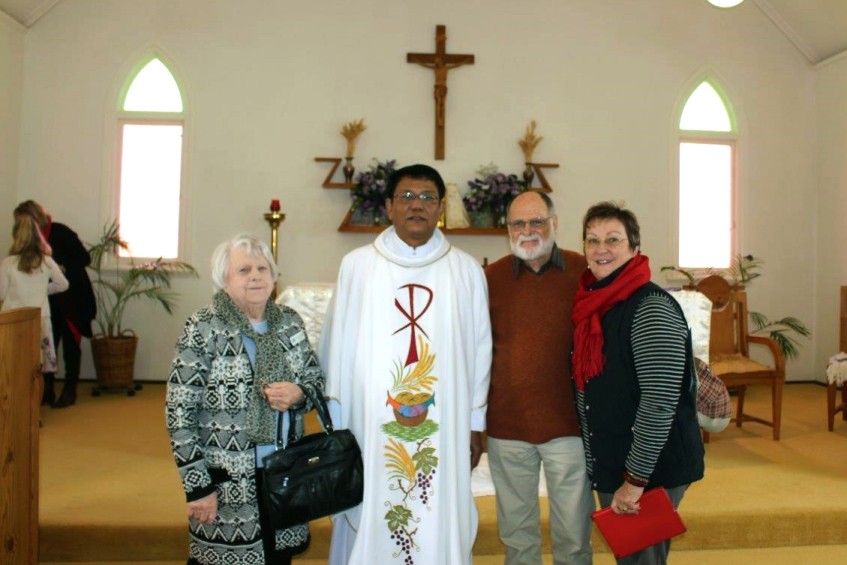 Marie Mofflin with her brother Kevin Jennings, his wife Kate and Parish Priest Fr Richard Ye Myint. Photo: Supplied.
"We have welcomed 15 priests into our parish from 1975 until Fr Richard today," she said.
"We have had Spanish, Irish, Burmese, Vietnamese and Polish priests bringing the Sacraments to us.
"We are very fortunate to have such great relationships with our priests."
Mrs Waters also explained the importance of Sr McCormack's story.
"Her father was among the early pioneers of this district and one of the forefathers of the parish," she said.
"Not only was she baptised here, but attended school here in her early years.
"I was informed that she always wanted to be a religious sister and, after finishing school and completing a gap year, she went to Sydney to do her training; then she came back to the West to teach."
Sr McCormack's death at the hands of Shining Path terrorists showed a great deal of bravery, which was remembered by those she had worked with in Peru, Mrs Waters said.
"Despite threats from the rebels, she continued to teach and distribute aid to the people," she said.
"She is regarded as a heroine by the village people - I have a picture of the tapestry made by the women of the village in her honour."
A number of those at the Mass included people who had a longstanding connection to the parish, but who had moved away in more recent years.
This included Mrs Marie Mofflin, who had been married in the sacristy of St Joseph 68 years ago while a resident in Nungarin, plus members of the Mulcahy, Cosgrove, McCormack, Capp, Baxter, Barnes and Hulls families.
There was also a notable presence of fellow religious from the Sisters of St Joseph, including Srs Leonie Mayne, Marie Moriarty, Kathleen Dawe and Philiomena Kalmund.
Family of Sr McCormack who attended the celebration included nephew, Tom McCormack and his son, Vincent; as well as Sr Irene's niece and Tom's sister, Geraldine Murphy and her daughter, Rebecca. Principal of Irene McCormack Catholic College Butler, Robert Marshall, was also in attendance with his wife, Kerry.
Members of the wider Christian community also attended the service, with Trayning's Uniting Church Minister, Valda Knott, attending with fellow congregation members.
After the Mass, attendees gathered at the old Kununoppin School for a shared lunch.