2016 LIFELINK WINTER APPEAL: Catholic Outreach continues to offer a helping hand and a friendly chat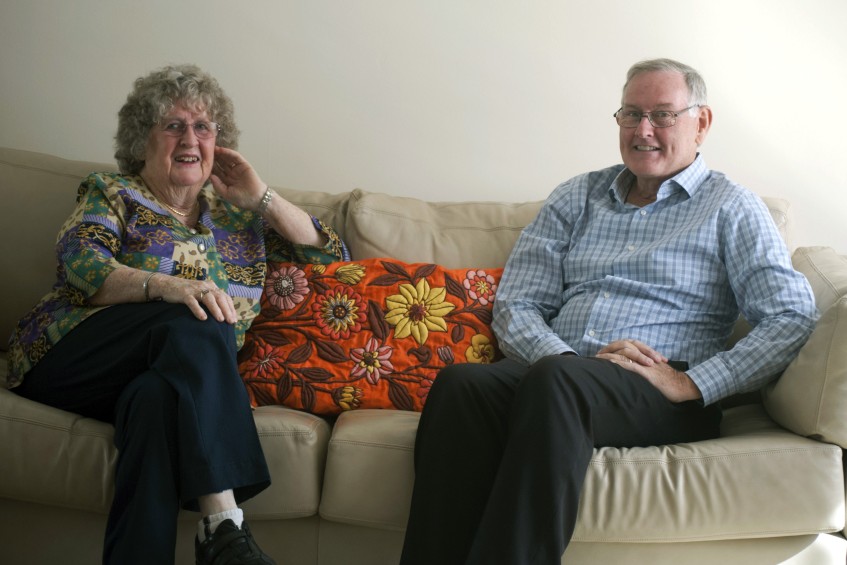 Rosary Care coordinator Dorothy Johnston and Catholic Outreach Director Peter Mc Minn. Photo: Caroline Smith
By Caroline Smith
In a busy community, people often need extra support with little things like getting from place to place or planning meals and, at Our Lady of the Rosary Parish in Doubleview, one group of volunteers has spent more than twenty years providing such support to locals.
Rosary Care – which is part of umbrella agency Catholic Outreach – has been operating since the 1990s, providing transport, meals and visits to people living in the Doubleview area, many of them parishioners.
Coordinator Dorothy Johnston said the services provided by the group were often just about reaching out to people in the community and making sure they had help with simple things, where needed.
"If someone rings up and needs to go to an appointment, perhaps to Sir Charles Gairdner Hospital or something like that, there's an anxiety in a lot of people that a taxi won't get them there on time," she said.
"We found that taking people to an appointment was something that was needed, and people were comforted by having someone they know taking them.
"We also take people to Mass – we have one lady who's decided that she won't take the car anymore because she's afraid of accidents driving at 93, so we have a coordinator who has organised to take her to Mass every Sunday."
Mrs Johnston said that providing meals and dropping in to visit people were also important focuses for the group.
"Some of the people we deal with have been quite solid parishioners, so it's important to keep in contact with them and keep looking after them," she said.
"I visited one lady who was confined at home because of her illness, and her husband – a doctor - was away so I dropped in.
"She was just so delighted that she wrote a thank you card - so our help is there for everyone, regardless of what their income is. It's caring for one another."
She added that, when helping people who were elderly or infirm, Rosary Care volunteers were able to use this contact to check that people were all right, and alert medical services if they were not.

Catholic Outreach Director Peter Mc Minn said that groups like Rosary Care have flourished in parishes and areas across Perth, providing a range of needs through dedicated volunteers.
"There are currently about 30 groups across the Archdiocese, with help available in many communities," he said.
"The programs are managed by coordinators - they receive requests for help, then make an assessment to see whether it fits within the scope of the group."
Mr Mc Minn explained that Catholic Outreach had started in 1990 to provide services to people that were outside the scope of the local priest.