Refugees given a warm welcome at St Vincent de Paul picnic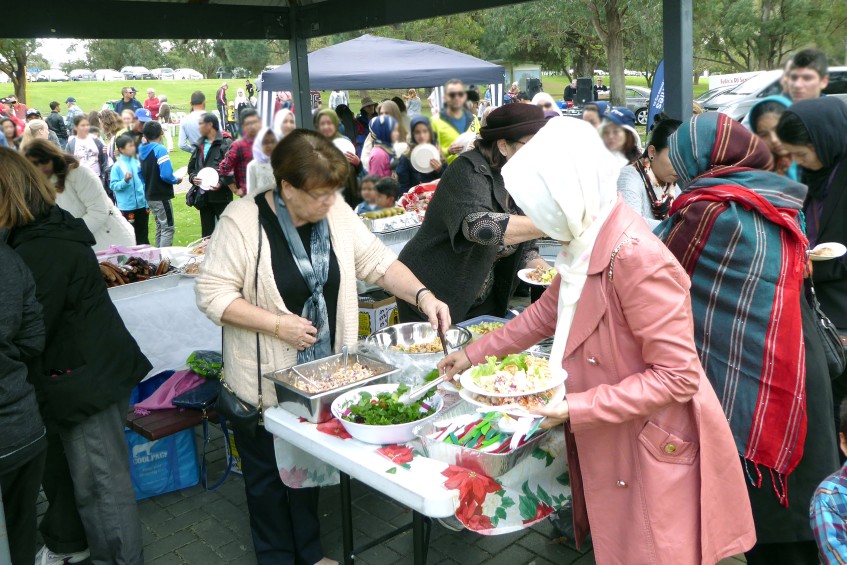 Refugees and members of the wider community shared a meal and enjoyed entertainment at the bi-annual St Vincent de Paul 'Welcome to WA' picnic. Photo: Supplied
By Caroline Smith
A dramatic storm the previous day was not enough to keep away attendees at St Vincent de Paul's recent 'Welcome to WA' picnic for refugees.
The event, held at Carine Open Space on 22 May, attracted around 150 people who gathered to enjoy a shared meal and musical entertainment provided by DJ Felix.
Attendees included refugees from Iraq, Jordan, Afghanistan, Myanmar, Vietnam, Syria and Eritrea, as well as volunteers, students from Sacred Heart College and Chisholm Catholic College, and members of the wider community.
Food was provided by volunteers from various St Vincent de Paul conferences, who also brought toys for the children, while students from the supporting high schools helped with face-painting activities and other entertainment.
Chairman of St Vincent de Paul's Migrant and Refugee Committee, Clem Astruc, said the event was one way for the Catholic community to show compassion towards people fleeing their homelands.

"As the world and our country debate how best to respond to the refugee crisis, we, as Vincentians, must ask what we can do personally to help in this tragic and overwhelming complex problem," he said.
"Pope Francis has repeatedly asked us as Catholics to 'take action to end the human tragedy now under way' by protecting populations and helping victims.
"His Holiness even invited parishes and religious communities to welcome refugee families in preparation for the (Jubilee) Year of Mercy."
St Vincent de Paul held its first bi-annual 'Welcome to WA' picnic in May 2015, with the next one planned for 20 November this year.
The event is also supported by the Metropolitan Migrant Resource Centre, Red Cross, Ishar Multicultural Women's Health Centre and the Association for Services to Torture and Trauma Survivors (ASseTTs).
Mr Astruc said the picnics would continue to provide a source of support and fellowship to refugees joining the WA community.
"We hope that, by our action, we are offering to the newcomers a path to opportunity and hope," he said.