2016 NCEC CONFERENCE - Cardinal feels right at home at St Norbert College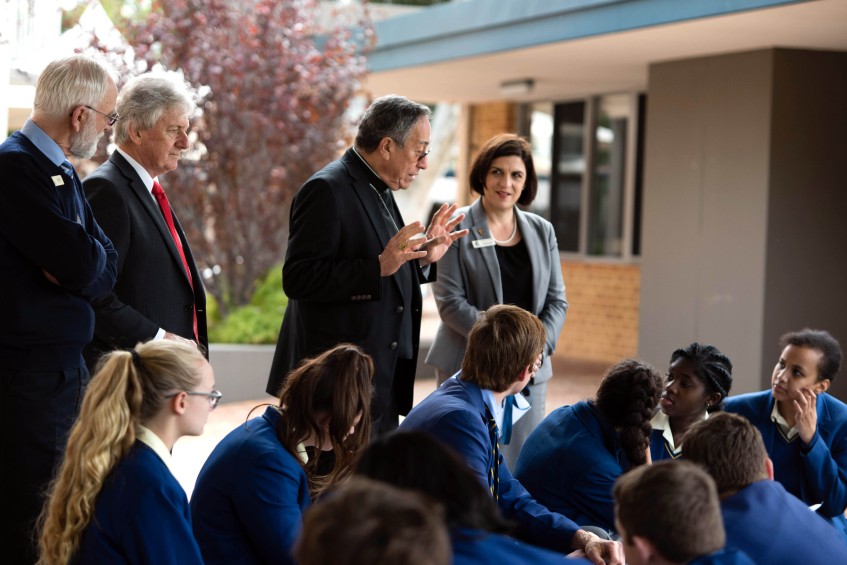 Cardinal Oscar Maradiaga SDB talks to St Norbert College students about the need for a fairer economic system, watched on by (L-R) Catholic Education WA Consultant, Peter Higgins; Acting Principal, Clem Mulcahy, and Deputy Principal, Natasha Quinn. Photo: Chris Richards-Scully
By Rachel Curry

Cardinal Oscar Andres Rodriguez Maradiaga SDB returned to his teaching roots during a visit to St Norbert College in Queens Park.
The first Cardinal from Honduras, Cardinal Maradiaga is a former chemistry, physics and music teacher who now holds a prominent position at the Vatican as an advisor to the Pope.
He was recently in Perth to speak at the National Catholic Education Commission Conference and took the opportunity to visit St Norbert College, as well as St Joseph's Primary School, on Thursday, 23 June.
During a tour around the secondary school with Acting Principal, Clem Mulcahy, and Deputy Principal, Natasha Quinn, Cardinal Maradiaga offered his expertise to a Year 9 chemistry class.
He told the students that he was not the only person at the Vatican with a passion for chemistry; Pope Francis loved the subject and even worked in a lab for a period before deciding to become a priest, he said.
"In a certain aspect, you are near the Pope because you are studying what he loved to study. I will take your greetings to him," he said.
Cardinal Maradiaga had earlier visited a music class, where he spoke about his love of jazz, and a geography class, where he explained improving living standards in Honduras.
He also struck up a conversation with Year 10 students in the courtyard, who were studying economics, telling them about his history lobbying for debt relief for developing countries during the pontificate of Pope John Paul II.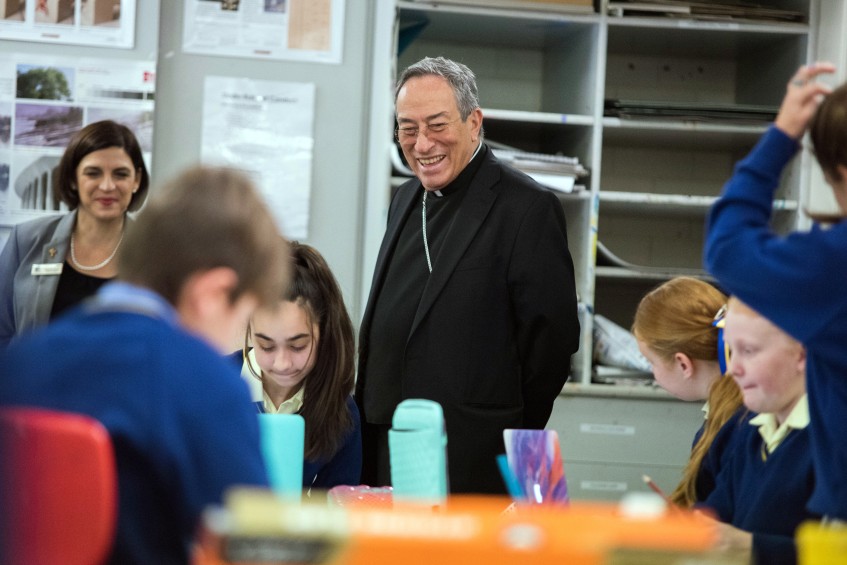 St Norbert College Deputy Principal, Natasha Quinn, shows Cardinal Oscar Maradiaga SDB an art and design class during his tour of the Queens Park secondary school. Photo: Chris Richards-Scully
"The actual system has to change. We can't continue with a system of economy that has made the market the new idol, the new God," he said.
"Everything is sacrificed for the worship of the market… You have a very big task for the future to transform a system that is not equal, that is not fair to all people."
Another highlight for Cardinal Maradiaga was the school's winter appeal for Archdiocesan agency, The Shopfront , which encourages students to donate to help the less fortunate.
He said he was impressed by the call to solidarity and heaped praise on the Catholic education system in Australia as a whole.
"The Australian system, in my perception, is the best in the world. You have so many values in the schools. The first of those values is discipline; you are so fond of order and punctuality," he said.
"Also, participation; school is a place where young women and men feel at ease, feel at home in their school. When you feel this kind of system, that is attracting the people."
Mr Mulcahy said he thought the Cardinal's visit was very valuable for St Norbert College students, some of whom enjoyed a lunch with him following the tour.
"I guess we're delighted he's able to spend time in the classrooms rather than in a formal lecture situation," he said.
"It gives the students an insight into someone who has a leadership position in the Church and is still able to relate to them at their level."