New Archdiocesan Plan commences implementation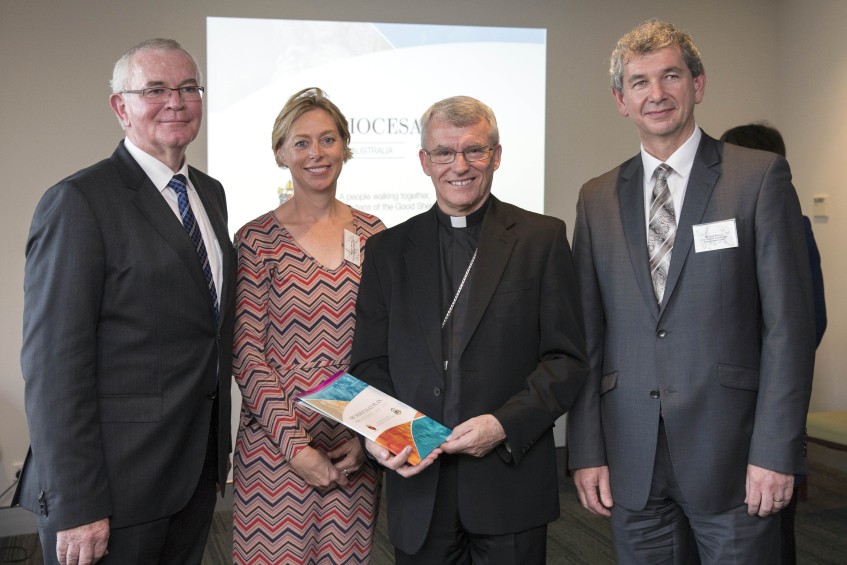 The Archdiocesan Plan Co-ordinating Group Chair, Danny Murphy; Executive Officer, Jane Kikeros; Perth Archbishop Timothy Costelloe; and Archdiocese of Perth CEO-Administration, Greg Russo. Photo: Ron Tan
By Jamie O'Brien
The need to walk faithfully in the footsteps of the Good Shepherd was the central message Perth Archbishop Timothy Costelloe this week reinforced, as he paid thanks to those who have participated and contributed to the development of the new Archdiocesan Plan.
Members of the working parties and Archdiocesan staff, who contributed their time and experience during development of the plan, came together this week at the West Australian Club for the official 'Thank You' event.
The new Plan will now move into an implementation period which is expected to be carried out over the next five years.
"The Plan is more than just a document," the Archbishop said.
"It will enable us to walk together on the pathway which we hope will deliver a Christ-centred, faithful, vibrant, welcoming, inclusive and mission-oriented Church, one which will enrich our own lives and the lives of all whom we encounter and seek to serve," he added.
Following a brief introduction and welcome by the Plan Co-ordinating Group Chair, Danny Murphy, Archdiocese of Perth CEO-Administration, Greg Russo, gave an overview of the new Plan which encompasses seven key areas: Professional Standards, Effective Communication, Support for Clergy, Strengthening & Revitalising Parishes, Adult Faith Formation, Outreach to those in Need and Archdiocesan Growth and Development.
Mr Russo also explained the development process of the plan, which commenced with a preparation of the key priority areas and establishment of the working parties in late 2014.
In September 2015, the plan moved into an extensive consultation phase with clergy, parishes, agencies, groups and individuals across the Archdiocese.
Mr Russo explained the preparation and consultation phase of the plan incorporated the broadest process of its type yet undertaken within the Archdiocese.
He added that, in order to achieve the outcomes of the Plan, a new structure has been developed which includes three key tasks, including the bringing together of the Archbishop's Office, Church Administration and the Archdiocesan Finance Office to one central location.
"This will facilitate more effective and timely communication with and between the Archbishop, key clergy and the Archdiocesan administration executives and staff," Mr Russo said.
"The second key task includes expansion of the Archdiocesan structures to include newly created positions envisaged in the Archdiocesan Plan and the subsequent allocation of responsibilities by the Archbishop to ensure implementation of key priority area strategies and actions, ongoing review of plan milestones and effective communication of its progress.
"And, finally, the third key task includes changes to Archdiocesan Administration executive and staff structures to support the implementation of the key priority area strategies and actions," he said.
In concluding the event, Archbishop Costelloe reminded those present for the occasion that it is important that we continue to communicate openly and honestly, especially as the plan moves to the implementation phase.
"Not only to ensure that we 'stay on track' but also so that we remain united as we do so," he said.