YEAR OF MERCY SPECIAL FEATURE: Schoenstatt shrine enriched by opening of Holy Door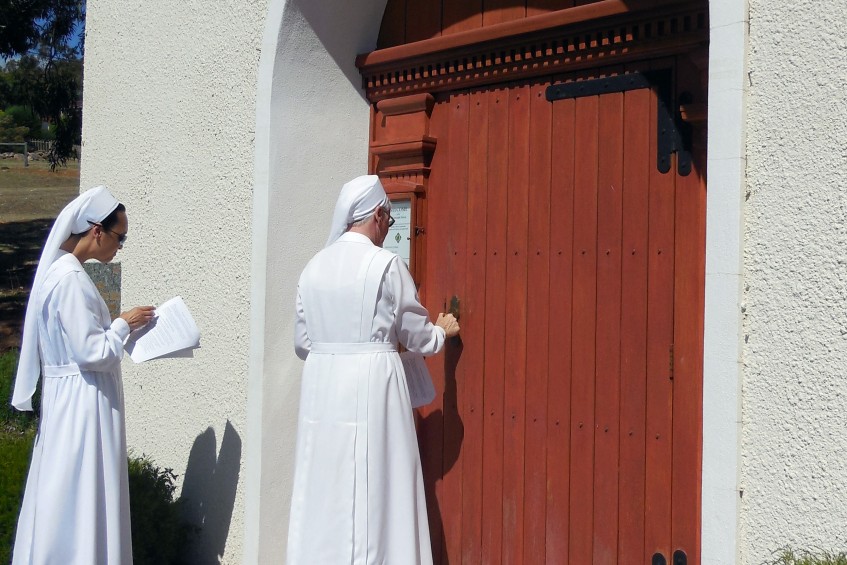 Sisters of the Schoenstatt Shrine in Mt Richon, WA open the Holy Door to their shrine on 13 December 2015. Photo: Supplied
By Caroline Smith and Marco Ceccarelli
Having a Holy Door installed at their shrine has been described by WA's Schoenstatt community as an honour reflecting the merciful nature of their founder Joseph Kentenich and the spiritual importance of the shrine itself.
The door was officially opened in December at the Mt Richon shrine in Perth's southeast with official opening ceremonies held on the 13th and 20th of that month.
On 20 December, 50 people from the community, as well as parishioners from nearby Kelmscott and Armadale, attended a ceremony which was officiated over by Deacon Patrick Moore and included a Devotion and Benediction.
Sister Georgina Heger, of the Schoenstatt Sisters of Mercy, said it was an honour for the shrine to be acknowledged with a Holy Door.
"We feel very, very privileged that it has been designated a place of mercy," she said.
"We were very happy when we were chosen: we were a bit late applying for it, but the Archbishop was familiar with our shrine in Sydney, and another priest was instrumental in supporting us."
Schoenstatt is a Marian movement founded in Germany by Father Joseph Kentenich, and is known for its shrines from which pilgrims can obtain three graces: those of finding a home, of transformation and of evangelisation.
Sr Heger said previous celebrations had shown the spiritual value of these places around the world, including at Mt Richon.
"All our shrines around the world are special places of grace and pilgrimage," she said.
"We celebrated our 100th Jubilee almost two years ago, in 2014, and our place was granted a Plenary Indulgence for the whole year.
"We believe – and the 100 years have shown this– that special graces can be obtained in the shrines all over the world."
She added that Fr Kentenich had been a man of great mercy, and the Holy Door reflected this quite well, with its emphasis on mercy in this Jubilee Year.

"Our founder, Fr Joseph Kentenich – who died 48 years ago – was a spirit of mercy; he exuded mercy," Sr Heger said.
The Mt Richon shrine is one of 200 'replica' or 'sister' shrines around the world, with the original found in Germany's Rhine Valley. Fr Kentenich began the Apostolic Movement of Schoenstatt to encourage devotion to Mary as an example of love and purity.
Sr Heger also said the Holy Door seemed to have encouraged more pilgrims to visit the shrine.
"On Friday mornings, we have uninterrupted Adoration in the shrine and Exposition of the Blessed Sacrament, and about 30 to 40 people go through on a roster only on that day.
"We also have a pilgrimage coming on 13 March – these are people from a nearby parish who come here for a reflection day and also to make use of the shrine and gain the Indulgences," she concluded.
In order to obtain the Jubilee Indulgence for the Year of Mercy, as stated in Pope Francis' Bull of Indiction of the Extraordinary Jubilee Year of Mercy Misericordia Vultus, the faithful are encouraged to observe the following conditions: pilgrimage to the Holy Door, Sacrament of Reconciliation, celebration of the Eucharist which includes the profession of Faith, prayers for the Holy Father, prayers for the intentions of the Holy Father and reflection on Mercy.
The designated pilgrimage churches and shrines for the Archdiocese of Perth are:
St Mary's Cathedral, 17 Victoria Square, Perth
St Patrick's Basilica, 47 Adelaide Street, Fremantle
Holy Trinity Abbey, Great Eastern Highway, New Norcia
St Mary's Church, Brookman Street and Porter Street, Kalgoorlie
Our Lady of the Mission, 270 Camberwarra Drive, Craigie
Carmelite Monastery, Elizabeth Street and Thomas Street, Nedlands
Schoenstatt Shrine, 9 Talus Drive, Mt Richon
Redemptorist Monastery, 190 Vincent Street, North Perth.