Bishop Saunders marks 20 years of service in the Kimberley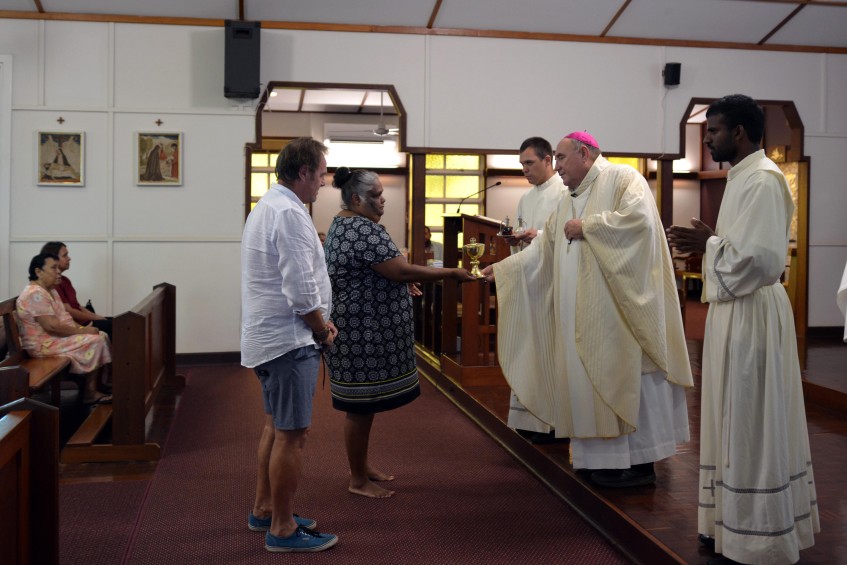 Bishop Saunders greets parishioners at his 20th anniversary Mass. Photo: Supplied
By Nicola Kalmar, Kimberley Community Profile
Presiding over Broome's unique Catholic diocese, stretching across the vast Kimberley region, has been a journey full of blessings and privileges for Bishop Christopher Saunders.
For the past two decades, Bishop Saunders has devoted his life, travelling extensively by road and air and off the beaten track, to ministering to his sizeable flock of 10,000 Catholics, scattered across an area of about 770,000 square kilometres.
On 8 February 2016, he celebrated the 20th anniversary of his episcopal ordination and will also mark 40 years as a priest in August.
Bishop Saunders first arrived in Broome as a deacon in 1975 before becoming a priest the following year when he served at La Grange Mission and then on to Lombadina and Kalumburu.
"They have all been privileged appointments," he said.
"I've met some absolutely wonderful people and have seen some dramatic changes, particularly in the field of communication.
"At La Grange, we had a party telephone... then, when I went up to Lombadina, we had the radio and a telegram service courtesy of the Royal Flying Doctor Service - that was about it, we didn't have television.
"Any entertainment we had was music tapes or guitars and, in Kalumburu, it was the same... but all of these occasions were occasions of meeting people and it was a very friendly era to be around."
After going overseas in the early nineties to study Canon Law in Canada for a few years, Bishop Saunders returned to Broome and was appointed Administrator. He was ordained Bishop in February 1996.
"The path when I first began was a fearful one, I was only 46 years of age, but I'm glad I had youth on my side because I also had energy," he said.
"Now I've got less energy but I hope I've got a bit more wisdom!"
After being ordained, Bishop Saunders' focus was to build on the foundations laid down by his highly respected and hardworking predecessor, the late Bishop John Jobst.
"I think we've done a reasonable job on that," he said.
"We've expanded in areas of Catholic education and Catholic social services, establishing Centacare and building the Father McMahon centre, supplying meals to people who need them - those are the sort of things that we've done in a very real way.
"When I look back 20 years, I think there's so much still undone but I think you satisfy yourself to build on the foundations of those who go before you and let God do a bit of the building because, if you think you can do it yourself, you'll be terribly disappointed."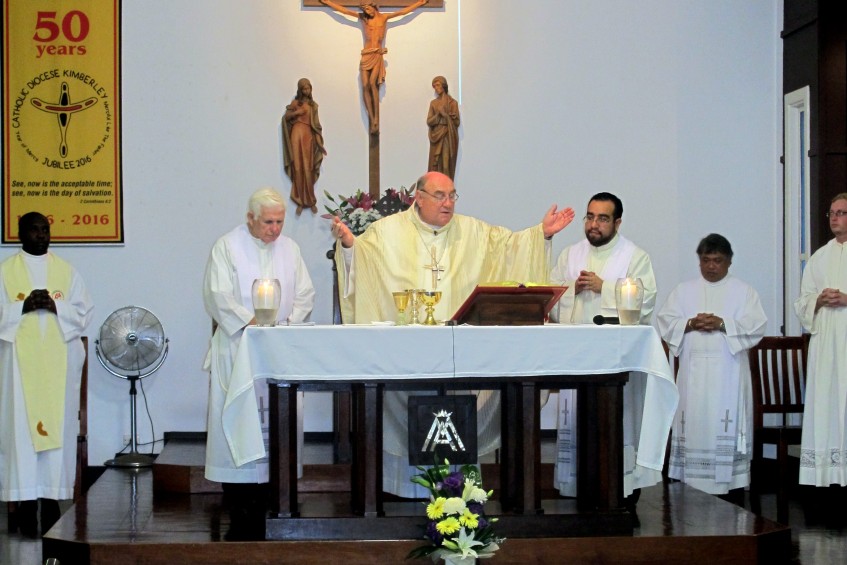 Bishop Saunders and other clergy celebrate mass to mark his 20th anniversary of episcopal ordination. Photo: Supplied.
During his vocation, Bishop Saunders said he has worked alongside some "wonderful collaborators" and confreres in both his roles.
He has also seen many changes in that time, particularly in society.
"Socially speaking, I've seen some changes in the Kimberley that are very good," he said.
"But, I think, if you look back, unfortunately, some of the ills we bore in those days have been replaced by others.
"When I came here, there wasn't a drug scene, nobody committed suicide – there was the occasional death in the wet season... but there wasn't an issue with self-harming, there weren't drugs about. We had abuse of alcohol, I imagine, but nothing of the scale we've got today."
Despite the continuing challenges, Bishop Saunders said answering God's call in the Kimberley had been very humbling and gratifying and he looked forward to continuing his mission in the region.
"Over the years, I've learnt to appreciate the goodness in so many people... I think my humility has increased and I have a greater understanding and greater faith in humanity than I ever had before and it's a privileged time to be here," he said.
"Every year has been not just a step but a milestone and every milestone has been a moment of grace.
"I'd like to say thank you to all those who have been friends over the years, supporters, those of the same faith and those of different faiths, too, whose friendship has meant a great deal to me. I'm so grateful for their kindnesses."