Sculptor draws on fatherhood to tell the story of St Joseph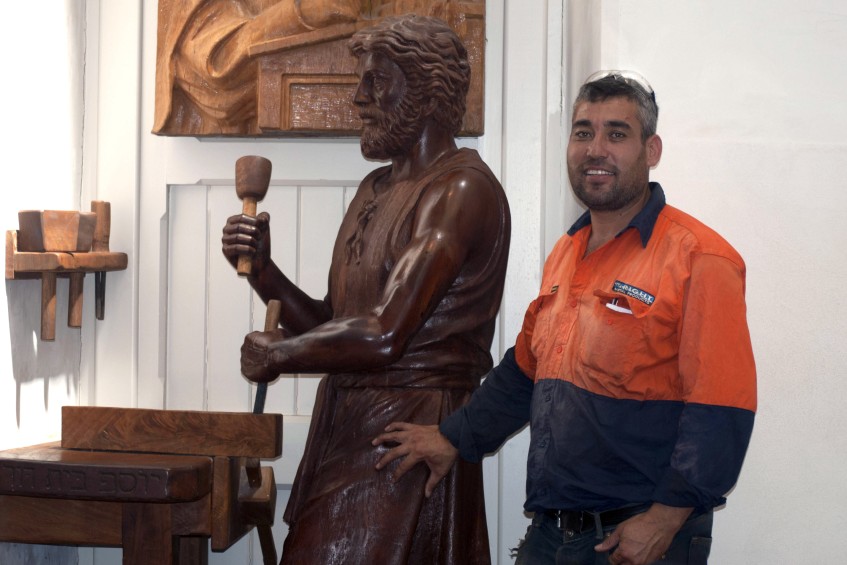 Sculptor Mehdi Rasulle created Joseph the Worker for the opening of the rebuilt St Mary's Cathedral in 2009. Photo: Caroline Smith.
By Caroline Smith
St Joseph has been depicted in many ways over the centuries, but when sculptor Mehdi Rasulle created a statue of him for the Perth Archdiocese, he knew he wanted to portray the saint as an ordinary working man and father.
Mr Rasulle was commissioned to make the statue for the opening of the completed St Mary's Cathedral seven years ago, and drew on his own experience as a father, as well as what he'd learned about the Saint while growing up in Afghanistan, for the project.
"It [the statue] was commissioned by then-Archbishop Barry Hickey," he said.
"They wanted a figure of an honest hardworking man as St Joseph.
"I'm Muslim and St Joseph is one of our prophets: we know him as an ordinary honest man."
To reflect this idea, Mehdi used jarrah wood to reflect Joseph's role as a carpenter, and depicted him in ordinary robes and busy at work. The statue also features 'Joseph son of David' written in Hebrew – an idea inspired by a Jewish friend.
The statue is one in a long line of religious and historic works which Mehdi has received praise for since coming to Australia as a teenage refugee fifteen years ago.
He said his family's involvement in artistic work had somewhat influenced his choice of career.
"Back home in Afghanistan, my family are artists and stonemasons," he said.
"Being a Muslim who does sculpture there is a challenge, because many of the faith don't believe in depicting living things - but my family is quite liberal, so they did the work, and got commissions from all over the world."
With the rise of the Taliban in the late 1990s, criticism of artistic work became acute, and this caused much tragedy for Mehdi's family: his brother Nik Qadem was killed, accused of 'preaching Christianity' because he taught classical art, and another brother Abbas had to leave his artistic career and become a panel beater because of similar threats.
Under these conditions – and increased repression of the Hazara ethnic minority which the family belongs to – Mehdi left Afghanistan to seek asylum in Australia, spending almost six months at Curtin Detention Centre.
Following this experience, he went on to complete his high school education and enrolled in university in Australia – initially to study architecture, but his family background in art convinced him to become a sculptor instead.
Since then, his career has seen him take on diverse projects around WA.
"I do a lot of public art for institutions like the Department of Education and museums, things like that," Mehdi said.
"Also artwork renovations, like the sculpture that's part of the Bunbury War Memorial – it needed to be fixed up a bit, and I found some marble from Afghanistan that could be used – it matched the original quite well."
Outside of his career as an artist, Mehdi is also a proud father, having met and married an Irishwoman, Joanne, in Australia. They now have three children, Eolann, Eabha and Roisin.
Several of his brothers and their families have also moved from Afghanistan, and now join him in Australia.