Annual Mass focuses on St Patrick's encounter with God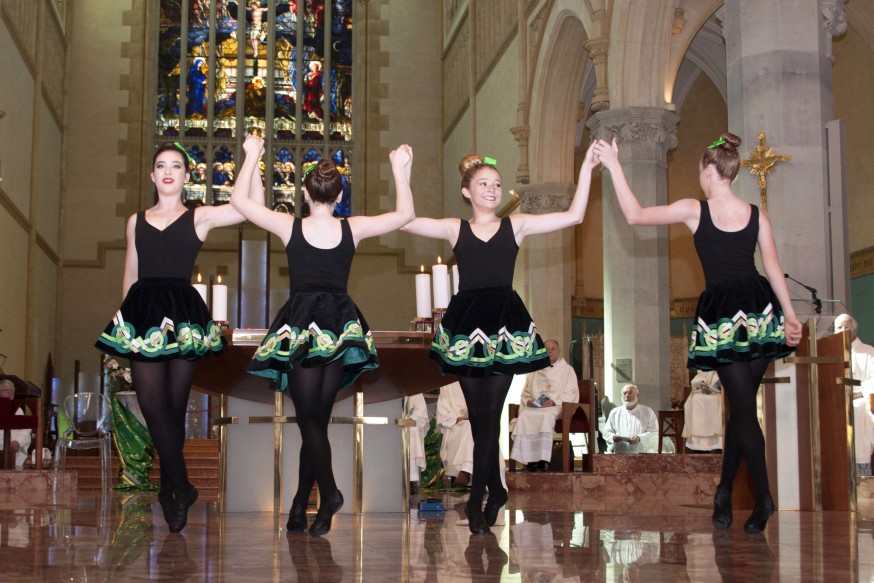 Dancers from the Trinity Irish Dance troupe at the annual St Patrick's Day Mass. Photo: Marco Ceccarelli
By Caroline Smith
The annual St Patrick's Day Mass brought an array of green to St Mary's Cathedral in Perth, but also an acknowledgement of how the saint contributed to the Catholic faith in Ireland, based on his close relationship with God.
More than 500 were in attendance at the Mass, which started with a parade of banners and other items representing the Irish community in Perth. This year, they included the travelling box of Mary Ann Taylor, who arrived in Perth in 1853 with assisted passage from a Galway workhouse.
The focus on community was reinforced through a dancing display by the Trinity Irish Dance troupe, and a message from the President of Ireland read by Honorary Consul, Mr Marty Kavanagh.
In his homily, Auxiliary Bishop Don Sproxton described how St Patrick experienced a transformation of faith during his early years in Ireland which brought him into closer contact with God, and which inspired his later teachings.
"(St Patrick) had been brought up in a Christian family but, like many of us, he knew a lot about God without knowing Him," Bishop Sproxton said.
"He confessed that, before his capture, he did not really believe in God, and thought that priests were foolish.
"Made to shepherd sheep in the most isolated of country, he first discovered that he was not alone. He sensed the presence of another. Gradually, he realised that he was in the presence of God and began to pray."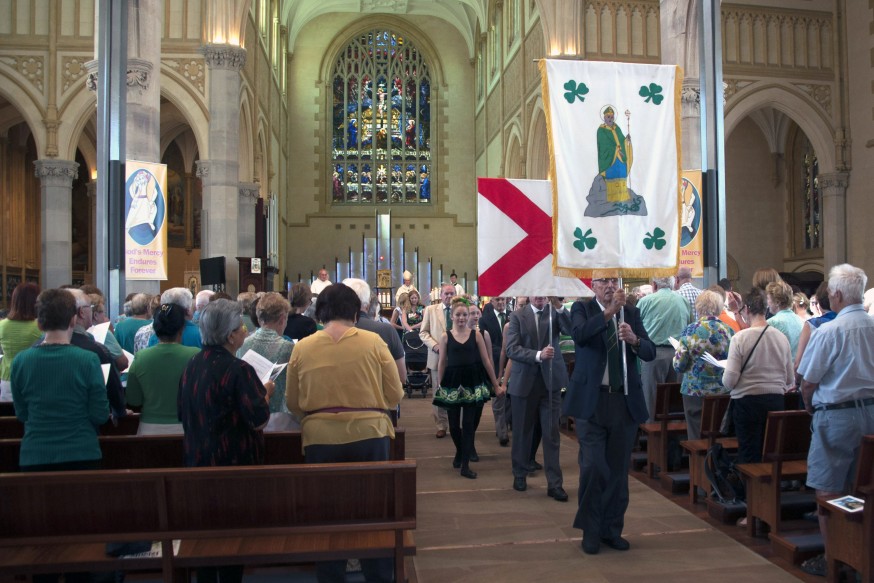 Final procession of banners at the St Patrick's Day Mass. Photo: Marco Ceccarelli
This awareness supported Patrick when he later escaped from captivity, as he knew he was protected by a kind and merciful Father, Bishop Sproxton said.
"He felt the hand of God upon him and he discovered the plan of God for him once he was free," he added.
"(St) Patrick has become an outstanding example of one who felt the mercy of the Father and, in turn, became the face of God's mercy to a people thirsting for freedom - he was effective as a missionary bishop for this reason.
"The hope of Pope Francis is that the Jubilee Year will, firstly, promote within each of us the heart of mercy and compassion, and, consequently, make our Church the face and agent of mercy in the world."
With many people moving from Ireland to Australia in recent years, Bishop Sproxton addressed the importance of Irish families in the Catholic community, acknowledging longstanding couples such as Paddy and Lena Costello, who were celebrating their 60th anniversary, and who presented the Eucharistic gifts.
Reflections on the faithfulness of the Irish community in Perth were also included in Bishop Sproxton's homily, and this was emphasised by songs such as Faith of Our Fathers and Hail Glorious St Patrick, and the traditional Irish Blessing which concluded the Mass.