Vale Emeritus Bishop of Bunbury, Myles McKeon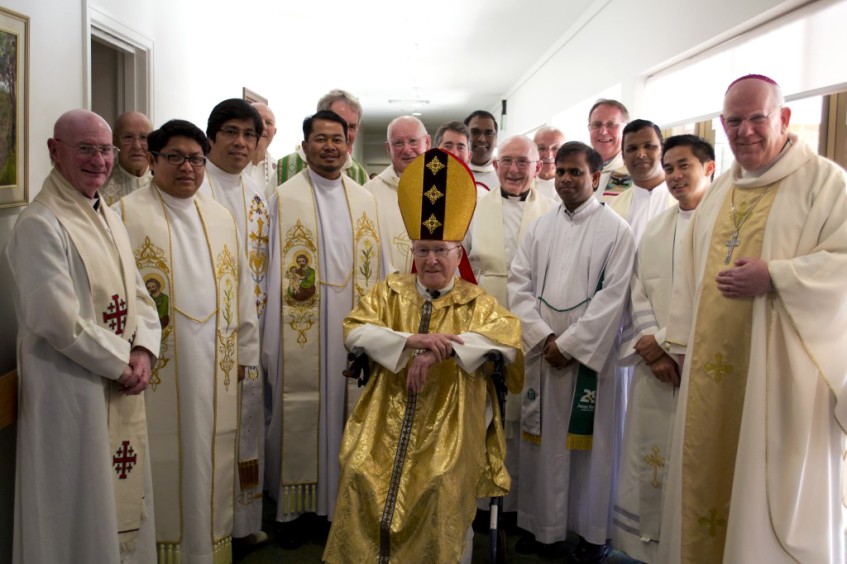 Former Perth Auxiliary Bishop Myles McKeon, who was also the second Bishop of Bunbury, will be well remembered as a sociable individual who loved surrounding himself with people. Born in Drummin, Ireland on 3 April 1919, Bishop McKeon passed away on 2 May 2016 at the age of 97. Photo: Former Perth Auxiliary Bishop Myles McKeon, who was also the second Bishop of Bunbury, will be well remembered as a sociable individual who loved surrounding himself with people. Born in Drummin, Ireland on 3 April 1919, Bishop McKeon passed away on 2 May 2016 at the age of 97. Photo: Sarah Motherwell
By the Communications Office, Archdiocese of Perth
Former Perth Auxiliary Bishop Myles McKeon, who was also the second Bishop of Bunbury, will be well remembered as a sociable individual who loved surrounding himself with people.
Born in Drummin, Ireland on 3 April 1919, Bishop McKeon passed away on 2 May 2016 at the age of 97.
Ordained for the Archdiocese of Perth on 22 June 1947, Bishop McKeon was later appointed the Auxiliary Bishop of Perth in 1962.
He then went on to become the second Bishop of Bunbury, where he served from 1969 until his retirement because of ill health in 1982.
Bishop McKeon is well remembered as a kind and caring pastor. He was also one of the four Western Australian bishops who collaborated for the founding of the Catholic Education Commission and the Catholic Institution of Western Australia, both of which were unique in the world of that time.
He is one of the last surviving members of the Second Vatican Council.
In an interview with The Record newspaper in 2012, retired priest Fr Noel Fitzsimons, who worked with Bishop Myles when he was first appointed to Bunbury, said that the happiest years of the diocese were when Myles McKeon was Bishop.
"Myles furnished the diocese… we had the Brothers looking after school leavers and the senior schools, we had the Blessed Sacraments in the marketplace, we had the Carmelites praying for the diocese and, with Myles as Bishop, the Irish priests were really happy," Mr Fitzsimons said.
The Bishop's anthem, his friends recalled, was Sippin Soda and he would often sing the song at the request of others, who were happy to join in at the chorus.
Bunbury priests affectionately described Bishop Myles McKeon as both a warm and gracious man whom you would not want to crack an Irish joke in front of, and as "the man who changed the face of the south-west diocese".
The funeral for Bishop Myles McKeon will be announced later this week.
A full obituary will be published following the funeral.