Greg rewarded for voluntary dedication to adult education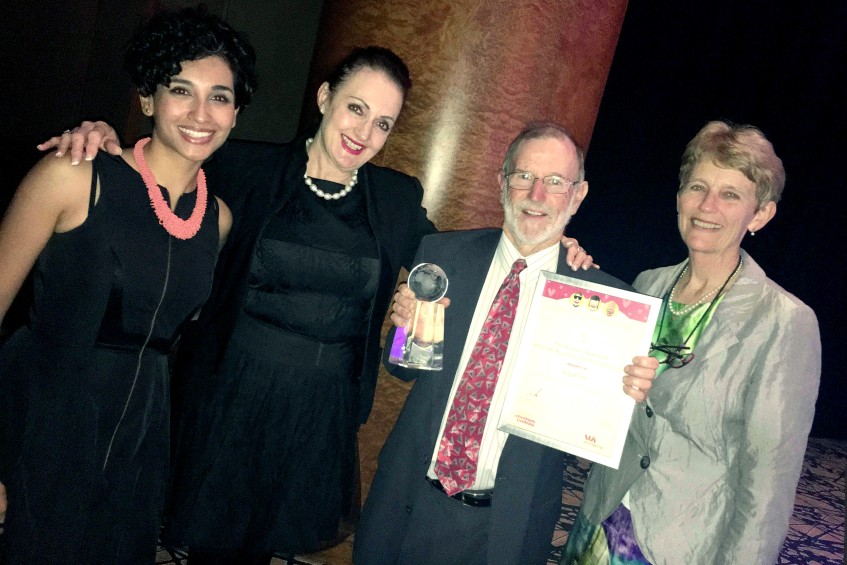 From (left to right): Maria Garzon, Volunteer Coordinator, Centacare Employment and Training; Lee-Anne Phillips, Executive Director, Centacare Employment and Training; Greg Elliott, Volunteer, Centacare Employment and Training; Robyn Rennie, Site Coordinator, Skills for Education and Employment, (SEE), Centacare Employment and Training (Perth). Photo: Supplied.
By Jamie O'Brien
The generosity and selflessness of Centacare Employment and Training Volunteer Teacher, Greg Elliott, has been rewarded.
Mr Elliott was last week awarded the 2016 Volunteer of the Year in the category of Ethnic Communities, as part of the Western Australian Volunteer of the Year Awards.
The award was presented to Mr Elliott by Her Excellency the Honorable Kerry Sanderson AO, Governor of Western Australia at, the Hyatt Regency Hotel on Wednesday, 11 May.
Centacare Employment and Training Executive Director, Lee-Anne Phillips, said Mr Elliott's contribution to the organisation as a volunteer has been substantial and deep.
"He has touched the lives of literally thousands of students and has been directly involved in changing their lives for the better," Ms Phillips said.
"He is an ardent supporter of students from culturally and linguistically diverse (CaLD) backgrounds who contend with a myriad of complex and inter-related challenges that represent barriers to their ability to learn and ultimately succeed," she said.
Mr Elliott has been a volunteer with Read Write Now since 2001, a community-based volunteer group that provides free, one-to-one assistance to adults wanting to improve their reading, writing, spelling and maths skills.
Prior to his appointment with Centacare, Mr Elliott was a teacher at Centacare's Cannington training centre for seven years.
In nominating Mr Elliott, Ms Phillips explained his commitment and dedication - particularly in the area of adult language, literacy and numeracy education - has focused on supporting vulnerable and highly disadvantaged members of the community so that they can go on to live, work and prosper in the Australian community.
Ms Phillips went on to say that Mr Elliott's success lies in his ability to combine his skills as a teacher with the strengths and objectives of his students, by setting personal goals and finding flexible pathways to achieving them, albeit in an environment of understanding, respect and compassion.
"Greg has provided on-going support to many students once their studies have finished and they have moved on to further education, training or employment," Ms Phillips said.
"As a volunteer, Greg is able to provide substantial support to teachers at Centacare's Midland training centre, enabling classes to be managed according to activity, interest and ability.
"This allows teachers to provide greater focus to the ages, stages and varying needs of individual students," she said.
Centacare Employment and Training is a not-for-profit, registered training organisation.
In 2015, the LifeLink agency supported approximately 2,200 people through their Skills for Education and Employment (SEE) program - an adult education program for those who identify the English language, literacy and/or numeracy as a barrier to participation in the labour market.
Click Here to view a video on the recipient.