Identitywa set to expand its network of help and support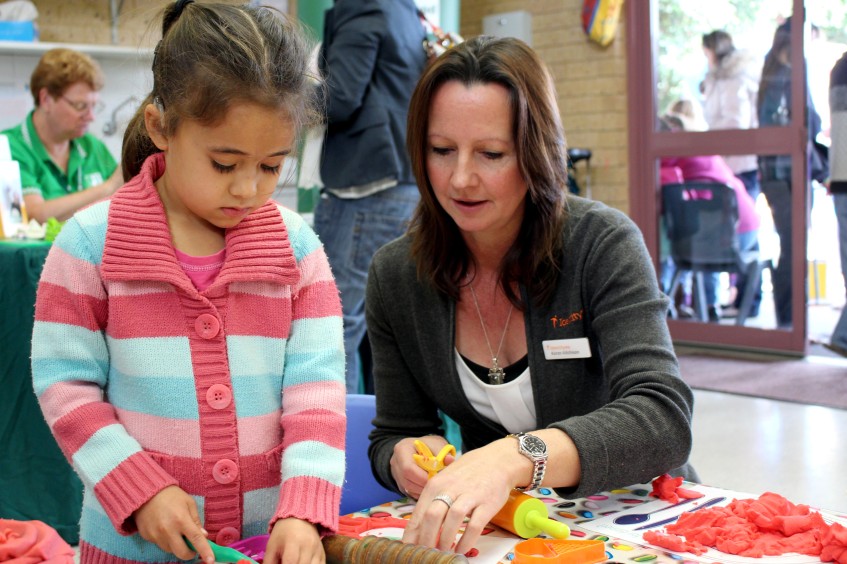 Jocelyn engages in arts and crafts with one of Identitywa's support workers. Jocelyn and her family have benefited from Identitywa's new individualised approach that aims to make the organisation's funding and program more "person-centred". Photo: Supplied
By Marco Ceccarelli
As part of the Archbishop's 2016 Winter Appeal for LifeLink, The eRecord is this month taking a closer look at the work of organisations such Identitywa, Centrecare, Catholic Ministry for People who are Deaf or Hearing Impaired, Daydawn, Emmaus Community, Emmanuel Centre, Centacare Employment & Training, The Shopfront and Catholic Outreach.
LifeLink is the umbrella organisation which provides ongoing funding support for the Church's social service agencies that deliver professional services and caring assistance to thousands of people in need throughout Western Australia each year.
As one of Western Australia's leading agencies supporting people with disability and their families, Identitywa's vision is to build a community in which "all people live with a sense of purpose, a sense of belonging and a sense of wellbeing".
This month, The eRecord journalist Marco Ceccarelli spoke to Identitywa Chief Executive Officer, Marina Re, about the National Disability Insurance Scheme (NDIS) and the opening of their new hub at Cockburn/Kwinana.
"The disability sector in WA has been undergoing rapid change in the last two to three years," Ms Re said.
"We were recently told that more Western Australians will gain access to planning and funding support available through the NDIS over the next year. That is certainly a step in the right direction. As an organisation, we have been making sure that everything we do is lining up to be in the best position to grow and develop and to continue to offer quality services under this new framework."
Ms Re went on to say that it is critical for Identitywa to ensure that all services and supports are tailored to the specific needs of each individual and his or her family.
In the past, she explained, families have been asked to choose from a prescribed list of options which may not encompass all that is required in their particular situation. These changes are well in place and will continue with the expansion of the NDIS trial sites in Perth.
"We now say to families and individuals, 'we want to get to know you, what would make a difference?' That makes our approach more person-centred. It also means people get what they really need and what they're asking for rather than compromising because what they want is not available," Ms Re said.
One of the beneficiaries of Identitywa's new approach is seven-year-old Jocelyn and her family.
Jocelyn has been diagnosed with autism and needs time to feel comfortable in social environments. Each week, she is visited by her Identitywa support worker, Janelle, for some one-on-one time together.
This "play-date" not only gives Jocelyn an opportunity to engage in meaningful interaction with her support worker, but also allows the rest of her family to spend time together and do things that would otherwise not be possible.
"It can be a real challenge to spend quality time with your other children and even your husband," explained Jocelyn's mum, Leah.
"Jocelyn is full of life and loves to have fun but has limited ability for social interaction which can affect what we do as a family. This regular schedule allows us to do things such as watching her brother, Riley, at footy training and visiting public places like Scitech or going roller skating.
"I used to dread school holidays. Having Janelle to assist me means we can enjoy our outings rather than stressing about constantly losing Jocelyn and I can spend time with Riley, too, which is important.
"Before having Identitywa's support, Riley would miss out because I did not feel comfortable taking Jocelyn on outings by myself. Things don't always have to be stressful now… it feels normal," Leah said.
Aside from focusing on more personalised programs which have helped people like Jocelyn and her family, Identitywa is also planning to improve its presence within the local community.
It has recently opened a new WA NDIS site in Cockburn with a team of staff offering services to people in the local area and in the South Metro area in general.
Identitywa will also be establishing a number of hubs within the Perth metro area so that staff are in closer proximity to the people they serve.
"Today, we support more than 600 people and have approximately 500 staff. While many of our staff work within the homes of those who we support, having the new site in Cockburn has given us another point of reference from which we can work," Ms Re said.
"Just as we can see in Jocelyn's case, we are committed to supporting individuals and their families because we believe that the family is the biggest safeguard. Support workers can come and go, but the family is always there."
Looking ahead, Ms Re emphasised that Identitywa is aiming to grow, focus on the quality of its services and ensure that it can support more Western Australians living with disability.
Your generous support of the Archbishop's 2016 Winter Appeal for LifeLink ensures organisations like Identitywa continue their 'mission of care' to people most in need in the community.
The goal this year is to raise more than $300,000 to help agencies and organisations that assist people in need in a variety of situations – whether it be in the form of practical emergency assistance or long-term support.
To donate to LifeLink, please visit www.lifelink.com.au.