SPECIAL REPORT: THE WORK OF WOMEN IN THE CHURCH - Schools are just big families, says Mercedes College Principal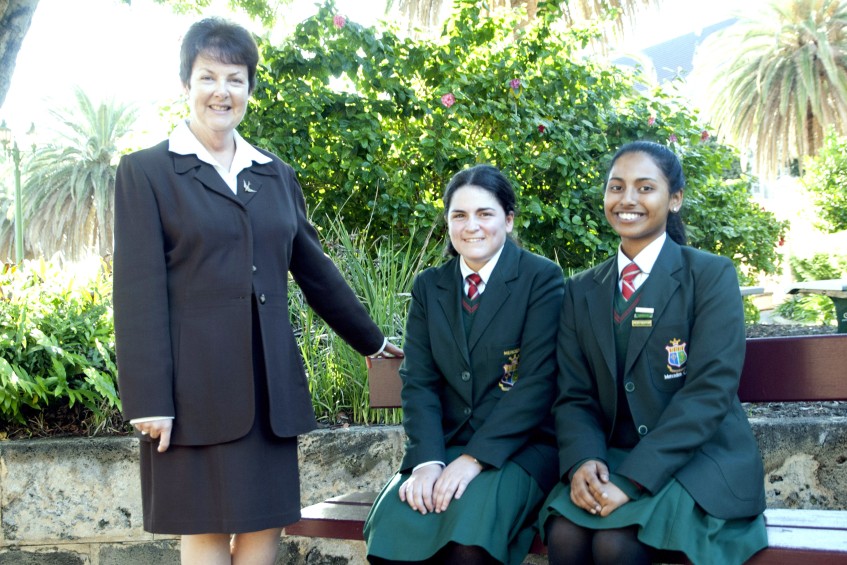 Mercedes College Principal Kerrie Fraser, pictured with students Alexandria Munro and Christina Mathews, has had a long and successful career in education. Photo: Rachel Curry
By Rachel Curry
For a school as focused on pastoral care as Mercedes College, it is fitting that Principal Kerrie Fraser feels more like the head of a family, than the head of a school.
Mrs Fraser took over the role at Mercedes at the beginning of 2015 – the latest step in a long and successful career in which she has worked in two states and traversed both the Catholic and government school systems.
Reflecting on her vocation as a principal, she said she was privileged to be part of school communities in a different way than that of a teacher or other staff member.
"As a principal, you are prone to the ups and downs of family life, of not only the students but also the staff," she said.
"I often say to my husband, 'I feel like I have this huge extended family' because you have this sense of responsibility; for example, when there is an illness or a redundancy."
Originally from Tasmania, Mrs Fraser was educated in a Catholic all-girls school and decided to become a teacher because she wanted to help young people, whom she saw as the future.
She worked in the Tasmanian government school system for 14 years before marrying a Western Australian and moving across the country, when she felt a pull to go back to her roots.
"I was keen to go back to the Catholic system," she said.
"I had really enjoyed my own schooling and, while I enjoyed the two state schools I taught at in Tasmania, I felt there was something missing. I think it was the Catholic values and community spirit that exist in a Catholic school."
Mrs Fraser started working at Aquinas College when she arrived in Perth and it was there that her leadership skills began to shine.
With the encouragement and support of her colleagues, she took on the role of Head of Faculty.
"When I moved to WA and started work at Aquinas, I really loved the experience," she said.
"The school had been very supportive of me. They saw something in me and encouraged me to consider leadership positions. I wanted to give back to the community that I felt had given me so much."
Mrs Fraser left Aquinas to work as a consultant at the Catholic Education Office before joining Trinity College as its Head of Middle School, becoming the first female on its senior leadership team.
She cut her teeth as a principal during a six-month stint at St Clare's School in Lathlain and was later appointed head of Mandurah Catholic College.
Mrs Fraser said her career had provided some wonderful highlights, particularly when it came to preparing students to make their mark on the world.
"Being a principal is very stimulating, but also a great responsibility to make sure that you try and bring out the best in each student," she said.
"If we're talking about my educational philosophy, it's to provide a culture where every child is catered for and manages to find their special gift, so they have a good feeling about themselves and being at school."
Another passion is her faith. It's something she aspires to share with her students but, in this case, believes actions speak louder than words.
"Every week I go to our year level Mass. I always make sure I role model to the girls that the weekly morning Mass is important to me and I try to be a presence whenever we have our retreats," she said.
"I'm not shy about talking to the girls about my involvement in my own parish. Day to day, that can make a difference."
As someone who has worked in both male-dominated and female-dominated environments, Mrs Fraser said she was fortunate to have always felt "listened to" throughout her career.
However, she recalled that when she first entered the education sector, there were not many women in leadership positions.
"I think that's improving. I think it's something we need to focus on, although it always should be the best person for the job," she said.
"For many women, having time out of the workforce to have children and coming back into the workforce can pose challenges, but I have seen a definite improvement in the number of women principals at secondary level.
"It is important, because we try to encourage the girls to aspire to anything they want."