SPECIAL REPORT: THE WORK OF WOMEN IN THE CHURCH: Cathedral singing complements musical studies for Emma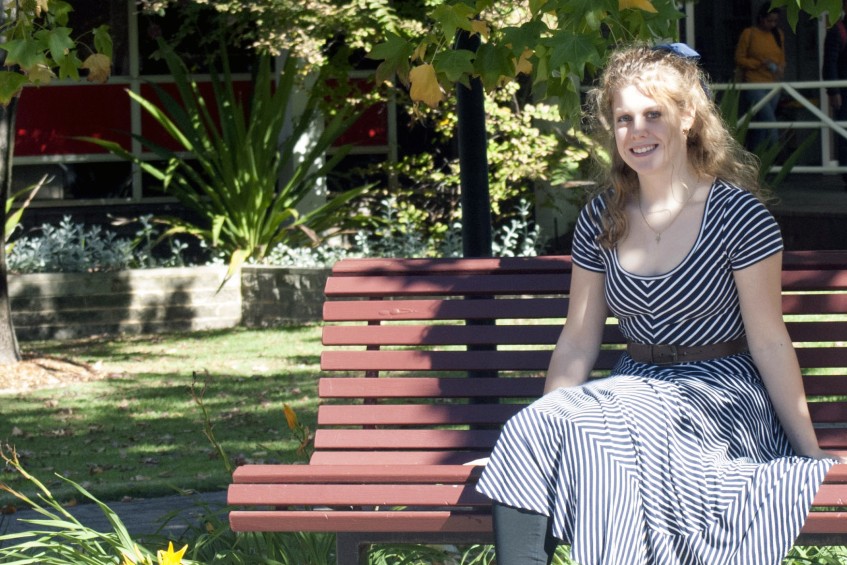 Emma Oorschot balances her music studies with singing at the Cathedral. Photo: Caroline Smith.
By Caroline Smith
For singer and university student, Emma Oorschot, singing at St Mary's Cathedral on a regular basis has been a real boon: allowing her to connect with two things important to her – music and her faith.
Miss Oorschot first performed at St Mary's while attending Mercedes College as part of the school choir and, after graduation, she continued to take on solo and ensemble pieces on a sporadic basis.
At the end of last year, she became a regular cantor at the Cathedral, and said the role gave her a unique insight into the life of the Church and its festivals.
"I think I'm really lucky, not everybody gets to do a job they like and I get to do it twice over because it's music and my faith all in one," she said.
"It's also nice to sing at weddings and funerals, and being a part of these ceremonies is a very special experience to share with other people."
Of all such experiences, Miss Oorschot said one particularly memorable one was last year's Children's Christmas Eve Mass in which she dressed as an angel, garnering a fascinated response from many of the children in attendance.
"Monsignor Keating introduced me as the Christmas Angel and afterwards the kids came up for hugs and photos," she said.
Miss Oorschot is now studying music at the WA Academy of Performing Arts (WAAPA), and believes the cantor role complements this well as it exposes her to different musical forms, supported by Cathedral Director of Music, Jacinta Jakovcevic.
"The repertoire that Jacinta has me learn complements my studies at uni, so it's a bit like killing two birds with one stone," she said.
"For example, when I performed a piece from an oratorio at uni, I chose something that Jacinta recommended I add to my repertoire.
"Most of what I have had to learn are the Mass settings, and then the occasional solo – such as pieces from Handel's Messiah."
In addition, learning about the structure of the Mass and how music fits into this has also been a valuable experience, she added.
"It's helped me see the Mass a bit more clearly, it makes it more personal, and it becomes a really nice experience," Miss Oorschot said.
"Especially at Lent – everything was very solemn and there was little accompaniment, this contrast made the Easter celebrations feel especially joyous.
"The pause between the refrain and the antiphon is so effective in a space as big as St Mary's. You could hear a pin drop and the silence makes the music even more profound.
"And this happens while everyone's going up to get communion, so the effect is very beautiful."