Saint Columba's celebrates 80 years of Community Spirit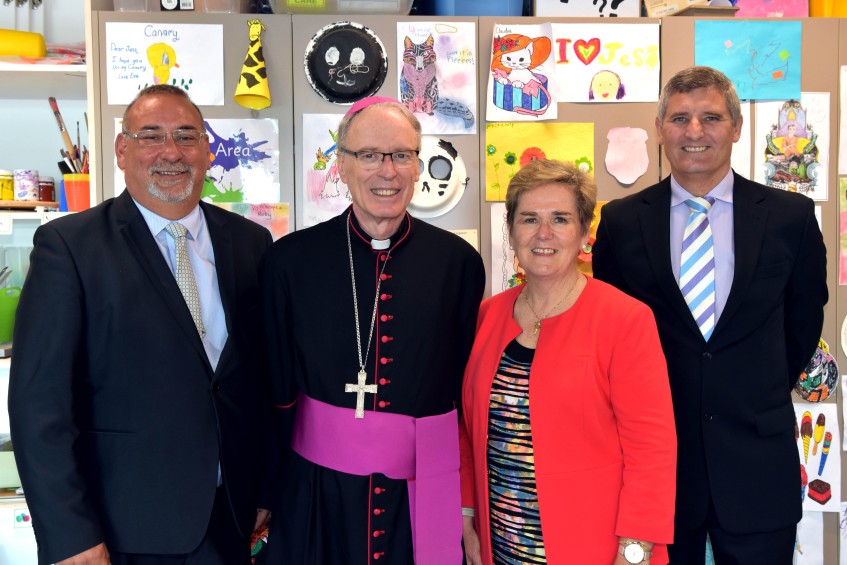 The classrooms' new namesakes Bishop Donald Sproxton (centre left) and former principal Philomena Billington (centre right), with current Principal Greg Martin (left) and School Board Chairman Mar Hube (right). Photo: Daniele Foti-Cuzzola
By Daniele Foti-Cuzzola
There was cause for double celebration at Saint Columba's School in Bayswater on Friday, 28 October, as the school celebrated its 80th anniversary and the official opening of its new classrooms.
Among those in attendance were two of Saint Columba's most well-known alumni, former student Bishop Donald Sproxton and the school's first lay principal, Philomena Billington.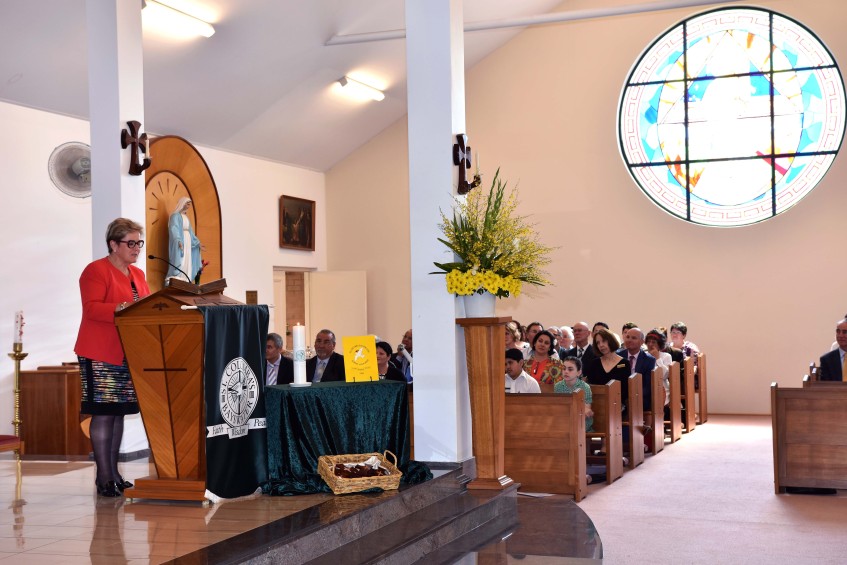 Philomena Billington fondly reflects on her time at Saint Columba's during her speech. Photo: Daniele Foti-Cuzzola
Liberal Senator Chris Back; Bayswater Mayor, Barry McKenna and Lisa Baker MLA for Maylands were also present.
The celebrations began with a Mass celebrated by Bishop Sproxton at St Columba's Community Church and continued on the school oval, where the official opening and naming of the new classrooms took place. The new buildings were named after Bishop Sproxton and Ms Billington, during a moving anniversary celebration.
Ms Billington, who now resides in the Eastern states, came to Perth especially for the celebrations.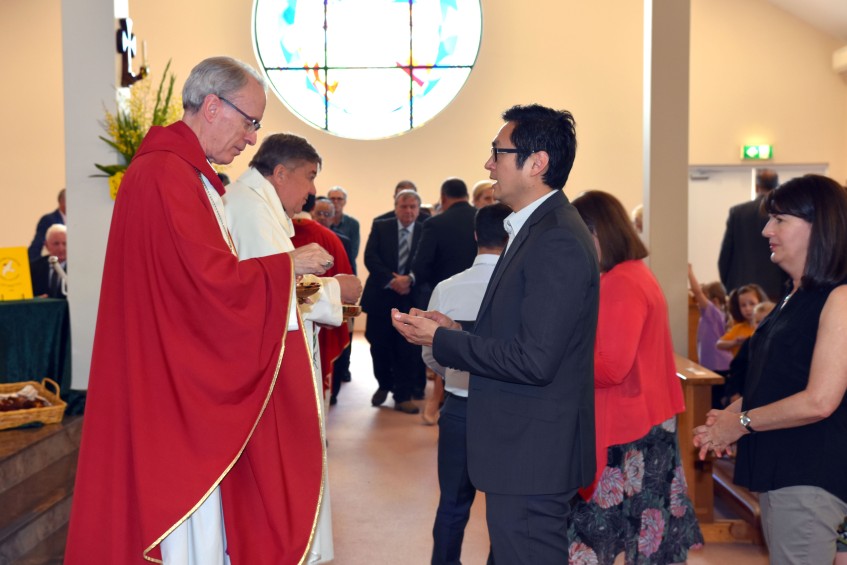 Bishop Donald Sproxton gives communion at Saint Columba's, where he once attended as a student. Photo: Daniele Foti-Cuzzola
"What an extraordinary day for me," she told the congregation during an emotional speech after the Mass.
"How full is my heart today? It's a bit of a challenge really."
Ms Billington spoke fondly of her time as principal at St Columba's and recalled the school's strong community spirit that helped her through difficult times in her life.
"Saint Columba's community helped me and my son Ryan to rebuild our lives. So when I am asked, 'What is the X Factor about being part of Saint Columba's?' It's community, and a deep sense of community…it's a place of welcome, and love and of acceptance," she told the crowd.
"In my life, things were a bit tough. But this community said, 'Come here, we'll look after you, we'll love you'. Parents used to bring me meals when I had had a long day. So when I remember Saint Columba's – my heart is full."
Ms Billington also spoke fondly of the wonderful family nights, art exhibitions and soirees that took place at the school during her time as principal.
"This is God's house and God wants his house to be filled with people, and joy, and youth," she said.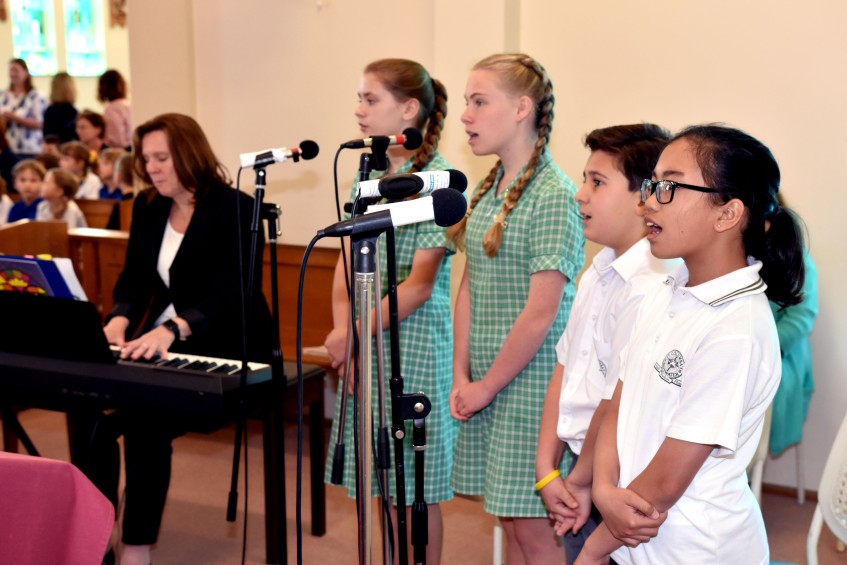 Saint Columba's choir provided quality entertainment on the day. Photo: Daniele Foti-Cuzzola
The former principal was also moved to tears by the school choir.
"For me to come back and the music (to be) so beautiful, is the greatest gift," she added.
Bishop Donald Sproxton also spoke about the strong community spirit that he experienced at Saint Columba's during his time there as a student.
"Certainly many of us who have been at this school ourselves are very grateful for what we received from those who taught us and from the friendships we developed in those days," Bishop Sproxton said, before paying special tribute to the volunteers of Saint Columba's School community.
"That work of supporting the school, enabling it to continue, enabling it to provide an education, that they hoped people would receive…this is something I'm mindful of today in naming the classroom after me. Really, it is also honouring my parents".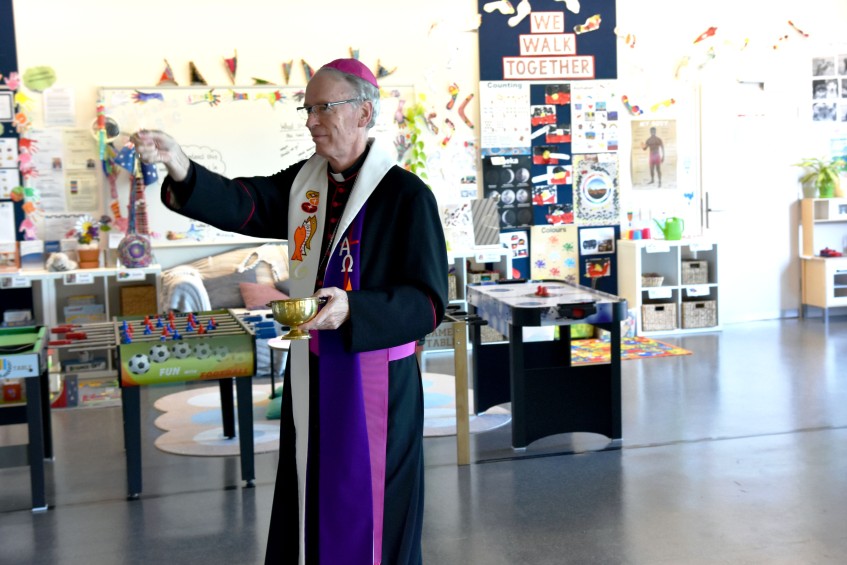 Bishop Donald Sproxton blesses one of the new classrooms. Photo: Daniele Foti-Cuzzola
As students sang on the school oval, Principal Greg Martin walked Ms Billington into the new classrooms, which were then blessed by the Bishop Sproxton.
"Today marks another milestone in the development of Saint Columba's school," Mr Martin told guests after the blessing.
"We prepare our students for the future, interwoven with wonderful memories and achievements of the past. This powerful combination will ensure that Saint Columba's will continue to develop our community leaders for tomorrow".
With new state of the art facilities, a strong community spirit and dedicated staff, the future of Saint Columba's School is set to soar well beyond its 80th anniversary.