Pallottine priest celebrates platinum jubilee of ordination to the priesthood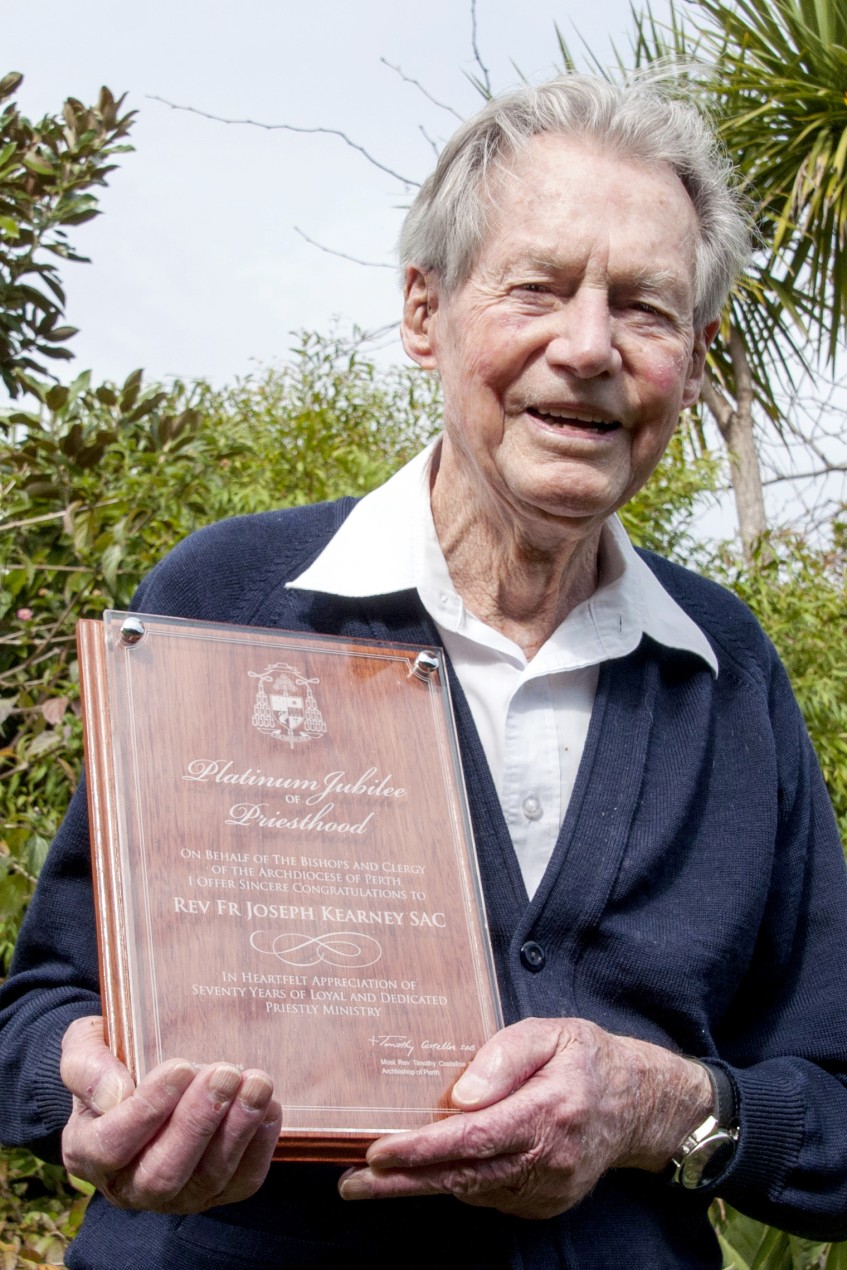 A remarkable achievement: Fr Joseph Kearney recently celebrated the 70-year-anniversary of his ordination to the priesthood. Fr Kearney was ordained by Melbourne Archbishop Daniel Mannix on 28 July 1946. Photo: Marco Ceccarelli

By Marco Ceccarelli
This year has been particularly significant for Father Joseph Kearney SAC.
The 95 year old recently celebrated the 70 year 'Platinum' anniversary of his ordination with a Mass at Our Lady Queen of Apostles in Shelley and was officially congratulated by Perth Archbishop Timothy Costelloe for so many years of loyal and dedicated priestly ministry.
Self-described as a "naturalised sandgroper," the Victorian-born Pallottine recently spoke to The eRecord about his life journey with striking lucidity and a captivating sense of wit.
Fr Kearney grew up in a devoted Catholic family in the Melbourne suburb of Moonee Ponds and, at the age of seven, moved with his family to the Victorian town of Hepburn Springs.
Having received his primary education in a convent school and secondary education at St Patrick's College in Ballarat, Fr Kearney contemplated the idea of becoming a priest throughout his teenage years and eventually joined the Pallottines in 1940.
A six-year spiritual and academic formative journey with the Pallotines and the help of Franciscans thus began for Fr Kearney as he ventured into philosophy, theology and scripture. While undertaking his studies, Fr Kearney also harboured a desire to work in remote parts of Australia, the top-end of Western Australia in particular, and be of assistance to Aboriginal people.
He was ordained to the priesthood on 28 July 1946 by then Melbourne Archbishop Daniel Mannix and lived his first year as a priest in Melbourne.
Fr Kearney eventually arrived to WA in 1948 and served in Broome until 1956. During his service, he would visit the small Aboriginal community of Balgo, the first time for six months and the second time for 18 months.
"The fondest memories of my priesthood are those from the time I spent in Balgo in 1955," he recalls.
"There was a mutual trust with the Aboriginal people that made things work. We trusted them and they trusted us. Fr Alphonse and I baptised the first small group of children and did a number of holy communions and confirmations while there."
Fr Kearney remained in WA for another decade as he relocated north of Broome, in the town of Beagle Bay, from 1961 to 1969.
At the end of 1969, he was voted in as Regional Superior of the Pallottines and moved to the headquarters of the organisation in Melbourne, within the suburb of Kew, to serve two three-year terms. In 1975, he was appointed as rector of a house for students in Box Hill, Melbourne, before returning to the Pallottine headquarters to serve as secretary and bursar for another three years.
It was after this final appointment in Melbourne that Fr Kearney arrived to Perth in 1981 and served in Rossmoyne, where he currently resides. Fr Kearney was chaplain to what was known as a hostel accommodation for high school and apprentice aged Aboriginal children from the Kimberley and other outback areas.
The hostel, which closed in the late 1990s, enabled boys and girls to be educated to Year 12 at local schools or to be apprenticed to local businesses.
Fr Kearney was also stationed as a chaplain in Geraldton from 1986 until his retirement in 1996. He remained active, serving various parishes in need of a priest throughout WA, until 2008.
The Mass for his 70-year-anniversary was celebrated by Regional Superior of the Pallottines in Australia, Fr Eugene San SAC, at Our Lady Queen of Apostles. Concelebrating were Parish Priest Fr Paul Manickathan SAC and concelebrated by Fr Ray Hevern SAC, Fr John Flynn SAC and Fr Kearney himself.