Padre Pio a true servant of mercy, Pope Francis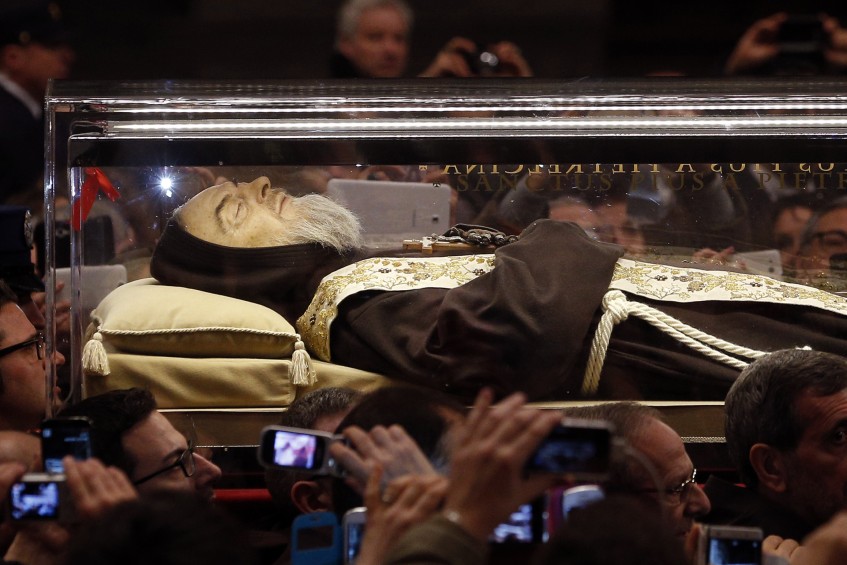 Saint Padre Pio is a key example of someone who has given their entire life in the service of God's mercy Pope Francis has said, but cautioned that there is only one reason he was able to do so: prayer. Photo: CNS
Internationally renowned relics to visit Perth this weekend
Saint Padre Pio is a key example of someone who has given his entire life in the service of God's mercy Pope Francis has said, but cautioned that there is only one reason he was able to do so: prayer.
The Pope was speaking earlier this year during the visit of Padre Pio's incorrupt body to Rome.
First class relics of Padre Pio are set to visit St Mary's Cathedral this weekend, including a pair of Padre Pio's gloves, his hair, a piece of his nails, a scab from the stigmata and a linen cloth that was used to wipe blood from his side wound.
The relics will be on display at the Cathedral from Saturday 22 October until Wednesday 26 October in connection with Masses on those days.
Cathedral Dean Mgr Michael Keating said visitation of the relics is timely during the Year of Mercy.
"I encourage everyone who is looking for a special encounter, a particular experience of faith and of mercy to come and see the relics," Mgr Keating said.
"For many people, this will be a once in a lifetime opportunity to experience, in faith, the life of Padre Pio."
In speaking about Padre Pio, Pope Francis went on to say that Padre Pio was a servant of mercy.
"He did so full-time, practicing, at times in exhaustion, the apostolate of listening," the Pope said.
Through his ministry in the confessional, where he would at times spend 10-15 hours a day, the saint was able to become "a caress of the living Father, who heals the wounds of sin and refreshes the heart with peace."
Pope Francis continued by saying that Padre Pio never tired of welcoming and listening to the people who came to him. He said the saint spent his time and strength spreading "the perfume of the forgiveness of the Lord."
The only reason Padre Pio was able to do this, he said, is because "he was always attached to the source: he was continuously quenched by Jesus Crucified, and so became a channel of mercy."
St Pio of Pietrelcina, colloquially known as "Padre Pio," was a priest of the Order of the Friars Minor Capuchin, a stigmatist, and a mystic, who lived from 1887-1968. He was beatified in 1999, and canonized in 2002 by St. John Paul II. He was born in Pietrelcina, but ministered in San Giovanni Rotondo from 1916 until his death.
A full list of services during the visitation of the relics is below
SCHEDULE
Saturday, 22 October 2016
8.00AM – Mass, Veneration of the Relics and Reconciliation
3.00PM – Healing Mass and Reconciliation with Emeritus Archbishop Adrian Doyle (includes Anointing of the Sick)
6PM – Mass, Veneration of the Relics and Reconciliation
Sunday, 23 October 2016
8AM – Mass and Blessing with the Relics
9.30AM – Mass and Blessing with the Relics
11.00AM – Mass by Emeritus Archbishop Barry Hickey
5.00PM – Mass and Veneration of the Relics
Monday, 24 October 2016
8.00AM – Mass, Veneration of the Relics and Reconciliation
12.10PM – Mass, Veneration of the Relics, Reconciliation and Rosary with Emeritus Archbishop Adrian Doyle
Tuesday, 25 October 2016
8.00AM – Mass, Veneration with the Relics and Reconciliation
12.10PM – Mass, Veneration of the Relics, Reconciliation and Rosary
Wednesday, 26 October 2016
8.00AM – Mass, Veneration with the Relics and Reconciliation
12.10PM – Mass, Veneration of the Relics, Reconciliation and Rosary with Emeritus Archbishop Adrian Doyle
7.30PM – Novena, Benediction and Veneration of the Relics