2016 MULTICULTURAL MASS: Syrian family feels right at home in Perth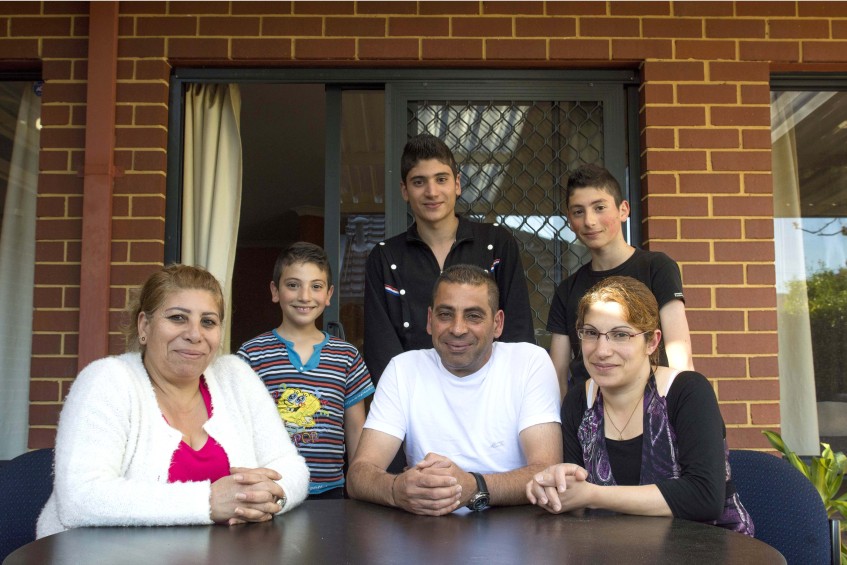 (L-R) Newly arrived Syrian family Wedad, Milad, Micheal, Ghassan and Mark Al Gharbi, and Nazha Lowiss, are a perfect example of the rich cultural diversity that exists within the Catholic Archdiocese of Perth. This will be celebrated at a Multicultural Mass to be held on Friday, 11 November. Photo: Rachel Curry.
By Rachel Curry
Newly arrived Syrian family, the Al Gharbis, are a perfect example of the rich cultural diversity that exists in the Perth Catholic community.
Ghassan Al Gharbi, his wife Nazha Lowiss, sister Wedad and sons Micheal, Mark and Milad arrived in Perth six months ago, after being forced to flee their homeland to Lebanon, where they lived for five years before being accepted into Australia as refugees.
Using his burgeoning English skills to speak for the family, 17-year-old Micheal said they were very happy to be starting a new life in Australia.
"We feel good here because it's better than Syria and Lebanon. There's no fighting and the people help each other. We feel safe," he said.
As Catholics living in the country's third biggest city of Homs, the Al Gharbis were part of a religious minority in Syria, where only 10 per cent of 22 million residents are Christian.
Micheal said Syria was a wonderful place to live before the war, but everything changed when the multi-faceted conflict began as an offshoot of the Arab Spring in 2011.
"After the war started, it was very bad. Muslim people were killing Christians. My little brother and two cousins died because of the fighting," he said.
Despite their past trauma, the Al Gharbis are settling well into Australia.
Micheal, Mark and Milad attend Aranmore Catholic College and Aranmore Catholic Primary School, while their parents and aunt learn English at TAFE.
Mr Al Gharbi was a glazier and small supermarket owner in Syria, but said once he had mastered English, he would be happy to take on "any job" in Perth.
As for the boys, they have already adapted to the Australian way of life, speaking enthusiastically about playing Aussie Rules football during their lunch breaks.
The family also keep in touch with their roots by attending the Melkite Catholic Community Mass every Sunday, where the liturgy is spoken in Arabic and English.
Micheal said while it was sad that they were forced from their homeland, they had been welcomed with open arms into Australia.
"We are new here, but when people find out, they help us. If you say something wrong, they tell you the right way. For us, it's a good feeling," he said.
The Archdiocese of Perth will celebrate the vibrancy that families such as the Al Gharbis bring to our faith community with a Multicultural Mass at 7pm on Friday, 11 November at St Mary's Cathedral.
Vicar for Migrants Father Benedict Lee said all were welcome to attend the Mass, which will be celebrated by Archbishop Timothy Costelloe. Attendees are also invited to wear their national dress.
"The annual Multicultural Mass celebrates the unity and solidarity we share as the Catholic community of faith, in the Archdiocese of Perth; rich in diversity, we are in communion as one, holy, Catholic and apostolic Church," Fr Lee said.