2016 RCIA Conference - International presenter places mercy in the spotlight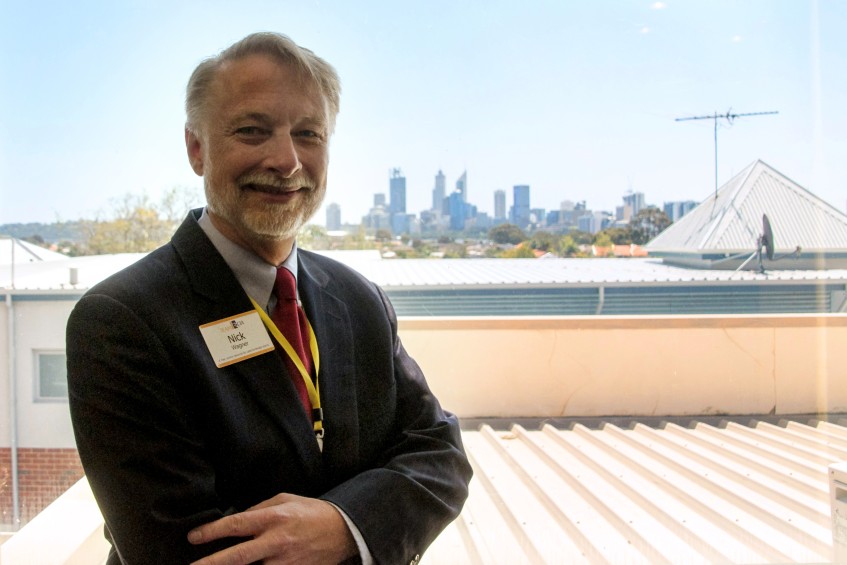 Nick Wagner travelled from San Jose, California, with his wife Diana Macalintal, to present two keynote talks and facilitate two workshops at this year's RCIA conference. Photo: Marco Ceccarelli

By Marco Ceccarelli
If Pope Francis were to suddenly walk into this room, what questions on the Jubilee Year of Mercy would you ask him?
It is with this question that international presenter Nick Wagner, who travelled to Perth from San Jose in California, USA, began his workshop entitled "Journey to the Source in the Year of Mercy" on the second day of this year's Christian Initiation Australia Network National conference.
With more than 25 years' experience as leader and trainer in liturgical and catechetical ministries, Mr Wagner delivered two outstanding keynote presentations and facilitated two workshops over the four day conference.
Using a dialogic approach which allowed him to ask and receive questions throughout his workshop, Mr Wagner stimulated thinking on the most fundamental aspects of the meaning of mercy for Christians today.
While some of the answers to his initial question regarding Pope Francis' presence ranged from Why mercy and not something else? What does mercy actually mean? and How would you deal with the unmerciful?, Mr Wagner began to unpack some of the issues raised by framing mercy as "the most important aspect of our faith, the bedrock core of our faith".
Mr Wagner went on to use the Pope's Apostolic Exhortation, Evangelii Gaudium, to explain that if the Church is "to grow by attraction," then it is the responsibility of Christians to show others that mercy is a gift and not something that needs to be earned or struggled for, it is God's gift to anyone who seeks it.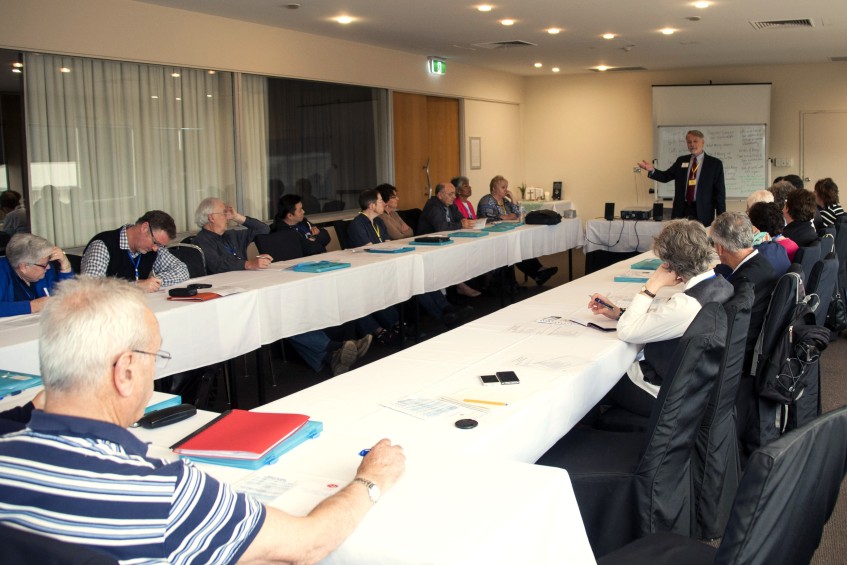 Mr Wagner used a dialogic approach in his workshops based on asking and answering questions to stimulate critical thinking and to draw out ideas on the meaning of "mercy". Photo: Marco Ceccarelli
How do we help those who do not know Jesus Christ, or who are on a journey of discovering Him through the RCIA, understand this? Mr Wagner asked.
"The answer lies in our story," Mr Wagner said. "The story of our encounter with Jesus and the story of how we do the things that Jesus did.
"How do the Gospel stories translate into our everyday lives? Who, for instance, is the Samaritan woman at the well? Is there, perhaps, a Lazarus in our life who may need to be taken out of death?"
Gifted with the ability to break down theological principles into simple language, Mr Wagner explained that, of all the different ways by which mercy can be show, forgiveness is the most powerful.
"The Pope is very clear on this. If you want to be the face of mercy in your parishes, families and workplaces, the clearest and most powerful way you can express mercy is by forgiving others."
Mr Wagner concluded by describing four kinds of poverties experienced by people who seek to be initiated into the Catholic Church which Catechists need to be mindful of.
The first of these was existential poverty, or what the Pope describes as "existential peripheries", described by Mr Wagner as a lack of sense of worth which people, many of whom are very close to us, suffer from.
The second was cultural poverty, framed as the lack of job opportunity and inability to have access to education and literacy. The millions of refugees and displaced people in the world at present were used as an example of how those experiencing this kind of poverty today.
The third poverty pointed out by Mr Wagner was relational poverty, best described as breakdowns in relationships and the inability to restore relational bonds due to disagreements or difference in beliefs.
Lastly, Mr Wagner came full circle by speaking of spiritual poverty, viewed as a lack of hope and meaning of life and the essential reason why the Church prepares and trains Catechists who guide candidates and catechumens through the RCIA.
"People will come to us [Catechists] suffering from one or more of these poverties and see that, although we are just as vulnerable and 'poor' as they are, we are able to get up every day and confront our weaknesses in a different way.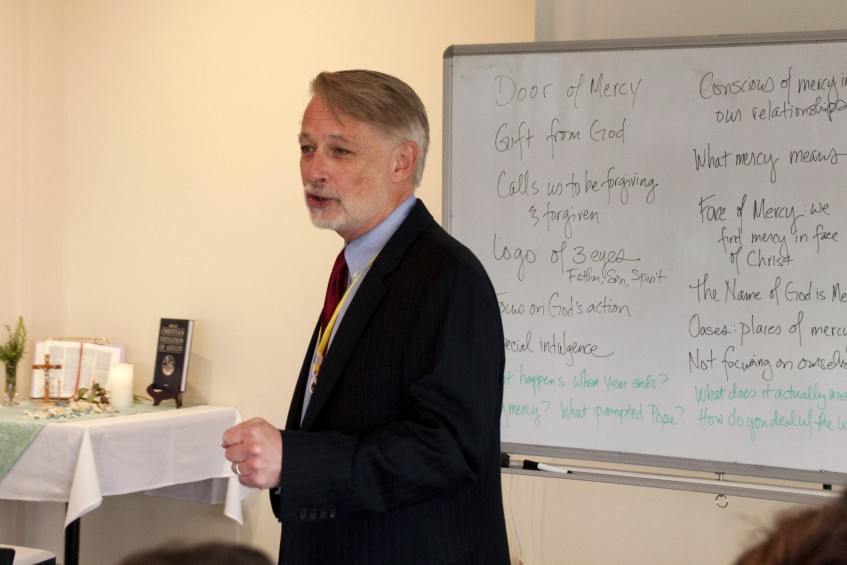 Mr Wagner asked those attending the workshop to list a number of terms associated with the Jubilee Year of Mercy before unpacking the meaning of mercy in the context of a Church that grows by attraction. Photo: Marco Ceccarelli
"It is at that point that we can try to understand what they are going through, share our own vulnerability and say 'this does not come from me, this comes from God through me, from the love of God'".
Mr Wagner invited all those present to make a pilgrimage to a Holy Door in their city before the end of the Year of Mercy.
Archbishop Timothy Costelloe has designated eight pilgrimage Churches and shrines for the Archdiocese of Perth. These are:
St Mary's Cathedral, 17 Victoria Square, Perth
St Patrick's Basilica, 47 Adelaide Street, Fremantle WA 6160, Australia
Holy Trinity Abbey, Great Eastern Hwy, New Norcia
St Mary's Church, Brookman Street & Porter Street, Kalgoorlie
Our Lady of the Mission, 270 Camberwarra Drive, Craigie
Carmelite Monastery, Elizabeth Street & Thomas Street, Nedlands WA 6009, Australia
Schoenstatt Shrine, 9 Talus Dr, Mt Richon
Redemptorist Monastery, 190 Vincent Street, North Perth WA 6006, Australia
Mr Wagner is the director and founder of TeamRCIA.com. To visit his website, please follow this link: teamrcia.com.