PADRE PIO RELICS 2016 Perth Catholics gather by thousands to venerate 'saint of mercy'
The arrival in Perth of the relics of Italian Saint Pio of Pietrelcina – also known as Padre Pio – has attracted the attention of many Catholic faithful, who have turned out in significant numbers to view and venerate his relics at St Mary's Cathedral. Photo: Ron Tan
By Caroline Smith
St Mary's Cathedral has this week been filled to capacity by thousands of people who came to venerate the relics of Italian Saint Pio of Pietrelcina – also known as Padre Pio.
One of the first opportunities to venerate the relics, last Saturday 22 October, included the rite of the Anointing of the Sick as well as Reconciliation.
At the conclusion of the last celebration to venerate the relics on Wednesday 26 October, Cathedral Dean Mgr Keating said more than 8500 people had passed through St Mary's Cathedral during the five day visit.
The Mass on Saturday 22 October was celebrated by Emeritus Archbishop of Hobart, Adrian Doyle and concelebrated by Cathedral Dean, Monsignor Michael Keating and Assistant Parish Priests Father Conor Steadman and Fr Brennan Sia (MC) and Fr GianMaria Digiorgio – a member of Padre Pio's Order of Friars Minor Capuchin, who had studied and worked with the saint.
Fr Digiorgio said he had been invited to Perth by Mgr Keating, who believed the relics of Padre Pio held particular significance now, as the Catholic community reached the end of the 2016 Jubilee Year of Mercy.
"The Monsignor has been very keen to conduct this special occasion as we reach the conclusion of this Jubilee Year of Mercy," he said.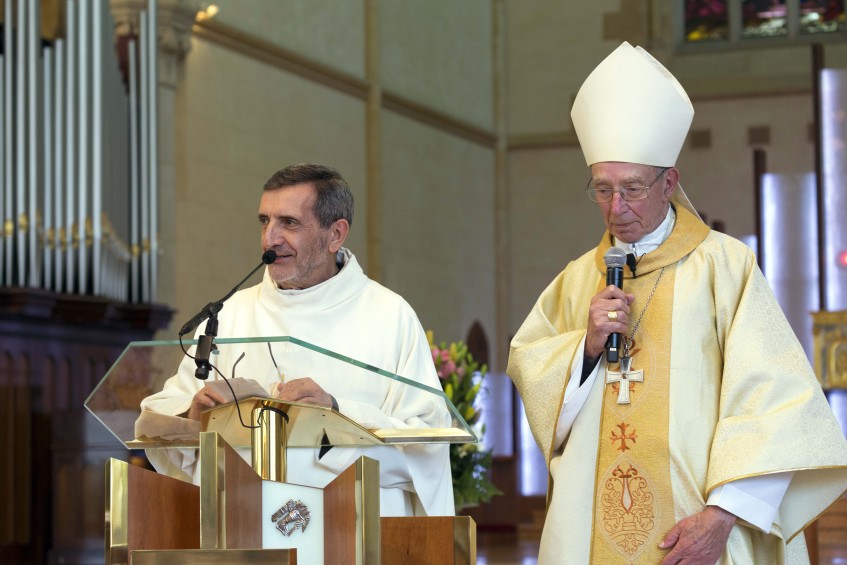 Father GianMaria Digiorgio with Emeritus Archbishop of Hobart, Adrian Doyle at the Veneration Mass for Padre Pio at St Mary's Cathedral on 22 October. Photo: Ron Tan.
Fr Digiorgio went on to note that earlier this year, Pope Francis promoted Padre Pio appropriately, as a saint of mercy.
To illustrate this point, he told a story of Padre Pio's meeting with a man who was afflicted by illness and was losing his faith in God.
"One night, Padre Pio appeared and wanted to speak with this man. Padre Pio took him by the arm and helped him along the corridor until he was able to walk again: he didn't realise that he was able to walk on his own," Fr Digiorgio said.
"And the next day, Padre Pio asked him to come to the monastery to see him. And when he went into the Church, he saw a Capuchin priest and realised it was Padre Pio, who told him not to curse anymore.
"The man's life was changed and he had a conversion experience."
He added that the saint's understanding of human suffering was likely influenced by his own life, which was beset by illness and sacrifice.
"(Padre Pio) was a man of suffering for many many years. So he understood deeply the sufferings of people who were physically and spiritually in torment," Fr Digiorgio said.
"He also received that very special gift which Mgr Keating was mentioning earlier, of the stigmata, the five wounds of Jesus which were imprinted on his body. He became in that way, a kind of photocopy of Jesus hanging on the cross, with the same sufferings."
For more than 50 years, Padre Pio of Pietrelcina reported stigmata which were studied by several 20th century physicians.
The observations were reportedly unexplainable and the wounds never became infected and disappeared after his death in 1968.
The relics of Padre Pio – which include his hair, a piece of his nails and a pair of his gloves – were venerated at 13 events at the Cathedral from Saturday 22 October to Wednesday 26 October, including several Masses and a novena and benediction.
They were brought to Perth with the help of St Mary's Cathedral parishioner Patrizia DiStefano and her parents Cesare and Maria, together with Fr GianMaria, who is closely connected with Padre Pio's monastery of San Giovanni Rotondo in Italy.