Second Rite of Reconciliation offers reflection on the importance of mercy, forgiveness and justice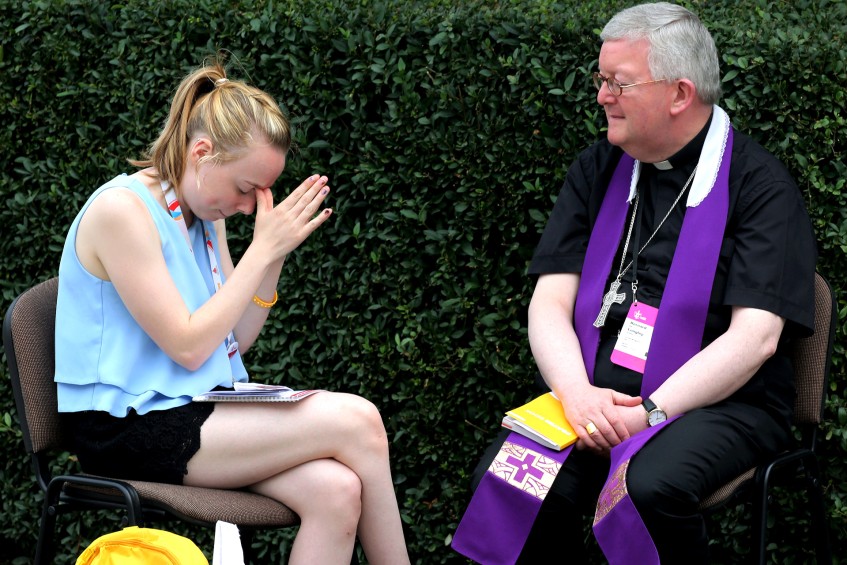 A World Youth Day pilgrim becomes emotional as a priest hears her confession at Sacred Heart Church in Krakow, Poland, on 28 July. Throughout the Year of Mercy, Pope Francis has often reflected on the good that can come from people asking for forgiveness and reconciling with God. Photo: CNS/Bob Roller
By Caroline Smith
A celebration of the Second Rite of Reconciliation will next month offer people the opportunity to re-engage with this sacrament and reflect on the benefits of reconciliation and forgiveness in the Jubilee Year of Mercy.
The 3 November service will be held at St Mary's Cathedral at 7pm.
Throughout the 2016 Jubilee Year of Mercy, Pope Francis has often reflected on the sacrament of Reconciliation, its connection to Christian mercy, and the good that can come from people asking for forgiveness and reconciling with God.
In April, the Pope spoke to several groups of pilgrims, telling them that people needed to recognise their faults and ask forgiveness, if they wanted to secure peace in the family, community and nation.
In his Year of Mercy speech in St Peter's Square in April this year, the Pope told an audience of the police and military to be instruments of reconciliation and sowers of peace in their families and workplaces.
He went on to say that God does not move away from people when they sin, but rather, seeks them out.
"He, seeing us in danger, comes looking for us even more," Pope Francis said, adding that the Year of Mercy offered people a great opportunity to come back to God.
The sacrament also plays a key role in connecting Christian mercy to notions of justice, as recognised by Saint John Paul II, who urged Catholics to avoid seeing the former as something indulgent or sentimental.
In 1980, the then-Pope wrote in the encyclical Dives in Misericordia that "in no passage of the Gospel message does forgiveness, or mercy as its source, mean indulgence towards evil, towards scandals, towards injury or insult. In any case, reparation for evil and scandal, compensation for injury, and satisfaction for insult are conditions for forgiveness."