Emmanuel Centre's Father Paul Pitzen celebrates 50 years of priesthood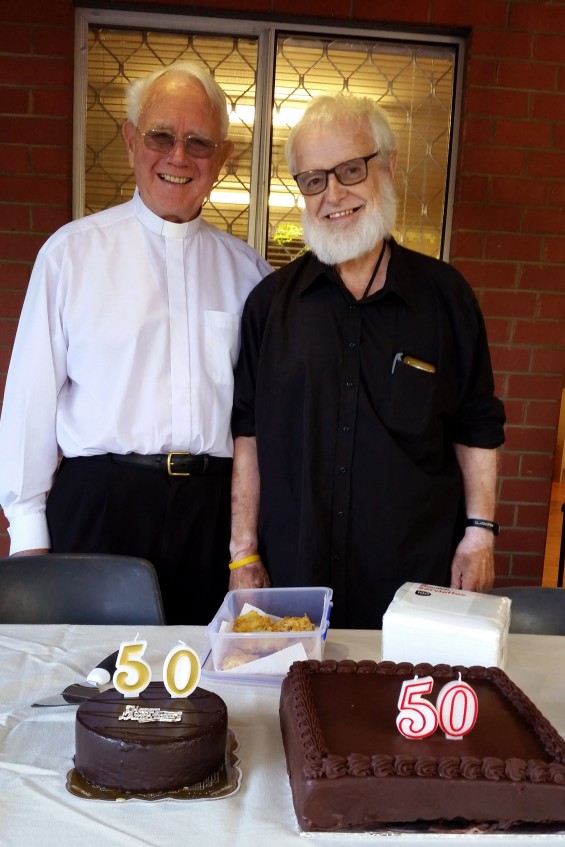 Monsignor Keating with Fr Paul Pitzen at his 50th Anniversary celebrations at the Emmanuel Centre on 19 March. Photo: Supplied
By Natashya Fernandez
Chaplain for the Catholic Ministry for the Deaf and Hard of Hearing Father Paul Pitzen celebrated 50 years of priesthood on 27 March this year.
With a special Mass celebrated by Monsignor Michael Keating on 19 March at the Centre, followed by a morning tea in his honour, The eRecord's Assistant Editor Natashya Fernandez sat down with Fr Pitzen to discuss his life in Australia and his service to God.
Having spent 47 of his 50 years as a Priest in Australia, Fr Pitzen says it was the warm welcome he received all those years ago that made Australia his home.
Born on 22 November 1939 in the state of Indiana, in the United States of America, Fr Pitzen was the eleventh child of 12 children.
In 1960, Fr Pitzen joined the Servite Seminary in California, where he stayed for three years before being transferred to Benburb, County Tyrone, Northern Ireland in 1962.
This was followed by a stint studying in Rome from 1963 to 1967, where he was ordained on 27 March.
With a Licentiate of Sacred Theology (S.T.L.), Fr Pitzen also has a diploma in Mariology, and is a whiz when it comes to languages.
While studying in Rome, he learned Latin and Italian and later picked up AUSLAN, the sign language for the Deaf community in Australia, as well as some Lithuanian when serving the Lithuanian community at their Masses.
Looking back on his 50 years of priesthood, Fr Pitzen said that even though he landed in Australia all those years ago in 1970, he will never forget the warm welcome he received. "People allowed me to walk their journey with them and that is a privilege which I don't think I would get anywhere else," he said.
Having taught religious education and science at primary and secondary levels at schools, Fr Pitzen said that it has been his connection to people with a disability, in particular with the deaf that led him to take on a part time role as Chaplain for the Catholic Deaf community.
Initially, the role involved Mass once a month, but Fr Pitzen soon realised that Mass once a month was not enough.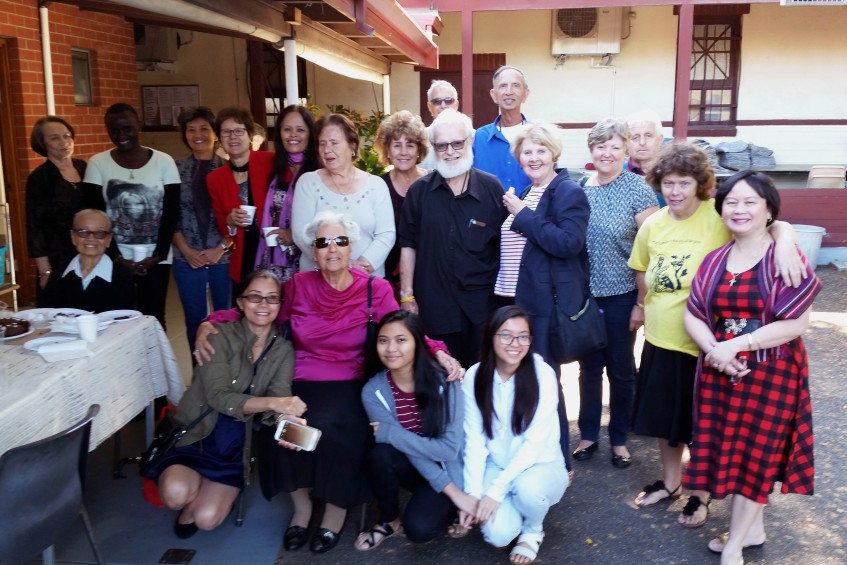 Fr Paul Pitzen celebrates his Golden Jubilee with volunteers at the Emmanuel Centre on 19 March. Photo: Supplied
Through his life-long collaboration with then teacher, Barbara Harris who had helped with various activities and development of materials for the deaf and their families, 1981 became a significant year for Fr Pitzen.
It was the International Year of Disabled Persons and Fr Pitzen recalled how the then Fr Barry Hickey (now Emeritus Archbishop of Perth) gathered a group of people who were involved in the Church working with people with disabilities.
"He invited members from St Vincent de Paul Society, Assumption Society for the Sick, Catholic Care for the Intellectually Handicapped, and the Deaf and Hard of Hearing group together with Legion of Mary Blind Praesidium to a meeting," Fr Pitzen said.
"The decision was made to make an Episcopal Statement, entitled Breaking Down The Barrier and that's when Archbishop Goody made the statement his own by changing one word in the document," he explained.
"A companion workbook was also created to encourage people to explore ways of making Archbishop Goody's Episcopal Statement come alive in their daily lives, their families and communities," he said.
"And so with the blessing and permission of Archbishop Goody, we established the Emmanuel Centre – a self-help place for people with disability, their families and carers.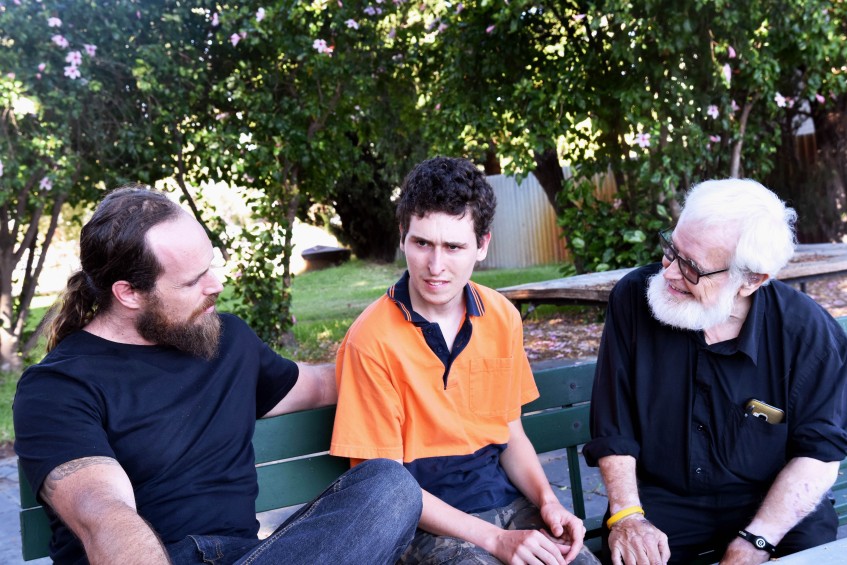 Fr Paul Pitzen having a chat with volunteers Dan and Declan (middle and far left). Photo Natashya Fernandez
Fr Pitzen went on to explain that the Emmanuel Centre is the place for people who have tried everywhere else (in terms of self-help support facilities).
"A place that meets their needs according to needs, rather than what funding is available," Fr Pitzen said.
Beginning with one coordinator and one chaplain, the Emmanuel Centre and the Catholic Ministry for Deaf and Hard of Hearing now have more than 100 volunteers.
While some work in the Centre, others are out and about in the community.
"They do wonderful work in the community and just carry on with their tasks. As Saint Mary MacKillop said – 'see a need and do something about it'.
Quoting Archbishop Timothy Costelloe SDB, Fr Pitzen spoke about walking in the footsteps of the Good Shepherd, and said that this is what the Emmanuel Centre aims to do and will continue to do so.
"We walk with people on this journey, taking them where they want to go, and presenting to them, in our brokenness, the best way we can, the image of Christ."
With no immediate plans to retire and with a lot happening at Emmanuel Centre, Fr Pitzen says he likens what he's doing to being a parent.
"You do not retire as a parent, do you?" he concluded.