ORDINATIONS TO THE DIACONATE: Journeys of faith and service within the Church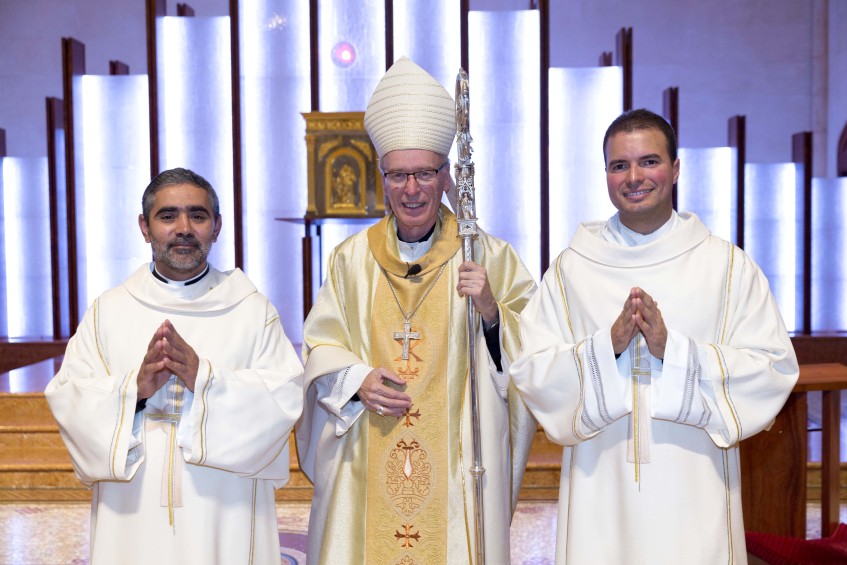 Deacons Patricio Carrera Morales and Kenneth Acosta Garcia with Auxiliary Bishop Donald Sproxton following their Ordination to the Diaconate on Friday 31 March at St Mary's Cathedral, Perth. Photo: Ron Tan
By Caroline Smith and Jamie O'Brien
Two young men from Redemptoris Mater Seminary in Morley have last Friday attained one of the great milestones of their spiritual journey as they stepped into the diaconate – one of the three forms of the sacrament of Holy Orders.
Patricio Carrera Morales and Max Kenneth Acosta Garcia were ordained to the Diaconate by Auxiliary Bishop Donald Sproxton at St Mary's Cathedral in a momentous occasion eagerly awaited by the Archdiocese of Perth.
Hailing from Guatemala and the Dominican Republic, the two men have reached this important step of their formation through years of prayer, discernment, academic study and service within and outside of the Archdiocese. Their ordination brings them a step closer to the ministry of priesthood.
Patricio – Answering a call and growing in faith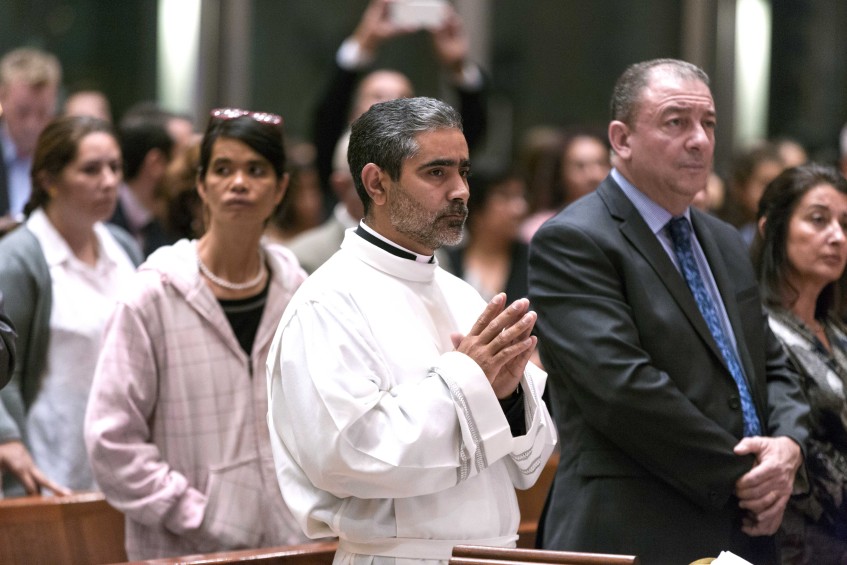 Deacon Patricio Carrera Morales at his Ordination to the Diaconate on Friday 31 March at St Mary's Cathedral. Photo: Ron Tan
For 46 year old Patricio Carrera Morales, the decision to enter the seminary at the age of 38 was itself part of a wider journey of re-connection with his faith, which started with his joining the Neocatechumenal Way in his native Guatemala two years earlier.
Deacon Carerra Morales was born in the capital Guatemala City, the third child in a family of five, and was brought up in the Catholic faith.
However, by his early twenties he had begun to drift towards a more secular existence, and felt disconnected from the Church.
"I left the Church at the age of 21, only because I couldn't really understand what it was offering to me," he said.
"In those days I can say I was totally blind not to see the richness of the Church. That's why I decided to leave because I couldn't understand at all."
But when he was offered the chance to re-connect with the Church through the Neocatechumenal Way; a post-baptismal charism of the Catholic Church recognised by Pope John Paul II in 1990 as an itinerary of Catholic formation valid for our society and our times and now present in more than 50 countries around the world, this helped Deacon Carrera Morales learn about and then re-embrace his faith.
"The Neocatechumenal Way was like a door to enter the Church again because I was completely outside of it," he said.
"I was very sad and looking for happiness in many different ways and I didn't find them; I was destroying my life.
"But through the Neocatechumenal Way, I discovered that God in a sense was leading me to a better life, a better way of living, not only for myself but for others."
After two years, Deacon Carrera Morales believed he was ready to consider a priestly vocation, particularly since he had received a special call to this journey a year before.
"I received the call during my first year of being in the Neocatechumenal Way. But I didn't answer it straight away – I saw myself as not strong enough to answer it," he said.
"The specific words I heard were, 'If you want to be a follower of mine, take up cross and follow me.'
"It was something very specific that remained in my head," he said.
A few years after answering the call to enter the seminary and start the journey towards the priesthood, Deacon Carrera Morales was chosen to come to Perth - having offered to enter any of the then 90 Redemptoris Mater seminaries in the world - where he began studies in Theology and Philosophy at the University of Notre Dame Australia.
Reflecting on what it would mean to become a Deacon in the Archdiocese of Perth, he said the word that stood out to him was 'service'.
"Since the beginning of my journey in the Neocatechumenal Way, I remember I was very happy to do services, to be available for the parish and its members," he said.
"In a way, the diaconate is this – to come out of myself and to give what I have."
Max Kenneth – The Church as a source of strength and guide towards service
Deacon Kenneth Acosta Garcia during his Ordination to the Diaconate on Friday 31 March at St Mary's Cathedral. Photo: Ron Tan
Becoming an active member of the Church was a source of stability and community for Max Kenneth Acosta Garcia, who was born in the city of Santo Domingo, in the Dominican Republic.
Deacon Acosta Garcia – who is 31 – was brought up by his mother and grandparents, because his parents were divorced, and for many years this made him feel insecure.
However, becoming an altar boy at his local parish and joining the Neocatechumenal Way helped him understand what God was calling him to.
"I was really unhappy as a young man. I felt that the Neocatechumenal Way was good for me because I felt that I had finally found my place in the Church," he said.
"I had this longing constantly to go to church, to do something, to be involved, but we were not really encouraged [when I was young].
"In the midst of all the confusion of my life, I began 'walking' in a Neocatechumenal community (after listening to a catechesis in my parish) and that was a good thing for my life, for example when I learnt the guitar and became a cantor.
"Things started to fall into place a bit and I became more active in the parish, and then I became part of the pre-seminary group."
However, it was not until several years later that he felt ready to consider his vocation to the priesthood.
"I didn't really know how to start.
"I had some friends who were seminarians so I knew the type of life you have in the seminary, you have to study a lot, and I wasn't a good student so I thought, no the priesthood is not for me," Deacon Acosta Garcia said.
"But I always had this call constantly within myself, which started when I was an altar boy."
Despite carrying on with other parts of his life – looking for a girlfriend and studying Business Administration at university – Deacon Acosta Garcia felt a lack of fulfilment in his life, which prompted him to take the step into his vocation.
"I was wandering with my life, but nothing helped me make a decision or take the jump.
"In 2007 I went to Loreto for a European Youth Meeting which ended up being the World Youth Meeting, and it was there that I confirmed my calling.
"It was from then that I realised there was lots of fear, but I said to God, 'I think you are calling me. With my weakness, with my sins, with my insecurity. But I think if this comes from You, You will help me'."
In his new role, Deacon Acosta Garcia said he was looking forward to giving more to the Archdiocesan community as he progresses in his journey towards the priesthood.
"I hope that this time of the diaconate can really open my eyes to what the ministry of the priesthood is, and grant me the humility to enter into the service of the Church," he said.
I want to help people in their lives because this is the moment to give back what I have received freely. And in spite of my unworthiness or my weaknesses, I see that God uses me as an instrument for the people."