ORDINATION TO THE DIACONATE: New deacons called to loving service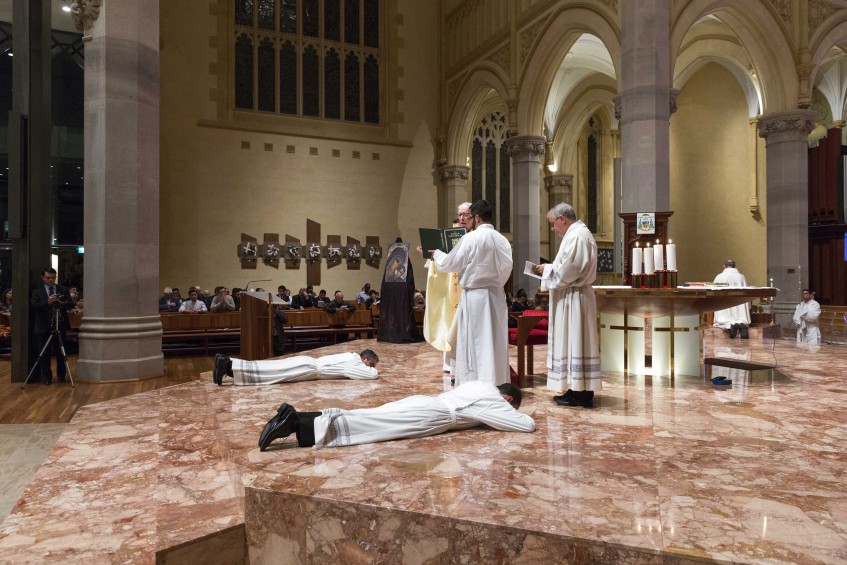 Max Kenneth Acosta Garcia and Patricio Carrera Morales lay prostrate on the ground during their Ordination to the Diaconate on Friday 31 March at St Mary's Cathedral. Photo: Ron Tan
By Josh Low
Perth Auxiliary Bishop Donald Sproxton has last week emphasised the importance of being loving servants to others at the Ordination to the Diaconate of two Redemptorist Mater seminarians on Friday 31 March.
The newly ordained Deacons Max Kenneth Acosta Garcia and Patricio Carrera Morales hail from the Dominican Republic and Guatemala respectively, and were ordained at the Mass celebrated by Bishop Sproxton.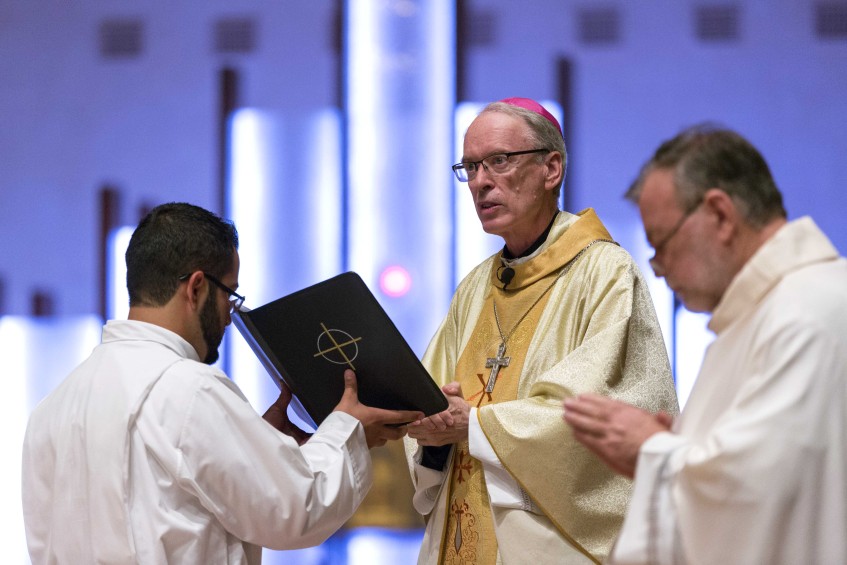 Most Rev Bishop Donald Sproxton called for the two newly ordained deacons to have courage and be the voice of Christ for people who have lost sight of God and His goodness. Photo: Ron Tan
Their ordination brings them one step closer to priestly ministry and one of the three forms of the Sacrament of Holy Orders, with Bishop Sproxton encouraging the two new Deacons in his homily to 'freely and willingly serve' in their ministry.
"How beautiful it is, that the first and foundational Holy Order is defined by service," Bishop Sproxton said.
"The diaconate is essentially the ministry of putting oneself freely and willingly at the service of others, living no longer for themselves, but for Him who died and was raised to life for them."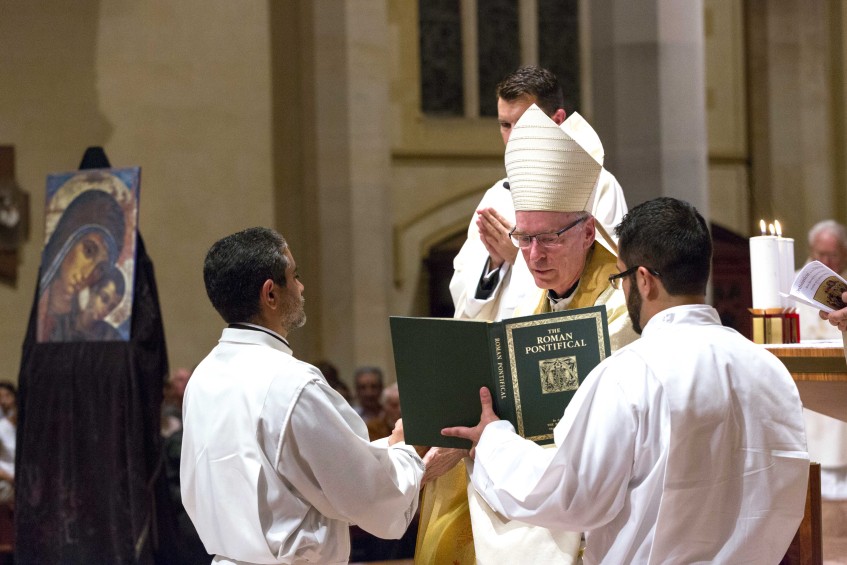 Both newly ordained deacons individually declared their intentions in the undertaking of the Office of Deacon at St Mary's Cathderal. Photo: Ron Tan
Bishop Sproxton added that through witnessing a deacon, priest or bishop sacrificing his own comfort and time to be there for others in their needs, we are able to recognise that they are a disciple of Christ.
"The foundation vocation of loving service comes from Jesus and when we are able to become servants to others, we know real joy and we become a presence of Christ to our generation.
"The same is said of couples in marriage as they serve in love their spouses, children and the community at large," he said.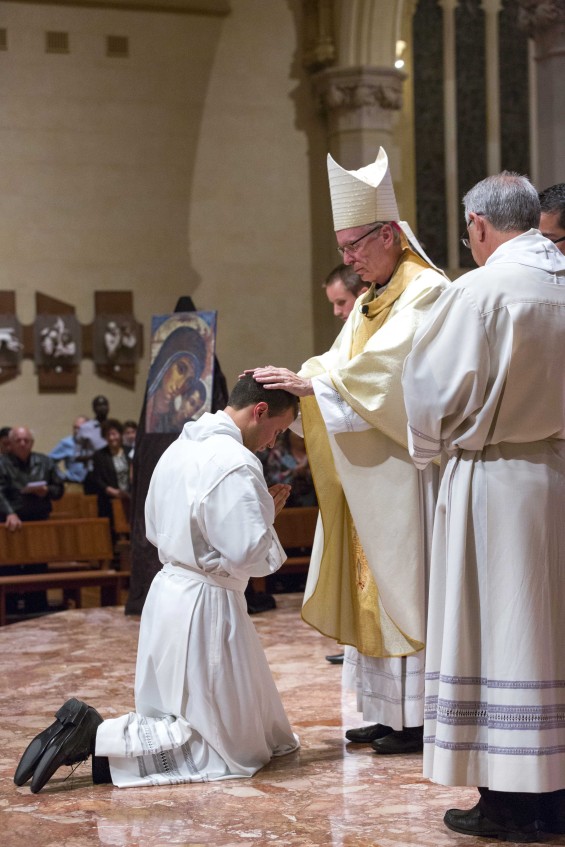 Bishop Sproxton laid hands on each of the Deacons Elect before saying the Prayer of Ordination. Photo: Ron Tan
Bishop Sproxton said the call to freely and willingly serve, requires faith and deep trust in Christ.
"The gift of joy like that we experience this evening, will be renewed for Kenneth and Patricio when in serving they come to know the depth of their faith and trust in Christ.
"The culture within which the People of God journeys today has many good things, but there are disturbing elements that threaten the human spirit truly flourishing.
"The ministry of the Word of God, especially proclaimed by your living with and in Christ, will be the most effective means of renewing hope in the hearts of the people you are called to serve.
"Kenneth and Patricio, do not be afraid; have courage. Be the voice of Christ for people who have lost sight of God and His goodness," he concluded.