Father-Daughter duo bring joy to Easter celebrations at Bedford Parish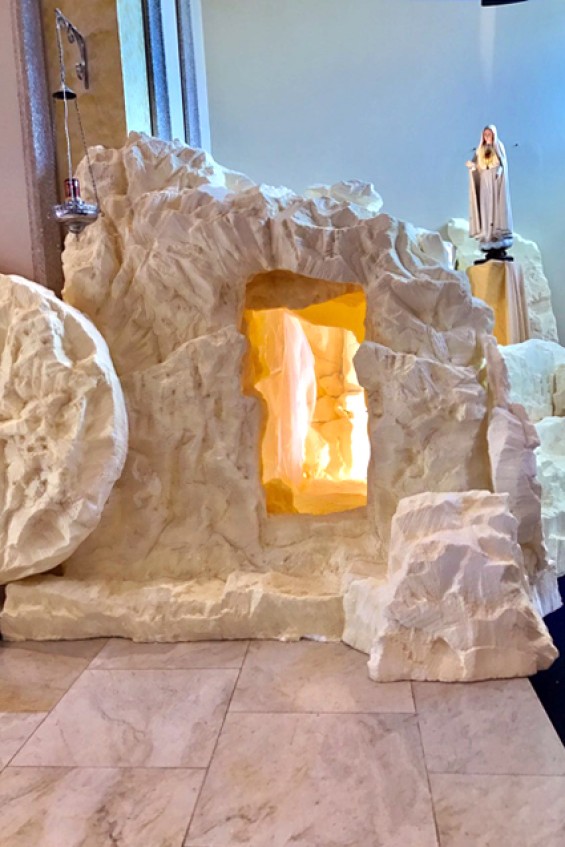 Bedford Parish's father daughter duo create a beautiful tomb to highlight the significance of the Holy Week and the Easter Triduum. Photo: Supplied
By Natashya Fernandez
It was a special Easter for parishioners of Bedford as a father daughter team took on a project for the most important part of the Liturgical calendar – Easter.
Working with Parish Priest Fr Jeronimo Flamenco Castillo, members of the Parish Council and other ministries, a beautiful tomb was created to highlight the significance of the Holy Week and the Easter Triduum.
Speaking to The eRecord prior to Easter, Tina Baldwin from the Parish Liturgy Team said the project was a first for the Parish and that the new project aimed to highlight something different to fellow parishioners and be of great interest to the surrounding parishes and other Catholic communities.
"We are introducing something new and different for Easter this year, and we hope that it will bring out the importance of Holy Week for all our parishioners," she said.
Bringing all of this together, the father and daughter constructed the tomb from foam and took approximately four weeks, spending six to eight hours every day to get it ready.
Ms Baldwin went on to explain that that the father-daughter duo worked tirelessly to ensure that construction didn't interfere with daily and weekly celebrations taking place in the Church.
"We wanted it to be a special Easter for Fr Jeronimo and together with the Parish Liturgy Team and Council members, the two of them worked hard to finish this special project.
"We felt the tomb is an important part as it captures the whole Holy Week starting from Palm Sunday commencing with the Easter Triduum," Ms Baldwin said.
"This year Fr Jeronimo took our community through this journey explaining each part of each service and day, and its significance.
"The congregation were encouraged to wear white for Holy Thursday, red for Good Friday and white again for the Easter Vigil.
"The lighting that was installed inside the tomb also reflected each day and concluded with white for the Easter Vigil," she said.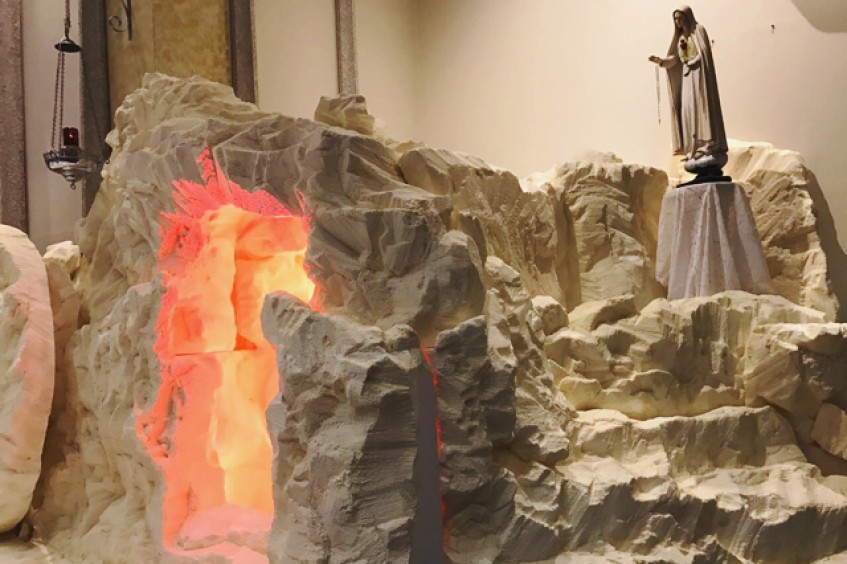 Lighting that hit Mary's face and hands created a shadow on the wall that looked like she had them spread as a blessing over the tomb. Photo: Supplied
While the tomb was an important aspect of Easter, Ms Baldwin explained, it was further highlighted by the statue of Mary overlooking the tomb.
Ms Baldwin explained that when light hit Mary's face and hands, the shadow on the wall looked like she was giving a blessing over the tomb.
A special spiritual journey for the community, Ms Baldwin emphasised some of the parishioners were very moved by this year's Holy Week.
"We have members who have been coming to the Parish for more than 25 years and said that they had never seen anything so powerful," Ms Baldwin added.