Multiculturalism draws parishioners to 25 year celebrations at Sacred Heart Church, Thornlie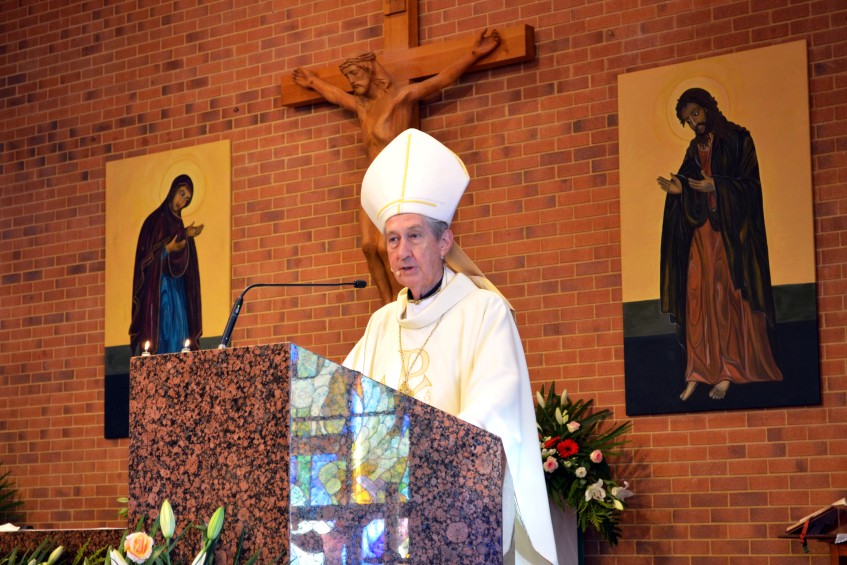 Emeritus Archbishop Barry Hickey celebrating the 25 year anniversary celebrations at Sacred Heart Church, Thornlie. Photo: Supplied
By Natashya Fernandez
A multitude of colour, various native costumes, singing and an excited buzz welcomed new and old parishioners of Thornlie Parish last Sunday 19 February in celebration of its 25 year anniversary.
The Mass celebration, with Emeritus Archbishop Barry Hickey as Principal celebrant, was co-celebrated by Parish Priest Monsignor Timothy Corcoran and Assistant Parish Priest, Fr Thomas Zureich.
The attendance of Emeritus Archbishop Hickey was noted as particularly special, because he officially blessed and opened the Church in 1992.
"Of course my mind goes back to when I was the principal celebrant.
"It was a time of great joy and I pray that this joy is with us as we come into this assembly today to celebrate the sacred mysteries with the whole community," he said.
"We are celebrating a great day today because we come from four corners of the world here, and we believe in one faith, one Jesus our saviour.
"So when we worship in this church, we should remember that the centre of the parish is not the building but the people who worship in this building and that is what is important."
Parishioner Anne Marie D'Souza, a parishioner for the last 20 years spoke, about her experience of being part of Sacred Heart Thornlie Parish
"My kids have grown up here and we love the community," Ms D'Souza said.
"Today was an extra special one for all of us, it was very touching.
"We are gifted to have the choirs and blessed to have people who are ready to help.
"We are all from diverse and multicultural backgrounds in this parish but everyone helps each other and are so kind and loving; you feel you're part of a big family."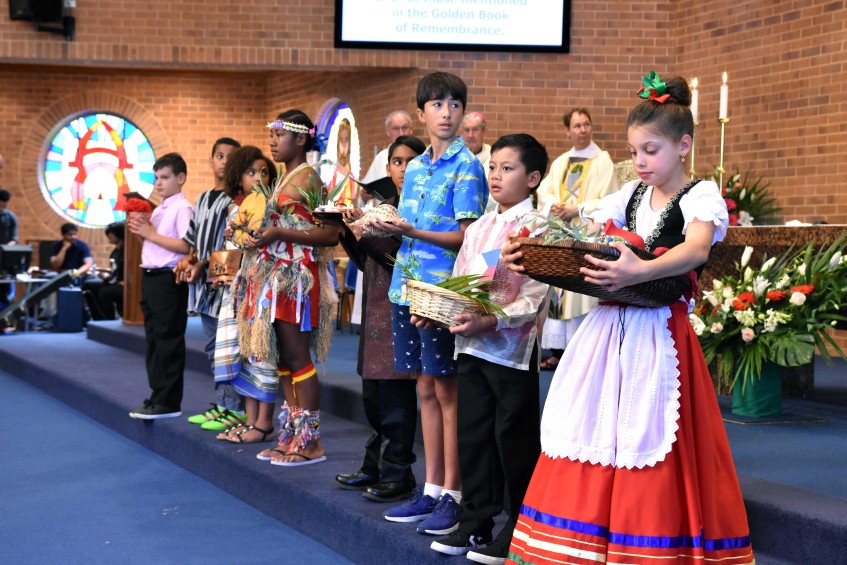 Children dressed in national wear offering up gifts from around the world representing peace, hope, joy and love. Photo: Natashya Fernandez
A big part of the celebration, children from the Parish arrived dressed in ethnic costume and brought special gifts from various parts of the world representing peace, hope, joy and love.
Current Sacred Heart School Secretary Jill Hall, who has been a member of the Parish for 25 years, said she was touched by the participation at the anniversary celebration of the many school families.
"The Mass was a joyous celebration of prayer, music, and culture as many parishioners embraced the theme and came dressed in national dress of their country of origin," Ms Hall said.
"Many parishioners over the years have evolved through their connection with Sacred Heart School and as the school is a part of the Parish community, it was also fitting that some school families dressed in their national dress and said prayers in their native tongue.
"I feel it is important to promote parish and school participation and keep the connection which happens via the Sacramental programs, Lenten programs and for people to know that the Parish is their spiritual home," she said.
Parishioner Joan Wallace also commented on the momentous occasion, having been part of the Parish community since the Church was located at Royal Street, Kenwick.
"My daughter got married here and my grandkids got baptised here, so today is a very special day for us. This church means everything to me and is a big part of our lives," she said.
Monsignor Timothy Corcoran thanked Emeritus Archbishop Hickey for accepting the invitation to celebrate this Mass of thanksgiving.
"It was appropriate for Emeritus Archbishop Hickey who also officially opened the church 25 years ago on 9 February 1992."
He also thanked the congregation and all the people involved who made this day a success.
Following the Mass, parishioners took part in a festive celebration that included face painting, bbq, dance performances, singing by the youth group and a special violin performance.
In his final blessing for the occasion, Archbishop Hickey invited everyone to live holy lives.
"If there was any message for today it is to first of all to give thanks for all those gone before us, priests, past and present and all the assistants, and all the leaders of the church who come up and volunteer their time.
"Give thanks for those 25 years, give thanks for Jesus and the Holy Spirit," he concluded.