Fr Vincent Conroy celebrates 50 years in the priesthood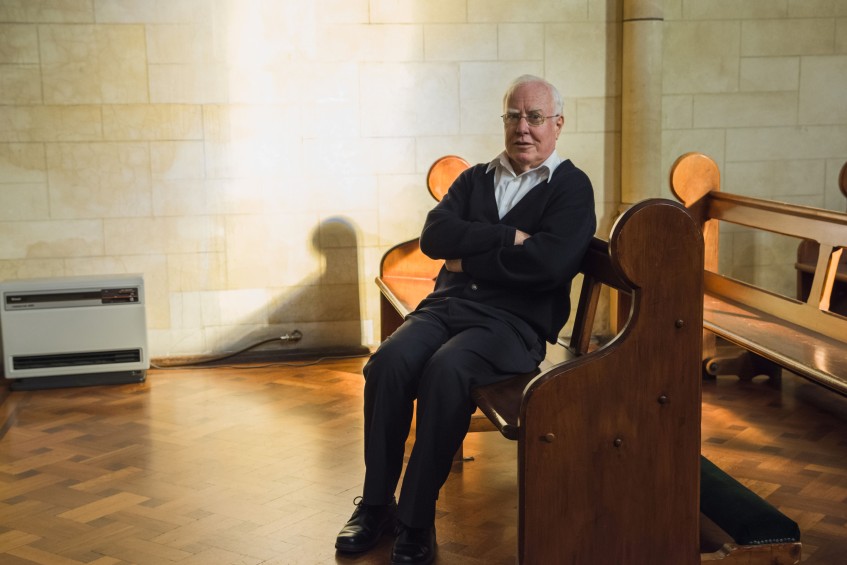 Fr Vincent Conroy at St Michael the Archangel Chapel, where he celebrated his 50th anniversary of ordination. Photo: Caroline Smith.
By Caroline Smith
Growing up in Perth's western suburbs in the 1950s and 60s, becoming a priest seemed like any other career path, according to Father Vincent Conroy.
Fr Conroy marked his 50th anniversary of ordination on Saturday 8 July, celebrating a Mass at St Michael the Archangel Chapel in West Leederville, close to where he had grown up as part of the Wembley parish, at Our Lady of Victories Church, where the parish priest was Fr John Brosnan.
More than 60 people attended the Mass, which was concelebrated by Fr Geoff Aldous, a childhood friend from the same parish and the luncheon which followed.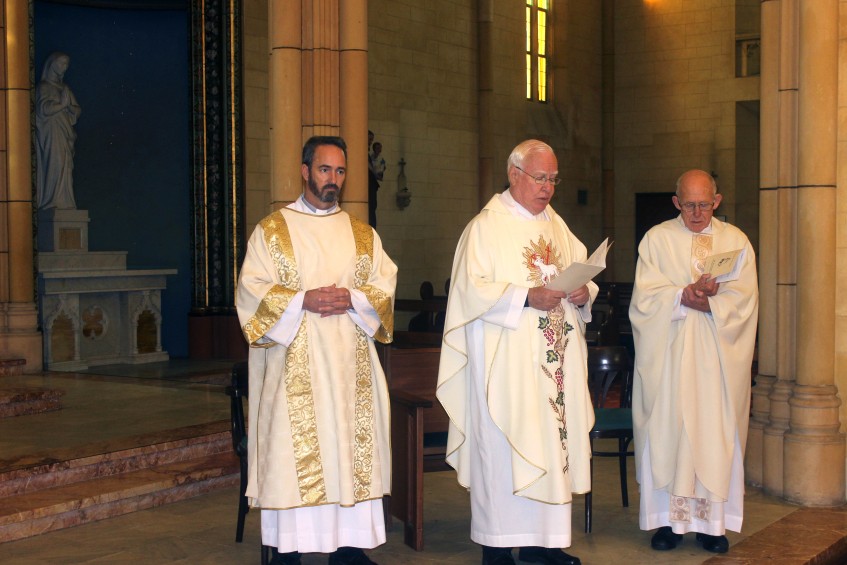 Fr Vincent Conroy with Fr Geoff Aldous and Deacon Aaron Peters at the anniversary Mass. Photo: Supplied.
Reflecting on what motivated his decision to become a priest, he said the strong faith of his family and local community had contributed significantly.
"I guess I'd seen a lot of priests growing up. I grew up in Wembley and every Sunday priests would often visit from the North Perth monastery, as dad would go to pick them up," Fr Conroy said.
"As a little boy, I often joined dad for a ride in the car. I used to hear them talk in the front seat, and realised that they just enjoyed life like anybody else.
"My family had another friend, a Franciscan, who'd roll up on his big Harley motorbike – you could hear him coming from Midland. So I just saw priests the same way as other men in the area but they were focused on a special mission."
He added that prayer was an important part of the community culture but didn't take away from other activities which young people took part in.
"There were the pictures on Friday night at Wembley, on Saturday some men played local football or bike racing; in the afternoon tennis and on Sunday you'd go to the beach or learn to play tennis, at least one Sunday night every month you had Benediction," he said.
"So the weekend was full, but there was always space for prayer."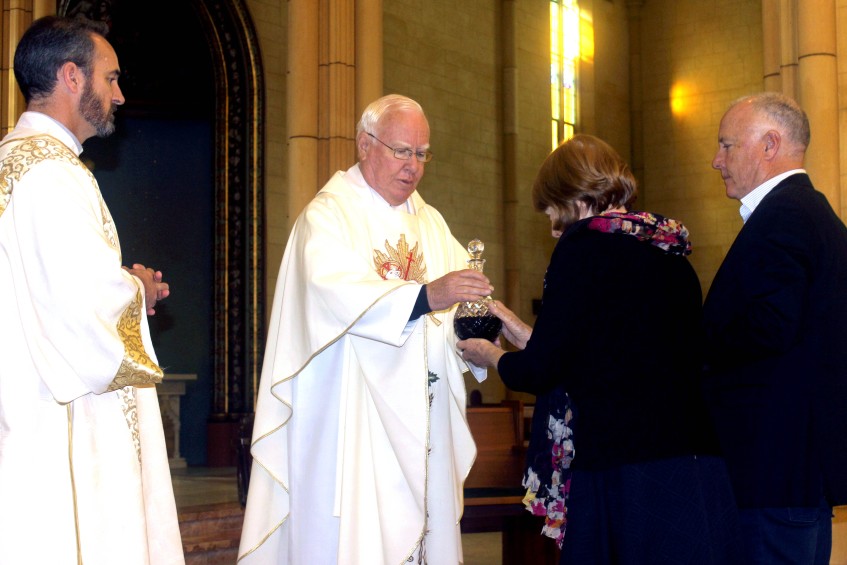 Fr Vincent Conroy with his sister Clare Evans and brother Peter Conroy bringing up the offertory gifts at his 50th anniversary Mass. Photo: Supplied.
Fr Conroy joined St Charles Seminary in Guildford when he was 16, studying in Perth and Adelaide and was ordained in 1967.
His first weeks in the Archdiocese were spent in Kalgoorlie followed by Northam, where he spent five years.
However, he said his busiest and most memorable time was at the Parish of Shenton Park, where he spent six months.
"I don't know if I could have kept up that pace, but I thoroughly enjoyed it. There I spent days walking around the wards of Sir Charles Gairdner Hospital (SCGH) and the other three hospitals in the area plus six nursing homes, as well as the Royal Perth Annexe.
"In those days, SCGH was 16 wards, eight floors between three buildings, and Matron Ainstey – she was a very strong Catholic – gave me all the support in the world with pastoral care and instructing the senior sisters as regards the importance of the anointing of the sick," he said.
"There was no casualty ward in those days, so it was a different hospital from what it is now."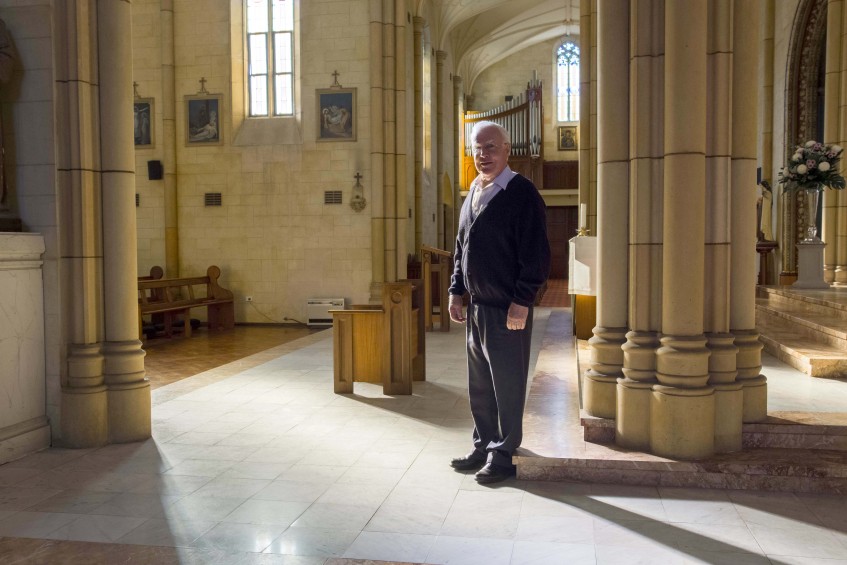 Fr Vincent Conroy at St Michael the Archangel Chapel, where he celebrated his 50th anniversary of ordination. Photo: Caroline Smith.
Fr Conroy's next posting was the Diocese of Darwin and was present there on Christmas Day 1974 when Cyclone Tracy hit. Shortly after this he was posted to Katherine in the Northern Territory.
Two things stand out in his mind from that time: one was conducting religious instruction through the School of the Air. The other was playing cricket and baseball for the local works club.
Other notable experiences were his Sabbatical to Ireland in 2008 where he served in the Parish of Kilcock, in the Diocese of Kildare-Leighlin, and the three years spent as Port Chaplain in Fremantle.
Fr Conroy's last posting was to Dianella Parish, from which he retired in February.
After his Mass at St Michael's and luncheon, Fr Conroy went to join three classmates for a celebration in Adelaide.